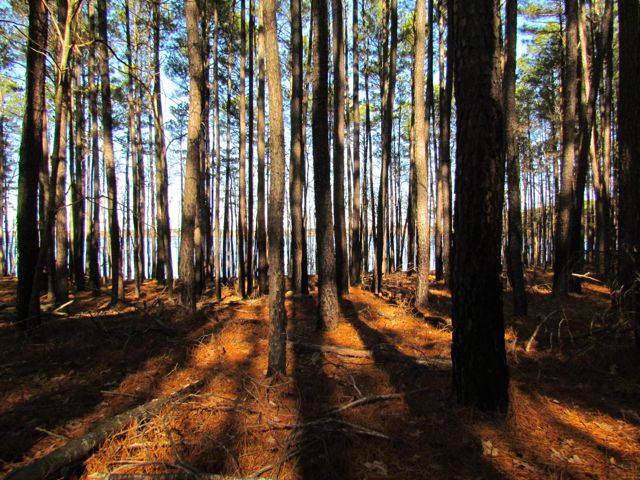 On New Year's Day 2015 we visited the Rolling View section of Falls Lake State Park to participate in the NC State Parks First Day Hike.  The First Day Hikes are organized hikes designed to encourage folks and little ones to get exercise and explore nature in the great outdoors.  We decided on the Rolling View hike because there were several scheduled on the hour, leading me to believe the hike would be a short one – perfect for a restless toddler in a backpack.  After a 35 minute drive northwest to the Rolling View entrance of Falls Lake in Durham, we followed the main road to the back of the park before turning left into the large parking lot.  This part of the park is also where the recreational swimming area, playground, and picnic shelter 12 are located.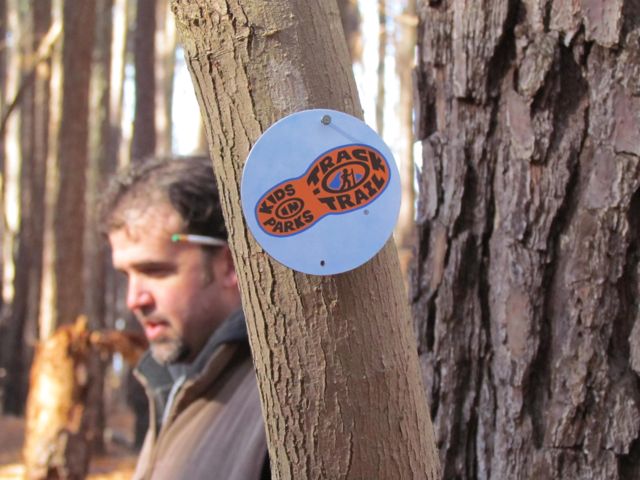 Once the families gathered at the trail head, the park rangers explained more about the short .75 mile hike and gave each child a scavenger hunt brochure of things to look for along the way.  Ashley was a little too young for the scavenger hunt, but the older kids had a great time.  They also explained the Kids in Parks Track Trail initiative that several parks are doing throughout the country as a way to encourage kids to experience the outdoors through a network of family-friendly adventures; this trail happens to be one of those adventures!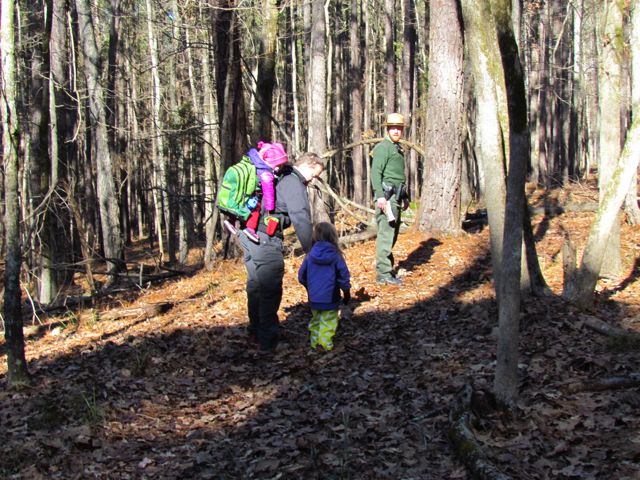 In the past our hiking experiences with our kids have mostly been self-guided with very basic objectives: 1) survive (Grandfather Mtn Profile Trail & Calloway Peak were the ultimate test), 2) limit the crying (adults included), and 3) have fun (no brainer, that's why we do it)!  With the Rolling View hike being a guided tour by a park ranger, I wasn't sure if Ashley was too young to feel engaged, but the park rangers were amazing at interacting with all the kids.  They kept the hike going while pointing out really neat nature things on/off the trail, answering questions, prompting the kids with questions, and giving some history about the park.  We definitely experienced things in nature we wouldn't have had we been on the hike by ourselves; we saw animal footprints in the puddles and streams, learned about the importance of controlled burns, discovered deer bones, gained appreciation of decaying stumps as a food source, and so much more!
After our short .75 mile hike, which took less than an hour (of which Claire screamed most the way) we headed to the nearby playground.  The playground is designed for those ages 5-12 and has several climbing ladders, swings, a tire swing, and bridge.  It is very close to the swimming recreation area, bathhouse, and picnic tables, making this a great spot for warmer weather.  The recent rains caused the lake water levels to come very to the playground so after our short playtime we headed home for some much needed grub.
Check out the Kids in Parks Track Trail website – the search and filter features make it easy to find outdoor adventures close to home!
Additional Resources:
Thumbs up: friendly and knowledgeable park rangers, guided hike, nature experiences for kids
Thumbs down: nothing to report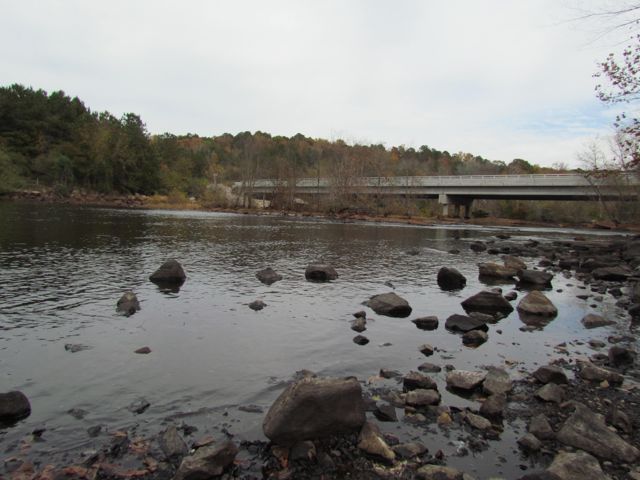 This fall we wanted to further explore Falls Lake so we set off with intentions to start closer to the dam and finish Day Hike A of the Mountains-to-Sea trail.  Falls Lake Dam is on the eastern side of the lake (see map) and has helped control flooding from the Neuse River ever since its completion in 1981.  Having previously hiked a portion of Falls Lake starting at Raven Ridge Rd we wanted to start closer to the dam in hopes of actually seeing it before the kiddos got too tuckered.
Unfortunately the main entrance gates to Falls Lake park were closed on this Sunday morning so we had to park in the small parking lot near Falls Center Management Rd/Falls of Neuse Rd intersection.  After a long walk into the park on the paved trail that parallels the road, the little ones in the group were restless for any trail hiking so we explored the areas around the dam including the (surprise!) playground instead.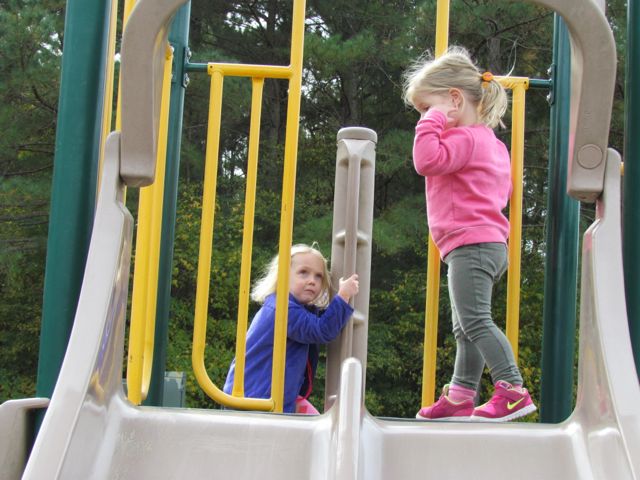 The playground is designed for ages 5-12 and includes a few slides, climbing structures, tic-tac-toe, and several nearby picnic tables and benches.  It's a small playground, but the perfect size for a park with so many more activities.  After taking in the views from the top of the dam, we walked down the unpaved trail adjacent to the playground where we got up close and personal with the beginning of the Neuse River.  The girls enjoyed throwing rocks in the water while we saw fishermen and birds.  There's also a small parking lot, canoe launch, restrooms, information map, picnic tables, and access to the start of the Neuse River Trail greenway at the bottom of the dam.
Even though we didn't make it to our planned trail that day, everyone had a fun time whether it was on the playground, along the river bank, or finding furry caterpillars.  I look forward to attempting Day Hike A again sometime soon where we'll park in the lot closest to the dam!
More Resources:
Thumbs up: views from top of dam, playground, considerable amount of picnic tables
Thumbs down: signage in park, nc state park information online lacks details (no mention of gate closure, playground, parking near dam)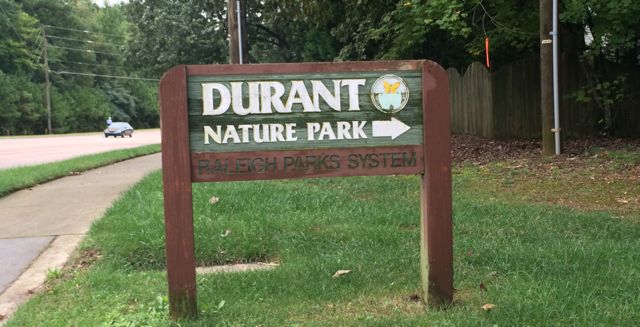 In early Fall we headed out to Durant Nature Preserve with some friends to enjoy their weekly Wee Walkers program (Thursdays from 10-11am).  Having never visited Durant Nature Preserve before I'm glad I attended an organized program that guides you and the kiddos on a short walk through the park because this nature park is huge!  Durant Nature Preserve is located at 8305 Camp Durant Rd in North Raleigh (north entrance is located off Camp Durant Rd and south entrance is located off Spottswood St).  According to the COR's website, this park was originally known as Camp Durant and was the headquarters for the Occoneechee Council of the Boy Scouts until 1979 when the City of Raleigh purchased the land from the scouts and turned it into a nature park.  We parked in the parking lot near the park office at the north entrance.  Once everyone arrived (about 10-15 moms/kids total), we set off on our nature walk with our super friendly and knowledgeable guide.  For those with babies or early walkers, I'd recommend wearing the babes in a carrier as most of the trails are unpaved.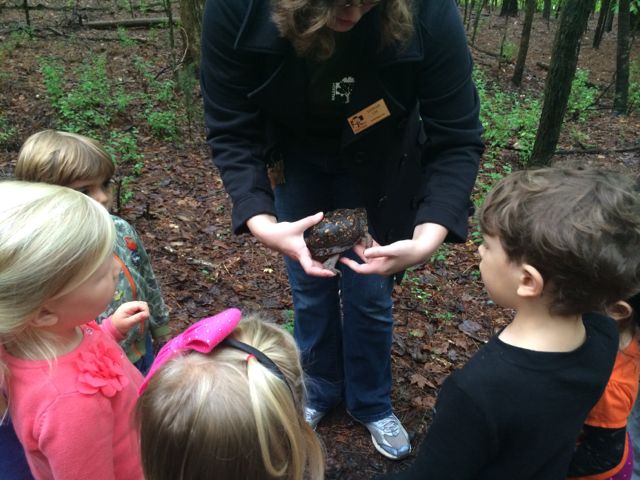 We hiked along the eastern side of the park following the Pine Ridge Connector, Pine Ridge Trail and Lakeside unpaved trails.  Our guide stopped several times along the trail to point out a variety of flora and fauna.  We saw a little bit of everything: wasp nests, leaf poppers, water striders, water frogs, mushrooms, mosquito fish, poplar tulip leaves, muscadine grapes, dogwood berries and a real turtle!  The kids (ranging in ages from under 1 to 5 years old) were most impressed by the turtle walking along the trail, but it's been fun to see how Ashley gets excited when she sees dogwood berries in the backyard!  The neat part about the Wee Walkers program is that each program is different because it's based on what's going on in nature that week and it's FREE…what a deal!
After the Wee Walkers program we explored the playground area and had a picnic lunch.  The nearby shelters were very muddy due to the recent heavy rains, but we made do.  The playground is for ages 2-12 and has a few slides, monkey bars, climbing ladders, a large sandbox with teeter totters and diggers, two tot swings, and two regular swings.  Also close to the playground area is sand volleyball, basketball and the public restrooms.
This post simply scratches the surface of all there is to explore at Durant Nature Preserve.  If you want more than just hiking, this seems to be a great park for camping, biking, birding and so much more.  I look forward to coming back again soon!
More Resources:
Thumbs up: Wee Walkers program, variety of hiking trails
Thumbs down: signage throughout park (we got lost heading back to our cars)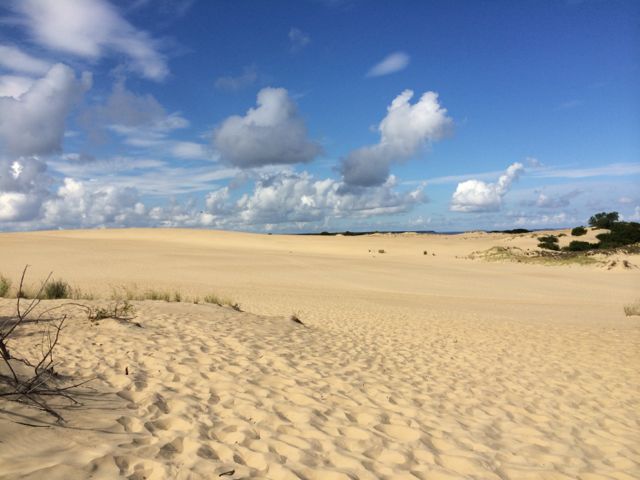 For the first time in our 10 years of vacationing in Nags Head, we finally paid a visit to Jockey's Ridge State Park.  Jockey's Ridge is the tallest natural sand dune system in the eastern US.  It is located at 300 W. Carolista Dr in Nags Head (MP 12) on the sound side of HWY 158.  Having never been to a desert or sand dune park before, I was blown away by the massiveness of the dunes; if a herd of camels had passed by, I would've forgotten we were in NC!
Jockey's Ridge sand dunes vary in height of 80 to 100 ft and is believed to have been formed when hurricanes or strong northeasters transported sand inland from offshore islands.  The rich history of this area started with the Algonquian Indians and was further explored by European settlers.  Jockey's Ridge became an official NC state park in 1975 only after the strong efforts of Carolista Baum (read more about the history of Jockey's Ridge).  Today, the non-profit group Friends of Jockey's Ridge also provides support and brings awareness to the dunes.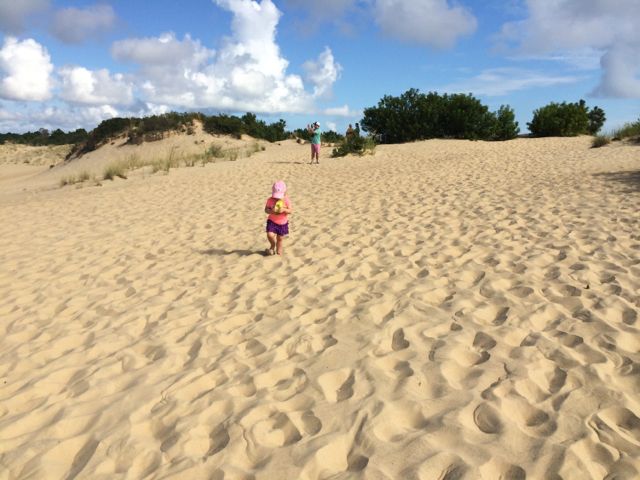 Unfortunately, our visit to Jockey's Ridge did not go as swimmingly as I would have liked.  As with most things I plan with two small children, my expectations exceed reality and this was one of those examples.  Knowing the sand is at least 10 degrees hotter than the outside temperature we got an early start to our trip and were in the parking lot area by 9:30am.  After a short stop inside the visitor's center, Bill and I set off with both girls to find the top of the dunes.  We made our way to the end of the wooden walkway near the large group of visitors that were catching their breath from just coming off the dunes.  We followed some of the other visitors along the loosely marked Tracks in the Sand trail.  We made it up a few small hills and discovered several animal tracks, but on our way up the large dune our sweet 3yr old retreated down the hill exclaiming, "My legs are too tired!"  Rather than continue climbing with Claire in the carrier while Bill was 100 yards away on a work conference call (great reception, fyi) I scooped Ashley up and proceeded downhill.  Looking back, maybe this trip was a bit premature for this young group, but a little character building never hurt anyone; and, Ashley loooved recounting the story about how tired her legs were throughout dinner later that night!
I hope to make it back to Jockey's Ridge for some solo hang gliding during our annual trip in May; the kiddos will have to enjoy my stories and pics instead of another first-hand experience!  I look forward to some family kite flying when everyone is at least 5 years old!
Thumbs up: gorgeous views (I bet they're even better from the top)
Thumbs down: learning the hard way that my young children do not tolerate sand dunes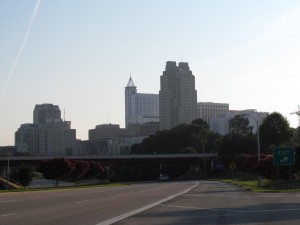 A few weeks ago, I woke up before sunrise and headed downtown with just a coffee and my camera in hand.  I have a lot of photos of parks and greenways throughout the city, but not many personal photos of downtown Raleigh.  It was a muggy Sunday morning, so downtown Raleigh had a faint Bourbon Street-like smell with evidence of a super fun Saturday night.  I've always had a lot of respect for real photographers, but after this personal quest to capture photos to print for our house I have so much more appreciation for the pros who can really nail down the fine details of light, exposure, camera angle, etc.  It was fun, but exhausting hopping around downtown from Boylan Bridge, near the Shimmer Wall, on McDowell St looking North into downtown Raleigh, and on Fayetteville St.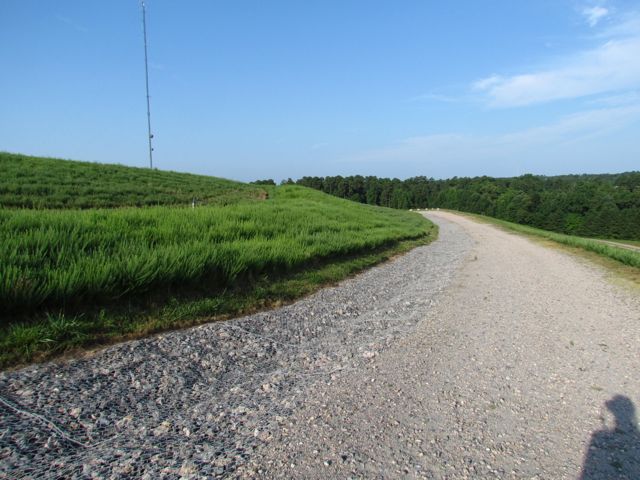 After about an hour of exploring and taking photos of downtown Raleigh, I headed back to North Raleigh to capture photos from one of the highest places of elevation in Raleigh – Top of the Hill trail in North Wake Landfill District Park.  I've visited this park before, mostly for the kids to play on the playground, so it was nice to explore a park solo.  After entering the park, which is under construction, I parked in the small parking lot and made a short .1 mile walk up the gravel trail.  The 360-degree views from the top are amazing!  Despite a muggy morning, I could still see several downtown Raleigh buildings (thanks to the bright red Redhat sign), neighborhoods and water towers in the distance, and trees for miles!  It was so comforting to see how green Wake County still is!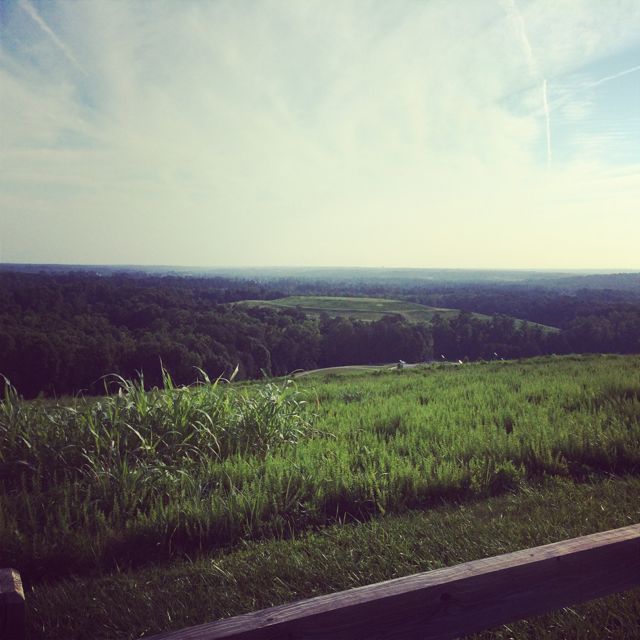 Other than great views from the top, there are several picnic tables, benches, and a bike rack. Even though my downtown Raleigh pictures didn't turn out as well as I would've liked, the whole experience certainly fueled my desire to practice and learn more about photography.
More Resources:
Thumbs up: beautiful views, quiet mornings Thumbs down: lack of signage directing you to the trail inside the park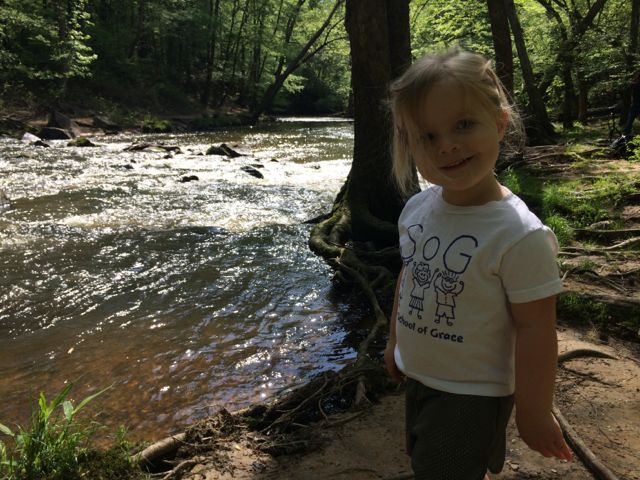 If you combine a preschooler, some hiking and a little water play you're guaranteed to have some fun! A little while ago, Ashley and I enjoyed some mommy and me time during her first "big girl" hike where she wasn't riding in a backpack and we had an amazing time.  I have such great childhood memories of my aunt taking my brother, sister and me hiking in the Shenandoah National Park just outside Charlottesville – we hiked, splashed in the streams and ate yummy treats along the way!  Ashley would've loved some Oreos (like my aunt always had on hand for us), but unfortunately for her, all she got was banana chips and apples on our hike!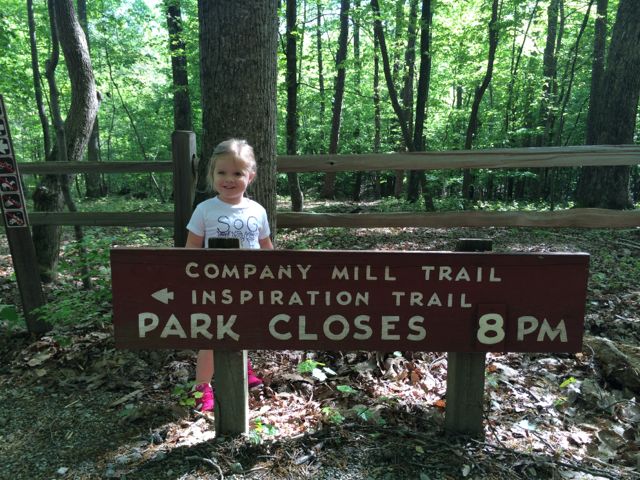 So, for our hike we headed out to the Company Mill Trail in Umstead Park.   The Company Mill Trail is a looped trail of 5.8 total miles, but we only hiked a two mile trip that consisted of one mile down to the water/old mill and one mile back.  The entrance to the trail is located in the back left corner of the main parking lot of the Harrison Ave entrance to Umstead.  As you head toward the trail head you'll pass several picnic tables and a large pavilion, which would be a great spot for a large group cookout followed by a short hike. This trail is very shaded and moderate in difficulty with lots of tree roots and a few narrow or steep parts, so Ashley held my hand while we hiked. Her preschooler legs go faster than her brain can account for so I wanted to prevent as many scrapes and bruises as I could.
So we set off and hiked for a mile until we came to the creek.  Before heading across the bridge we walked down some steep rocks and had a snack along the creek's edge near the remnants of the old mill wall.  According to an information board near the parking lot, Company Mill was built in 1810 by Anderson Page and was used for grinding wheat and corn.  It was also a popular spot to have fish fries, weddings, and social gatherings before being washed away by a flood in the 1930s.  There are several flat spots below the old wall and near the water that are great for stopping.  A friendly photographer took our picture for us and then warned us of some water snakes he saw (luckily we didn't see any).  After our snack we headed across the bridge and turned right to join the few crowds on the large rocks near the opposite side of the creek bank.  Ashley loved scooting down to the water and got tickled when I told her she could take her shoes and socks off and soak her piggies in the water.  This child was in heaven!  And, after a short while later we hiked the one mile route back to our car.  She was pretty exhausted for the last half of the hike home, but stayed in good spirits and finished on her own…I was so proud of her!
So, if you're looking for a short yet fun hiking trail to conquer with little ones the Company Mill Trail in Umstead Park is an excellent option.
Resources: Great Outdoor Provision's description of Company Mill Trail
Thumbs up: creek for splashing, views from bridge, shady, family friendly hiking option
Thumbs down: signage from parking lot to trail head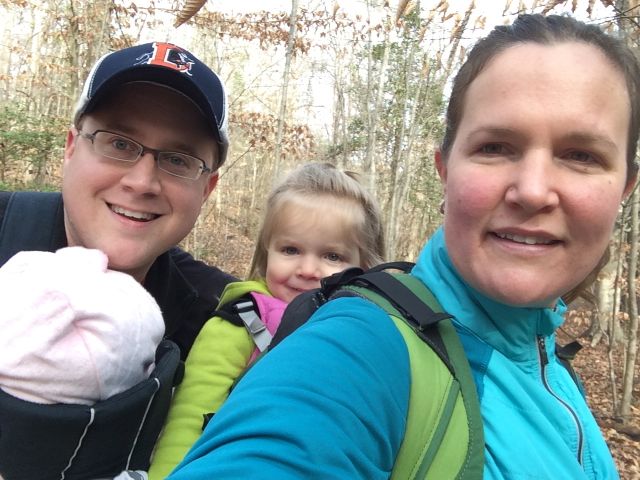 Every New Year's Day, NC hosts First Day Hikes all over their state parks to promote a healthy start to the year. Even though the organized First Day Hikes didn't exactly work with our kiddo schedules we drove up for a short hike of our own near Falls Lake.
Falls Lake is a state recreation area just 10 miles north of Raleigh with 7 individual parks, a 12,000-acre lake and 26,000 acres of woodlands.  For our hike, we chose one of the southeastern fingers to explore.  The portion of the trail we hiked is from section 27 (from Shinleaf Rec Area to Falls Lake Dam) of the Mountains to Sea Trail.  Mark Edelstein provides a very detailed description of the hiking trails through Falls Lake, which I used to help navigate the area.  We hiked section 1 of his guide, but in reverse order (don't ask why). Next time, we'll start at the dam and head west on the trail.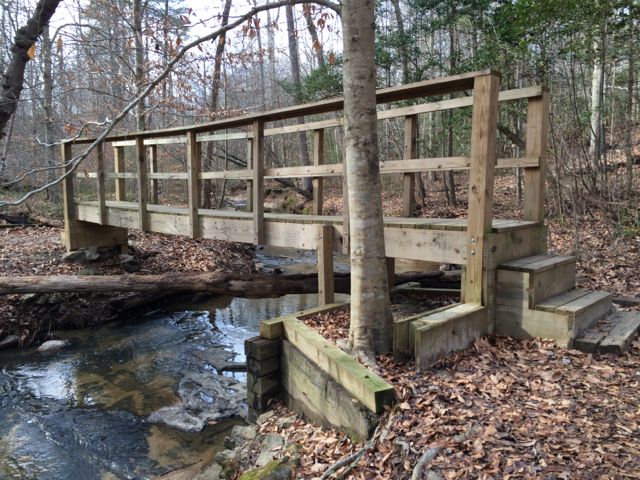 To find the gravel pull-off parking area (noted at the 3.5mi mark in Section 1) we drove north on Falls of Neuse Rd and turned left on Raven Ridge Rd and parked along the side of the road shortly after passing Annie Wilkerson Nature Park.  After getting everyone strapped in their gear, we set off by following the small sign pointing east towards Falls Lake Dam, which is 3.5 miles away.
This is a very moderate hike with small hills and a fairly wide trail throughout.  It is a heavily wooded area, giving a lot of shade to the trail.  Most of this section also closely follows much of the lake, so there are several lake inhabitants and small waterfalls to discover along the way (great for puddle stomping during summer time).  We also passed a trail entrance into Annie Louise Wilkerson Nature Park, which happened to be closed for the New Year holiday, but would be fun to incorporate into a short hike.
We only hiked about 2.4 total miles that day and didn't make it to Falls Lake Dam, but I'm looking forward to starting at the dam and heading west on our next hike through Falls Lake.
Resources:
list of day hikes through Falls Lake as compiled by the Mountains to Sea Trail campaign
Detailed hiking descriptions from Falls Lake Dam to Raven Ridge Rd
Falls Lake map (although not detailed enough for hiking trails)
Thumbs up: views along stream, clear hiking signage along trail, great shade
Thumbs down: planning a hike in Falls Lake using NC Parks online resources (use the Mountains to Sea Trail site instead)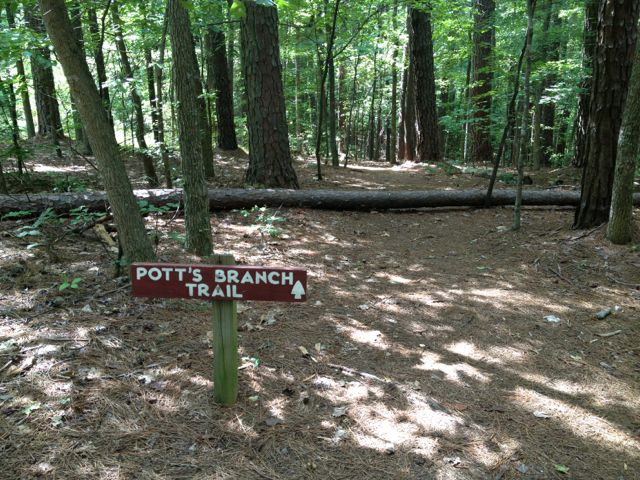 At the end of last summer we ventured out for some hiking at Umstead Park.  Since Claire was only about a month old at the time, we wanted to keep it pretty easy so we explored Pott's Branch Trail, which is only 1.6 miles and easy on the difficulty scale.  To get to Pott's Branch Trail, use the park entrance at 8801 Glenwood Ave and continue straight to the back of the park where you'll come to a large parking lot.  We parked in the larger, two-level parking lot and after a lot of configuring backpacks and bjorns we set off to find the trail head.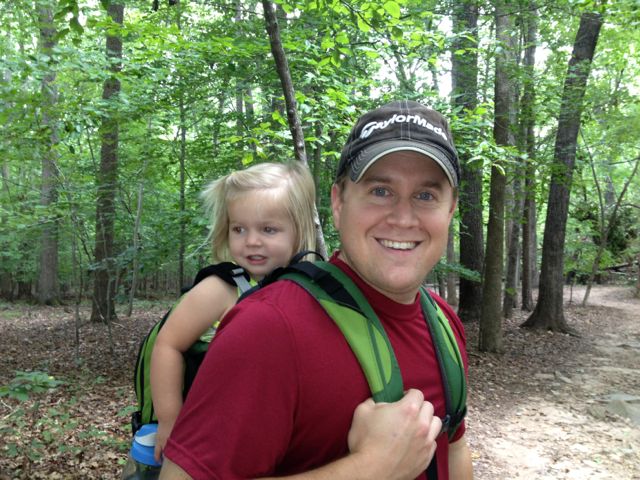 For some reason, even for two directionally-sound people we had a hard time finding the trail head for Pott's Branch Trail.  From what I remember the signage was horrible and after a lot of stumbling around, we eventually found it.  Lucky for us, this is small looped trail so regardless of where we got on, we'd eventually get back to the parking lot.
Raleigh had a very wet summer last year and the trail was evidence of such.  Portions of the trail parallel a small stream, which had debris filled branches indicative of higher water levels.  There were also some large downed trees and muddy areas, which made us think the stream must have risen over the bank in areas.
The trail itself was very easy; other than a few downed trees that we walked around and large tree roots along the way, the trail is very flat and comfortable for most any fitness level.  Along the way, you'll pass a large wooden deck, picnic table and small grill, and roads in the very far distance.  Since this trail is on the opposite side of the road from Big Lake, you won't see any large bodies of water, but the flowing stream offers some interesting views and holds the attention of toddlers!
Thumbs up: quick and easy hike, nearby stream, wide and shady trail
Thumbs down: poor signage from the parking lot to trail head

Sal's Branch Trail Photo Update
Labor Day weekend my sister and brother-in-law visited so we headed back to Umstead Park where we hiked Sal's Branch Trail again.  Be sure to read my first review of that trail, but again, I love that it's a good distance (2.75 miles) and has nice views of Big Lake.  We got such an early start on the hike that we were able to grab lunch to go from Moe's and visit the nearby Gizmo Brew Works for some much needed beers and a picnic lunch! Gizmo Brew Works is nestled in an industrial park off Glenwood Ave and has an array of inside seating (couches, tables) and some picnic tables outside. Albeit, probably not designed to bring kids, but we made it work! They don't serve food, but we're fine with us bringing outside food so plan accordingly.
Helpful Links: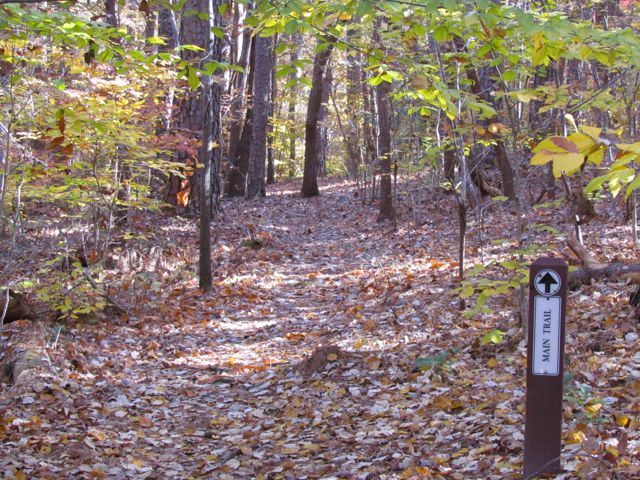 Fall is prime time for hiking, enjoying the great weather and taking in the leaves changing colors.  We recently visited Brookhaven Nature Park in the Brookhaven neighborhood at 5125 Berkeley St near Crabtree Valley Mall.  Brookhaven is a city park, but the Jr Woman's Club of Raleigh helps maintain and beautify it.  After arriving at the park we explored the pavilion area and then headed off on the Main Trail, which is a narrow, unpaved path that criss-crosses several streams.  Part of the trail is labeled wheelchair-accessible, but the paved trail seemed rather uneven and the decline was rather steep (imho).  This time of year the trail was covered in rust-colored leaves so we took extra caution when hiking, especially with Ashley in the backpack.
For being in a North Raleigh neighborhood the trail is actually pretty hilly, so we were surprised by how much actual "hiking" we did.  Its peacefulness should also be noted, especially with its close proximity to so many busy Raleigh roads.  Along the hike we came across a small pond with a deck for taking in the views and scouting for fauna.  On this particular day the reflections on the pond made it look like the trees were sprouting from the water…it made for great pictures!  The deck also featured a few informational signs about the fauna in the area, snapping turtles and mallards.
After leaving the pond we followed the Main Trail some more and then took the Pine Tree Loop and Upland Forest Trails to increase our hiking distance, which actually only totaled about 1 mile.  Even though the hike was short overall it was a fun, quick way to explore a naturally hilly part of Raleigh.  Be sure to bring another adult with you to this trail and all trails; this park is not staffed and the trails are not heavily traveled with other visitors.
Thumbs up: photo ops, good hiking workout, peacefulness, proximity within city, shadiness
Thumbs down: confusing signage near end of the trail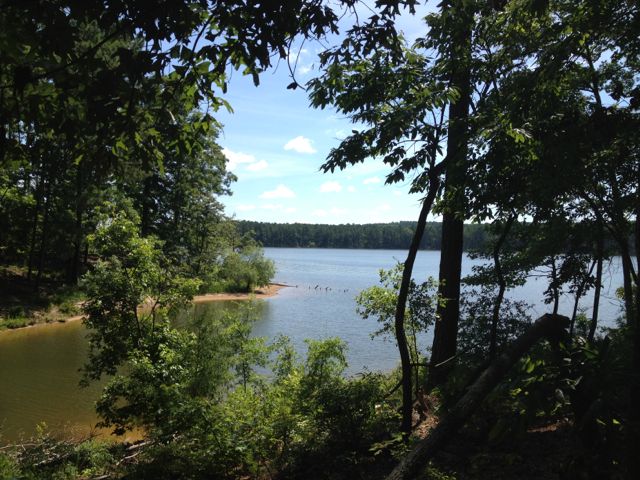 With Fall in full swing, it's a great time to do some hiking in Raleigh's backyard.  Months ago we visited Jordan Lake State Park for some hiking and a picnic and with the leaves changing colors now it'd be a perfect time to go back.   Having survived Profile Trail in western NC we wanted to try one of Jordan Lake's more challenging trails.  After researching the NC Parks website we decided on the blue trail at New Hope Overlook.   Jordan Lake has several hiking trails across many entrances so be sure to research ahead of time which one to go to.  New Hope Overlook is located off WH Jones Rd and has a cash-only entrance, where the fee is $6/car.
The parking lot at the trail head is shared with the boat ramps, so there should be plenty of parking for all patrons.  Before heading on the trail we scoped out the path again at the on-site map.  Needing to be home for a 1pm naptime we opted for the 2.7 mile Blue trail instead of the 5.4 mile Red trail.  The trail is heavily wooded and follows the perimeter of the lake through much of the trail.  Being so close to the water made for some great photo ops and a chance to see a lot of wildlife, such as ducks, herons, turtles and frogs.  It also gave us a chance to take a few breaks and let Ripken enjoy a cool dip in the water.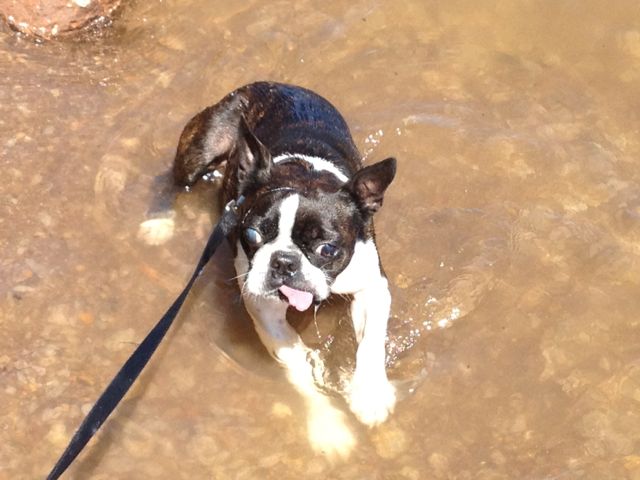 The Blue trail had a moderate difficulty with some gradual hills and tree stumps along the path.  It was well cleared and easy to follow.  It took us about 1.5 hours to finish the hike, making it a great mid-morning outing with Ashley and Ripken.  After the hike we headed over to the shore line near the boat ramps for a yummy picnic lunch.  Unfortunately there weren't any picnic tables so we roughed it on the shore line.  We all had a great time and can't wait to head back to Jordan Lake soon for some more hiking and perhaps some camping!  Visit the NC Parks website for more information about the features of Jordan Lake.
Directions from Raleigh: follow 64 west and turn left on Beaver Creek Rd before crossing over Jordan Lake, turn right on Pea Ridge Rd, and then a right on WH Jones Rd.
Thumbs up: scenery, shady trail, clearly marked paths, lake views, moderately challenging trail
Thumbs down: lack of picnic tables near parking lot