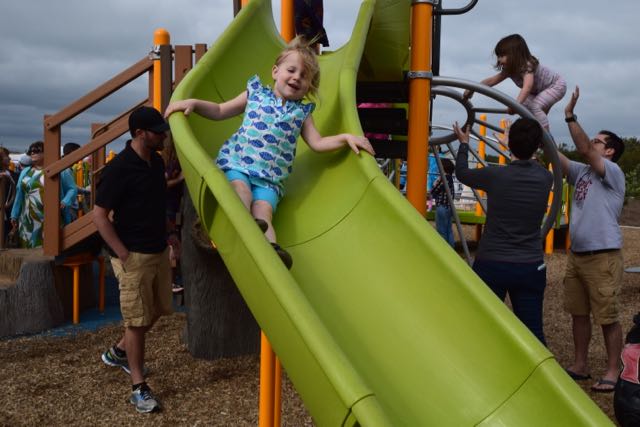 In May, we travelled to Nags Head for our annual trip with friends (and family this year, too) to run the Nags Head Preserve Yuengling 5k race. This year the race weekend coincided with the grand opening of Dowdy Park, located at the intersection of S Croatan Hwy & E Bonnett St. Near MP 12, the park sits on land that was once the home of Dowdy Amusement Park. Over the years, I remember driving by the abandoned theme park wishing someone would do something to clean up that area. It's wonderful to see how land once used for fun and recreation has come full circle.
As a Raleigh resident, we are spoiled with parks and playgrounds around every corner. Though Nags Head has beautiful natural recreational areas (the beach, the dunes, the nature preserve), to say it needs more playgrounds is an understatement. Dowdy Park's grand opening celebration and Artrageous Kids Festival was bustling with families, echoing the excitement for more outdoor parks.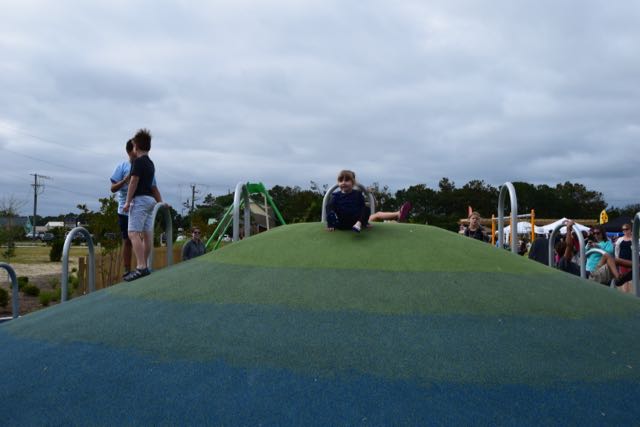 Dowdy Park features several play areas where kids can jump, run, swing, climb and slide until their hearts are content! The older kid playground has wide wheelchair-accessible ramps to musical and periscope play items. The ramp connects to stairs for climbing higher along a net bridge or to the ground via a rock wall. The other side of the net bridge features challenging ladders, a climbing tree stump and a fast, twisty slide. A colorful climbing hill with curved bars, musical instruments, balance beams, surfboards, bench swing, and merry-go-round are also located nearby. With the large festival and park attendance, it was overwhelming to keep track of multiple kids bouncing between so many activities.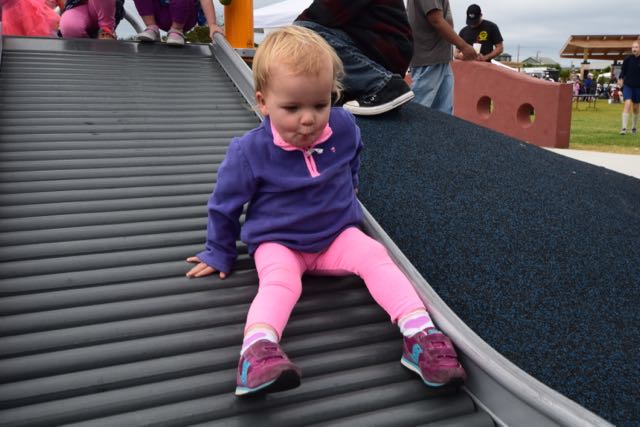 The smaller kid playground features short steps up to ramps connected to a double slide. All the kids thoroughly enjoyed the nearby rolling slide. They loved making rattling noises as they slid down the bumpy slide. Across from the small kid playground is a wheelchair-accessible ride. It allows folks in wheelchairs to reverse their chair onto a ramp and swing. And, a playground near the beach wouldn't be complete without a little sand – just follow the sea turtle flipper prints! Short pier pilings line the sandbox area, which has a large climbing sea turtle in the middle.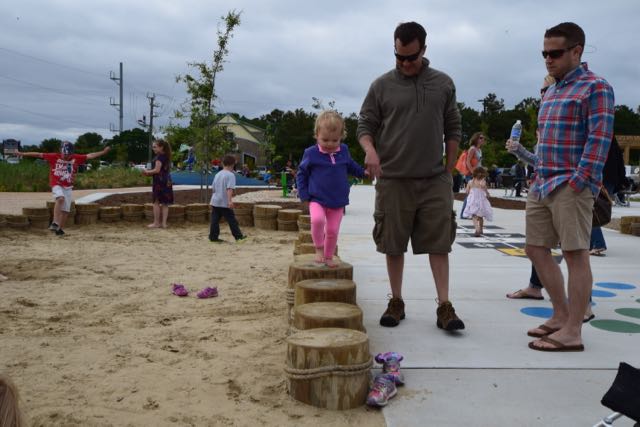 Also near this area are hopscotch and twister games, checkers tables, another climbing hill, picnic tables and benches. On this particular day vendors lined the perimeter of the open green space area. Park-goers filled the open green space area watching the performances under the covered pavilion. Throughout the park you'll find pieces of art, such as the nautilus stamps shells, temporary art pole exhibit, and wooden paintings. Even though Dare County is mostly known for its beaches, I've always been impressed with the local art scene. We've enjoyed local art galleries, shopping and art walks when they've overlapped with our vacation times.
Currently, small dunes, a split-rail fence and 20 yards of undeveloped park land separate busy the US-158 and sandbox area. According to the Town of Nags Head, phase 2 of development starts this fall for a garden, multi-use courts, restrooms and bocce ball court. It'll be interesting to see how this area evolves over the years. And, I look forward to returning on a day that isn't quite so busy.
Thumbs up: unique play areas, incorporating beach details into the park, accommodations for all ages and abilities, fun climbing hills and slides
Thumbs down: lack of shade