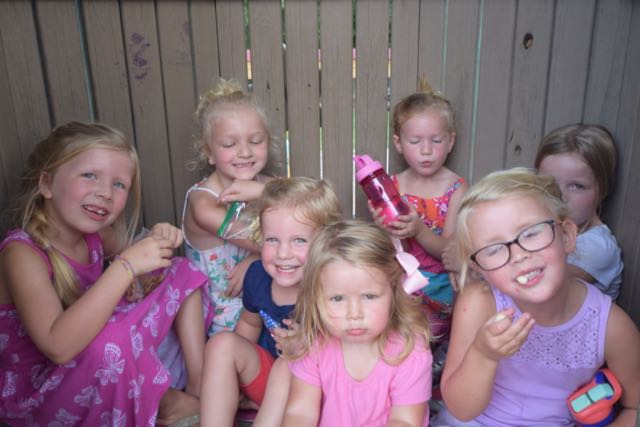 Sometimes, the best laid plans go amiss. After realizing the blueberry farm we were meeting friends at was closed to allow for more ripening, we adjusted our plans and rendezvoused at nearby Kelly Rd Park. I've been wanting to visit Kelly Rd Park for years, given that it's one of the last wooden playgrounds (see Raleigh's former All Children's Playground) in the area. Exploring this park with friends made for a perfect morning for kiddos and mamas to catch up with each other.
The Town of Apex's Kelly Rd Park is located at 1609 Kelly Rd in western Wake County just outside I-540. Kelly Rd Park features multiple playgrounds for all ages, swings, picnic shelters, baseball fields, and tennis courts. With 7 girls under the age of 7, we spent all of our time exploring the massive wooden playground areas also known as KidsTowne.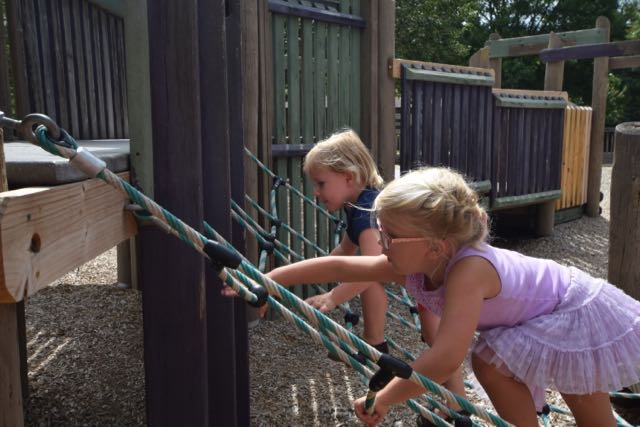 As you enter the KidsTowne playground area, the memorial honoring Kathy Carlisle Smith immediately catches your attention. The Town of Apex remembered Ms. Smith for her dedication to the Greater Apex area and making the KidsTowne playground a reality. KidsTowne has two playgrounds for the different age groups. The playgrounds have fencing all around except for the main entrance area in the middle.
The smaller age playground features tot swings, one-level climbing areas, balance beams, bouncy bridges, and fun wooden paintings. A long bench sits nearby, perfect for watching the littles climb around.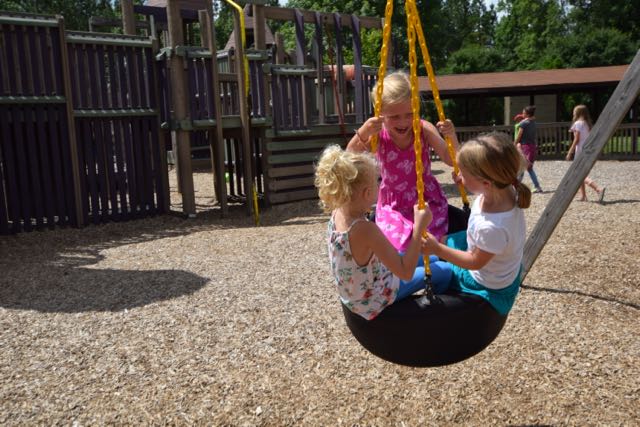 The older age playground features an enormous wooden playground with multi-level, interconnected bridges, tunnels, slides, and towers. It resembles a fairy castle because of its purple and green stained wood, fire poles, decorative paintings, play boats, and towers. Regular swings and a tire swing sit behind the playground. The girls loved climbing the ropes and monkey bars, playing hide and seek, jumping on bridges, and finding shade. They also spent a ton of time flying high on the tire swing.
Though no one picked blueberries that day, we chatted about our kindergarten graduates and personal highlights, and made fun summer memories!
Thumbs up: unique wooden play structure, plenty of seating areas, fun climbing and swinging spots
Thumbs down: lack of shade