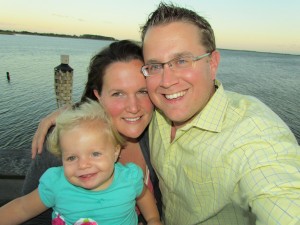 My name is Kris Montgomery and I am a former business analyst turned stay-at-home mom looking for new adventures with my young family.
My husband, Bill, and I have always enjoyed exploring the various parks and greenways in Raleigh;  however, it was usually to find bike trails, tennis courts, and other outdoor adventure activities.  Since Ashley was born in March 2011 and Claire in July 2013, the features and activities we were looking for in parks changed.  I didn't find the city or county websites very helpful for selecting criteria you were looking for in a park, so we're going to visit the various parks, playgrounds, trails, and pools and report back on this blog.  Please enjoy and I hope to see you out and about in the Greater Raleigh area!
I'm always interested in new opportunities for collaboration and sponsorship.  Here's how to contact me:
I am a community enthusiast dedicated to promoting Greater Raleigh parks and recreation through this personal blog.  This personal blog is not affiliated with the City of Raleigh or Wake County; all ideas and opinions are my own.