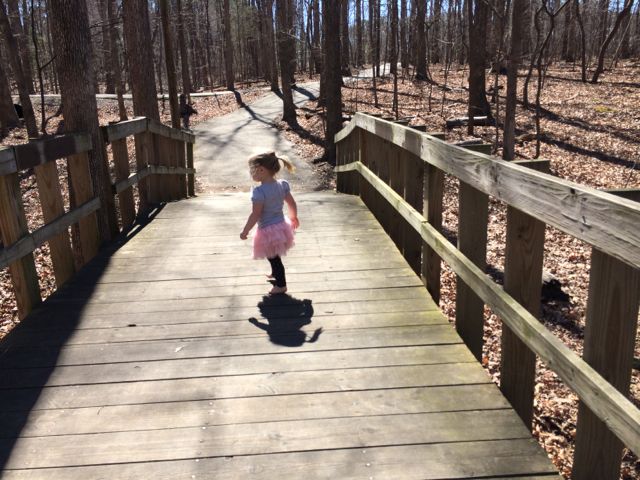 Awhile back a dear friend of mine and I signed our girls up for a preschool dance class at Optimist Park through the City of Raleigh.  It ended up being the perfect Monday morning activity, which led into extended play time and lunch at the playground.  It was the first activity (other than regular preschool) where the girls were on their own, so it was fun to have a buddy to learn some new skills with (we still talk about plies over here)!
Optimist Park is located in North Raleigh in a subdivision off Six Forks Rd at 5900 Whittier Dr.  It's an older park with a community center, playground, seasonal and year-round pools, tennis courts, baseball fields, and greenway access for Mine Creek Trail, Snelling Branch Trail and Shelley Lake.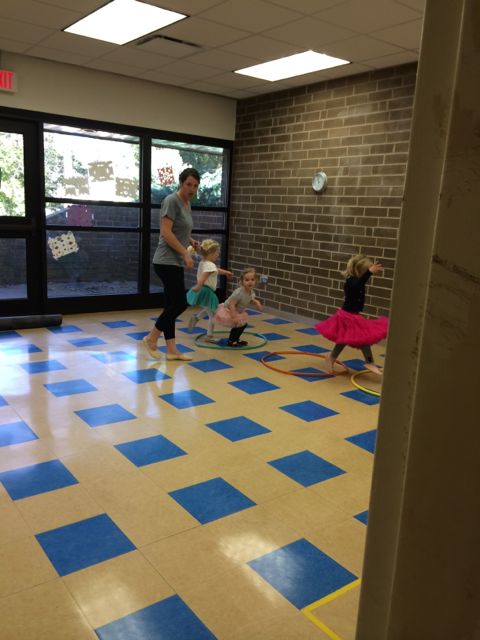 Dance class was held in the community center in a room that did not have easy access for parents to view their kids "dancing".  So, to sneak peeks we'd have to poke our heads in and try not to disturb their learning.  Once dance class ended we headed over to the playground for some more play time and a picnic.
Again, Optimist is an older park so the playground has a more classic look with brown and orange painted metal.  The playground area is covered in a sandy surface and has a large jungle gym for the 5-12 age group that our 3 year olds and even 15 month old enjoyed.  There are several slides, a tunnel, and a few climbing ladders.  In the same area are
the springy cars and 4-person teeter totter.  The playground sits adjacent to a creek that has a short fence, which no one really explored even the 15 month old, but do take caution.  Benches are scattered throughout and the picnic tables and swing set are nearby.  This area is pretty shady, even with the few leaves on the trees.  If you follow the paved trail, you'll come to eight lighted tennis courts that are adjacent to the student parking lot at Sanderson High.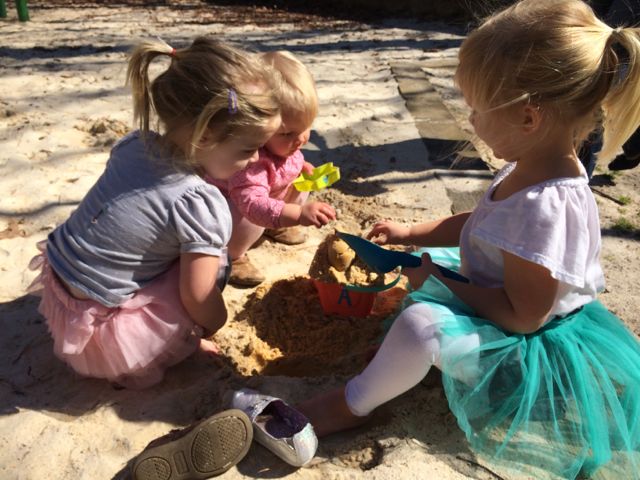 While Optimist Park might not be a destination spot, it sure made for a great post-dance class play time and picnic spot!
Years ago Ashley and I ran the Snelling Branch Trail from Optimist Park and I never posted about it! To get to the greenway access, you'll want to start in the smaller parking lot off Northclift Dr that is behind the Sanderson High baseball field.  Follow the signs and run behind the baseball field and you'll come to North Hills Dr, which you'll cross over.  Continue a little further and you'll come to the Shelley Lake Trail where you can turn left to go south and see Shelley Lake very quickly or turn right to go north and discover the Mine Creek Trails or northern end of Shelley Lake loop.  We turned right and then made another right onto Mine Creek Trail where we crossed over North Hills Dr again, went under a tunnel for Lynn Rd, and eventually turned around near the intersection of Longstreet and Bent Creek Dr.  There's a flowing creek along the way and we even passed a random playground.  According to the City of Raleigh website there's a current project to extend East Fork Mine Creek Trail to Honeycutt Park.  That'll be a good reason to get back here soon for more current pictures!
Thumbs up: quiet/not crowded, great picnic spots, fun beginner dance class, convenience of having park features close in proximity, greenway access
Thumbs down: older facilities, lack of true dance studio for watching kiddos

Photos from the Greenway exploration in Feb 2012: