Posts Tagged 'birthday party'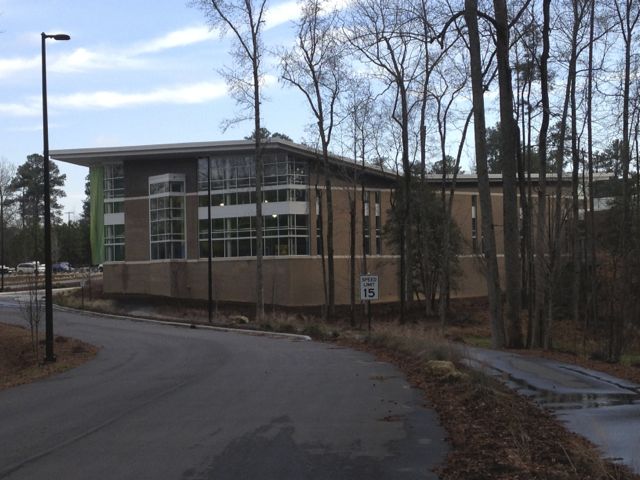 A few months ago we headed to the Buffaloe Road Aquatic Center for a birthday party of one of Ashley's friends.  I've been wanting to take Ashley here all winter and couldn't wait to take her and celebrate with friends.  Having not been in an indoor pool much this winter, I knew Ashley would act like a maniac and she did not disappoint!
The aquatic center is located near the back of the Buffaloe Road Athletic Park at 5908 Buffaloe Rd in northeast Raleigh.  There was plenty of parking on this cold January day with several oversized spots for large buses.  After arriving in the lobby area, we went to the new changing rooms, which had plenty of space for getting littles one changed.  The family bathrooms (two of them!) were also very spacious with showers and oversized benches, perfect for keeping bags and clothes from getting wet.  Lockers are located outside the changing room areas on the pool deck.
The pool contains several different areas with something for everyone: zero-depth entry tot area with slide, water buckets and sprayers; open play area with water basketball; lazy river with water vortex; three-story water slide (height req = 42 in); lap swimming/water volleyball area.  For a 22 month old, Ashley's favorite places to play were on the tot slide, walking along the bench in the open play area, and playing with the water basketball (even though she was way too short to make the basket).  Being a maniac on outdoor playground slides, she easily transitioned her "no fear" mentality to the water tot slide and even screamed to try the big slide.  The big slide does not allow children to ride with parents and all riders must be at least 42 inches high.  Feeling the need to experience the big slide, I rode it and was surprised at how fast I went.  I realized how it justified the height requirement and was secretly glad Ashley couldn't ride it yet.
After some water play time, all the kids gathered in the party room area to celebrate Kennedy's 3rd birthday.  The private party area has several tables, chairs, and a sink for use.  As you can see in the pictures, all the kids had a great time scarfing down the cupcakes.
Thumbs up: unique water play areas, tot area, lazy river
Thumbs down: trying to reason with your 22 month old why she can't go down the big slide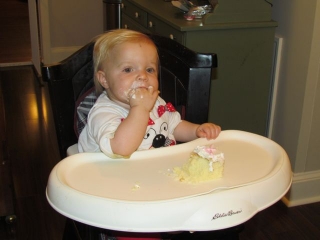 One month ago (yes, I'm so behind) we celebrated Ashley's first birthday with wonderful family and friends at Laurel Hills Community Center.  Since we were in the middle of selling our house (btw,
great house still for sale
) there was no way I could plan a party around potential showings at our house.  And yes, of course, there happened to be last minute showings that day.
Laurel Hills is a great place to have a party.  We rented the dance studio on the bottom floor, which holds up to 30 people.  It has large windows on two sides of the room and mirrors on another side, which made the room seem larger than it was and gave the babies extra entertainment.  We brought a large basket of toys from home to keep the babies entertained and everyone played a part in the setup and cleanup.  My mom/aunt were in charge of toys/balloons, my mom-in-law was in charge of the flowers, and my sister had the decorations.  My wonderful neighbor who has a side catering business (and who has even done small events for VP Joe Biden) made delicious salmon and chicken/sweet potato sandwiches, salad with homemade balsamic vinegar dressing, and homemade iced-clove tea.  And everyone else either set-up food, hung streamers, hauled things to/from the car, hauled chairs/tables, or kept an eye on the birthday girl!
The celebrations really began on Friday night when we all met for dinner at Crowley's, our neighborhood restaurant.  Saturday night the festivities continued at our house with more cake, grilled meats, potato casserole, yummy drinks, a bon fire, interesting political discussions, and Trivia Pursuit! Then, we finished up on Sunday with a yummy breakfast at the house organized by my mom-in-law.  We had wonderful family come from all over (CA, KS, MO, MD, and VA) to celebrate her little birthday; we were completely overjoyed and overwhelmed by everyone's generosity.
Thumbs up: great party room for small events, close proximity to restrooms, free tables/chairs for self set-up/clean-up
Thumbs down: nothing at all