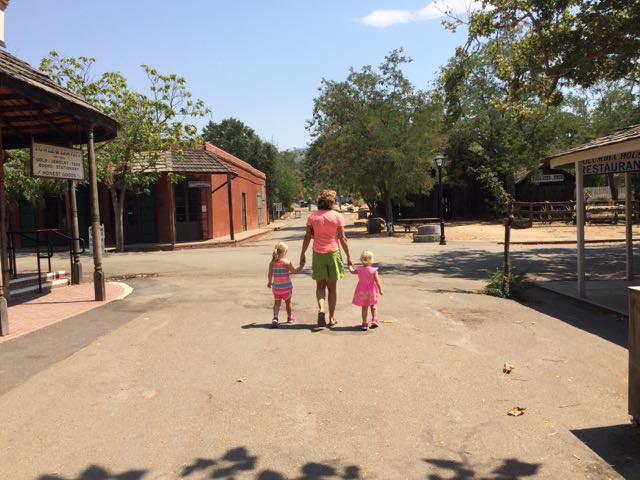 For part two of our northern California park visits we visited the Columbia State Historical Park. Columbia is a real working town that was restored to its 1850s gold-rush business district. Visitors travel back in time to the gold-rushing days where business staff dress in period clothing so visitors can experience stage coach rides, mine for gold, and much more!
Columbia State Historical Park is located at 11255 Jackson St, off highway 49 in Tuolumne County, Ca. Columbia has seen its ups and downs since its cry of "Gold" in 1850 – it survived multiple fires, water supply troubles, and population decline. In 1853 Columbia was one of the largest cities in California with a population of nearly 30,000. When the town became a state park in 1949, restoration efforts preserved the buildings and history.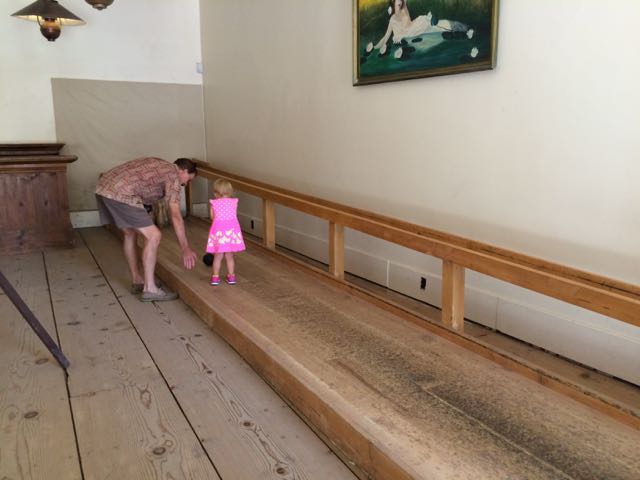 Strolling down Main Street, we first stopped at Parrott's Blacksmith Shop to watch the workers forge iron into handmade goods. They make interesting outdoor art, decorative indoor items, horseshoes, unique furniture and more! Then we visited the museums, including the interactive old-fashioned bowling alley. The dentist office exhibit gave us lots of "eeks" as we glimpsed into some of the old fashioned tools and supplies used to clean and pull teeth.
Then we visited Nelson's Candy Kitchen, a fifth-generation owned and operated candy store. My aunt and uncle are personal friends with the current owner, Janice Nelson, who was extremely kind and patient to give us a personal tour of the candy making. Needless to say, the girls' bright eyes didn't miss a moment of this tour! The shop uses a lot of the same recipes and equipment from when Janice's family opened the store in the late 1800s. During the tour we talked to some of the candy makers who prepped milk chocolate chocolate turkeys for the busy Thanksgiving season. They dressed in period clothing and hand mixed all of the milk chocolate. The smells were priceless!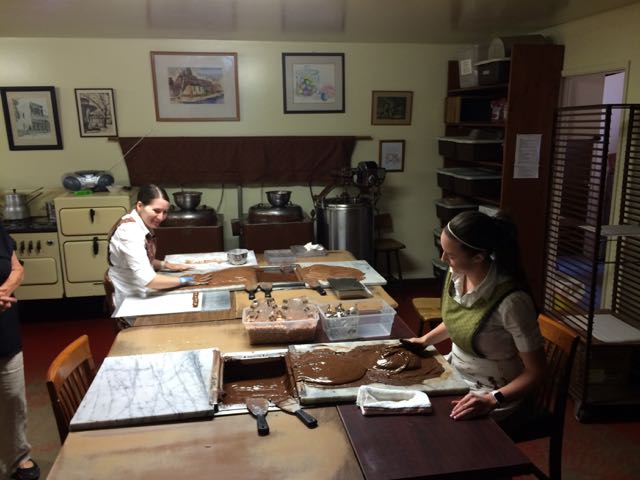 Janice showed us how they mixed and rolled the jelly candies, candy canes, and ribbon candies. The process is very exact and relies on the mechanical workings of old machines, molds, and ovens. We were so grateful for Janice's personal tour of her beloved candy shop – it was so neat to learn about candy making and hear her personal stories about the shop. No candy store visit would be complete without buying some nibbles. The girls loved gawking at all the sparkly candies and squealed in delight while tasting the different jelly candy and chocolates. My personal favorite was the salted chocolate almonds while the girls loved the flavored jelly candies.
To come down off our sugar high we continued walking down Main Street towards the old Wells Fargo building. Sadly we didn't have time to pan for gold or ride the old-fashioned stage coach, but we did quickly walk through the old Wells Fargo office that features original scales, maps of stage coach routes, and other banking exhibits. If you're looking for a fun way to spend an afternoon or a few overnights exploring the gold-rush days, be sure to visit the small town activities and special events of Columbia. I only wish we had more time to explore the local businesses, especially the saloon!
Thumbs up: uniquely restored businesses, museum exhibits, kid-friendly activities/exhibits, town's friendliness
Thumbs down: nothing to report