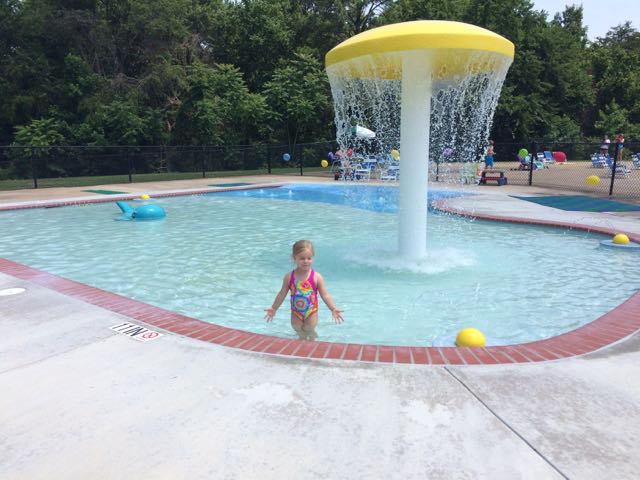 Back in June I headed home for two celebrations: what would've been my mom's 58th birthday and the 40th Anniversary of Curtis Park.  As mentioned in my earlier post on Curtis Park, this is the park where I spent so many summers swimming and creating fun memories with family and friends.  Returning to a childhood place (after a long time has passed) definitely felt weird – the layout of the pool is as I remembered but the people are new (to me).  It was comforting to see a few former co-workers from when I used to work as a teenager and through college summers.  And I got to see an old childhood friend, Heather, who also works with the County of Stafford Parks & Rec.
It was a beautiful day to swim and celebrate the history of this pool!  With little ones we camped out in the large baby pool area, which had some great water features for littles – mushroom water fountain, small water spouts, and climbing dolphins fountains.  The edge of the baby pool has been updated with a brick surround, which was a simple, but classy upgrade.  We arrived right when the pool opened at noon so we immediately grabbed the shady spots in the baby pool area and loved that they provided so many kid-size chairs and picnic tables.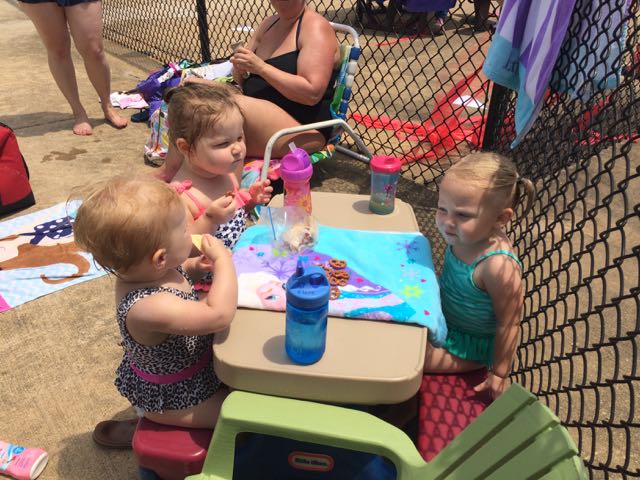 After a lot of time in the baby pool we headed to the big pool where Ashley got to show off her swimming skills to my aunt, who also came in from CA for the big celebrations.  I'm happy to report that the diving boards were available to use so several of us (even my brother) showcased our diving talents.  Several friends from Stafford also joined us and commented several times about how weird it felt to be back at Curtis Park after over a decade had passed.  Off in the grassy areas they set up several craft areas and had a huge water bounce house.  Near the concession area they set up a large grill and offered free meals to the first 100 people through the door.  The whole area was a bustling hub of kids and parents having a great time.
One of my favorite pieces of the day was the sweet poster my childhood friend and Parks & Rec staff member, Heather, made as a tribute to my mom.  It hung right outside the baby pool area and it was neat to see people stop and look at the old photos of her during the 10+ years she worked at Curtis Park.  I loved catching up with old friends and co-workers, seeing how the pool area has evolved over the years, creating new pool memories with my girls and nieces, and feeling the love from my mom who I felt was with us throughout the day.
Thumbs up: renovated bathroom area, fun baby pool area, diving board/deep-end open swim area, family-friendly community, concession area
Thumbs down: nothing to report