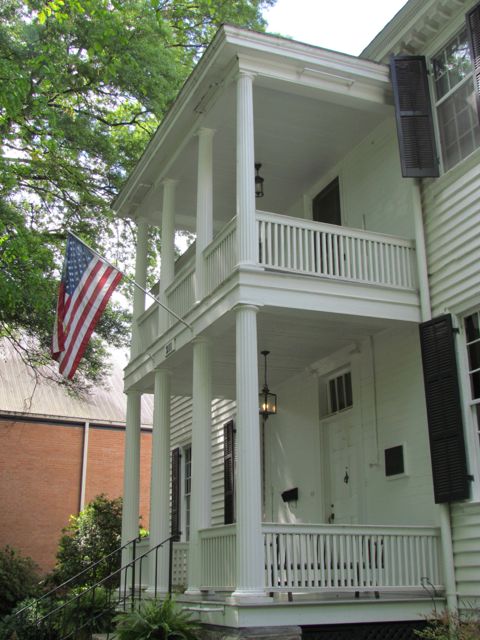 In early May I took some time by myself to visit Haywood Hall, a recommendation from friends who were married there over 10 years ago and a lesser known public garden in the Triangle according to TriangleGardener.com's list. Having spent a lot of time in Downtown Raleigh, I had never heard of Haywood Hall and was excited to explore it for myself!
Haywood Hall is located in downtown Raleigh at 211 New Bern Pl, two blocks east of the state capitol building.  Completed in the early 1800's, Haywood Hall was built by John Haywood (Raleigh's first Treasurer and Intendant of Police/Mayor) as a home for his family.  This Federal-style house was occupied by descendants until 1977 when the property and furnishings were given to The National Society of The Colonial Dames of America in the State of North Carolina.  Despite a presumably busy May wedding season at Haywood Hall, I happened to visit on a quiet Sunday afternoon.  Even though the house was closed (see their hours), I wondered around the public gardens and gazebo for a closer view.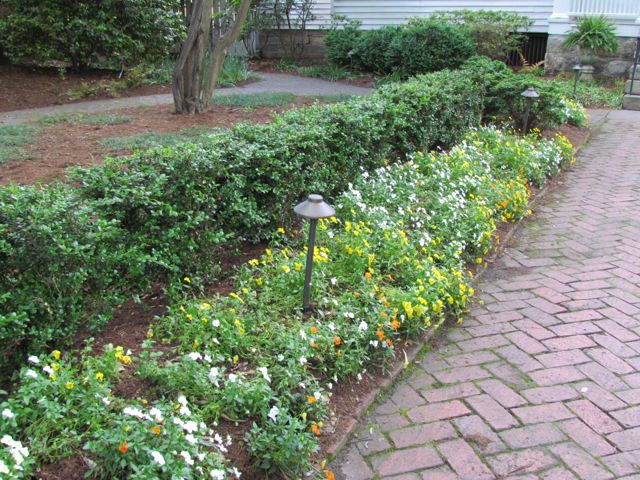 The house faces south and on an early May afternoon the front lawn was mostly shaded.  Both sides of the gorgeous brick herringbone path were outlined with yellow and orange flowers and remnants of previously bloomed daffodils and azaleas.  A white picket fence outlines the perimeter of the property with large oak and magnolia trees, small patches of grass and shady spots for benches and walks on the front lawn.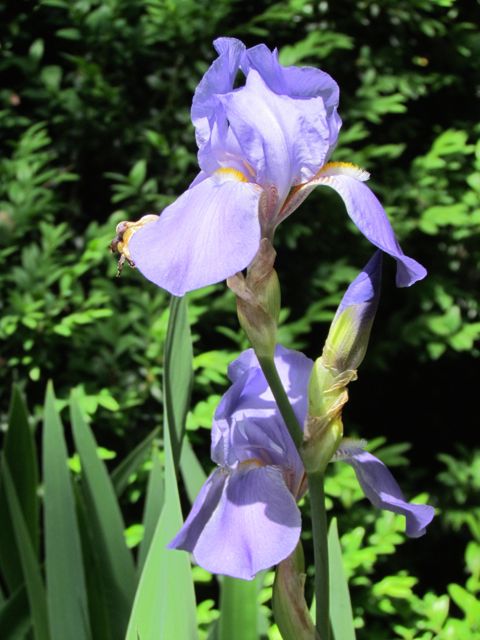 I followed the brick path towards the side property where a white tent for special events was erected over a large brick patio with nearby pergolas.  Another brick path leads to the back of the house and the outside restroom facilities, where a kitty was sunning.  Roses and irises were in bloom and hostas were beginning to pop out.  I followed another brick path to the gazebo shaded by nearby trees where I noticed several bricks surrounding the gazebo and pathways contained personalized messages.  In visiting Haywood Hall's website, I learned more about purchasing commemorative bricks, which would be a nice way to remember a special memory or person at Haywood Hall.
Whether here for a special event or taking a stroll through the extensive gardens, Haywood Hall is a thrilling place to be.  I look forward to coming back again soon to stroll through the main house.
Thumbs up: gardens, special event venue, quiet spot in Downtown Raleigh location
Thumbs down: limited open hours in main house
<a href="http://www.bloglovin.com/blog/14257395/?claim=wxarbyksmyb">Follow my blog with Bloglovin</a>