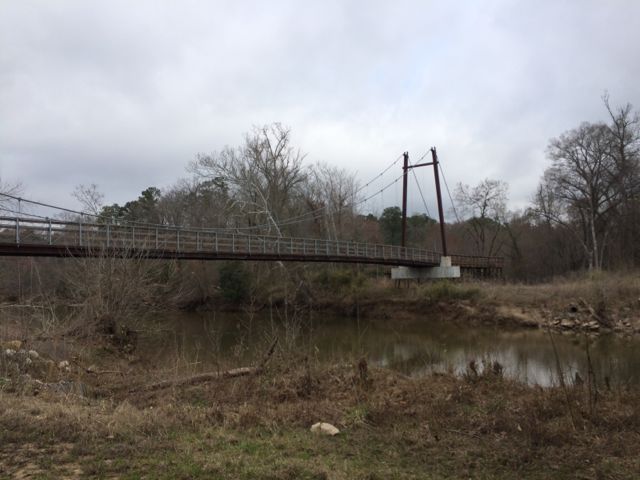 Towards the end of March we headed out to Neuse River Trail to explore the area surrounding Horseshoe Farm Nature Preserve, in anticipation of the new park opening sometime this spring/summer.  Using the RGreenway app, we mapped our starting location at the small parking lot at 198 Trailhead Ln outside I-540 and off US-401.  Knowing we wouldn't pass a playground along our run, we brought the girls' bikes and scooters to play on after our run.
We walked along the access trail to the main Neuse River Trail and turned left at the compass in the trail to head north towards Horseshoe Farm Nature Preserve.  After crossing over a wooden boardwalk we passed milepost 8 1/2.  The vegetation at this point in the year was very sparse, but showing signs of life to come (you'll see a remarkable difference in a future Neuse River Trail post that I write).  We stopped every once in awhile to point out interesting things in nature to the girls – a rotting fallen tree, a wicked looking pale-as-a-ghost tree across the river, fallen gumballs, and pigeons resting under underpasses.
After running under US-401 we came to another amazing feat of steel, cables, and pillars – a massive suspension bridge spanning across the river with access to Horseshoe Farm Nature Preserve.  The other suspension bridge I've seen along Neuse River Trail is further south at milepost 13.5.  Even though signs indicate the park is closed for construction we looped around and over the bridge for a closer look.  After a short 1/4 mile run we stopped at the "Greenway Closed" signs on the edge of the park and headed back across the bridge and further north along the greenway.  We crossed over some more bridges before turning around near run-down barns around milepost 7 1/4.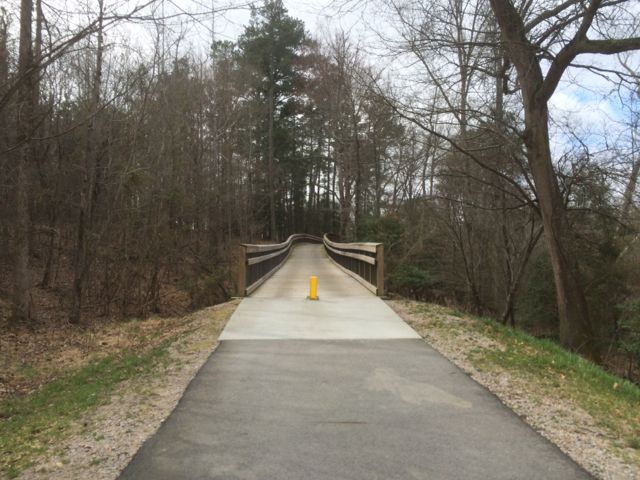 This portion of the greenway continues to be relatively flat and shady.  The areas surrounding the greenway are mostly dense forest to one side with the river to the other.  We saw quite a few fisherman on both banks of the river with most of them concentrated in spots near US-401.  Our run back to the car was much faster than the run out so we took advantage of happy little faces and retrieved a balance bike, scooter and helmets from the car and let the girls ride on the greenway.  It wasn't a busy morning on the trail, so the girls had a carefree time riding.  Ashley biked south on the greenway all the way to milepost 9 where we crossed over a small bridge with a shallow creek below, perfect for spotting turtles.  Claire enjoyed her first scooter ride where we pushed her from behind as she cruised along.  They were troopers for such a long morning run of about 4 miles and then some bike time.
Upcoming event: Celebrate the completion of the Neuse River Trail on Thursday, June 4 at Anderson Point Park with live bands, food trucks, kids' games and more
Thumbs up: suspension bridge, wide/flat trail, shady
Thumbs down: nothing to report