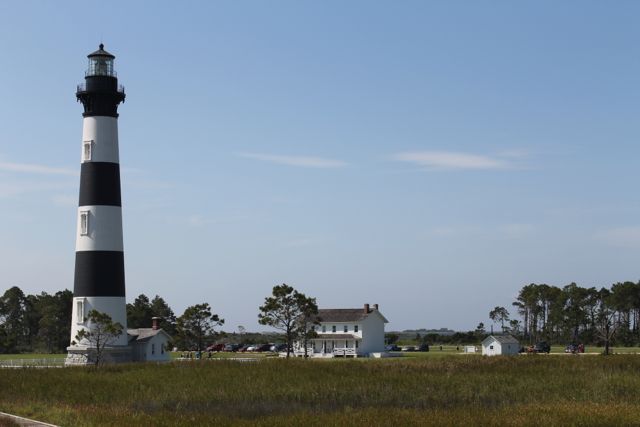 A month ago while we were in Nags Head on our family vacation, Claire and I headed south to Bodie (pronounced body) Island Light Station.  Bodie Island Light Station consists of a 200-step, 10-story lighthouse and keepers' quarters turned visitor's center.  It is run by the National Park Service and is located at 8210 Bodie Island Lighthouse Rd in southern Nags Head.  The NPS runs daily tours of the lighthouse, which are getting ready to end (although see the final full moon tour info on Wed., Oct 8).
Bodie Island was a quick 20 minute drive from our beach rental house so Claire and I arrived early in the morning, hoping to beat the crowds and score some climbing tour tickets.  After a quick stop in the visitors' center, which houses historical information about the lighthouse, we learned they weren't doing climbing tours due to the high heat index. It turns out according to their safety rules, I wouldn't have been allowed to climb with Claire in the carrier anyways.  So we explored the grounds on our own starting with a walk along the boardwalk that stretches above the wetlands area.  It was a quick 5 minute walk between high grasses to the perch that overlooks the wetlands, giving breathtaking views.  I'd definitely recommend bringing babies and early walkers in a carrier; the park can accommodate strollers, but with the steady crowds a carrier would be easier.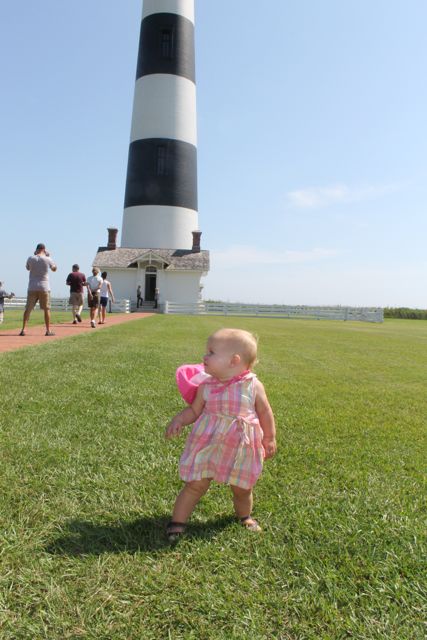 After walking back we headed over to the lighthouse to talk to the NPS rangers.  We had a great conversation with the young rangers who shared some of their favorite facts about the lighthouse: 1) how the Confederate troops blew up the lighthouse to prevent Union troops from occupying it, 2) that the lighthouse still uses its original Fresnel lens from Paris and 3) how the lighthouse still aids in navigation today given its checkered history.  Despite the high heat index they still allowed visitors to climb a few steps to the first landing.  We explored the old oil storage rooms in the front and then took pictures of the amazing view up the heavy duty spiral staircase before heading out.
Since we visit Nags Head a few times each year, I'm anxious to get back to the lighthouse (without kiddos) to take the climbing tour and capture more amazing photos from inside.
Thumbs up: friendly and knowledgeable staff, beautiful views
Thumbs down: nothing to report, but keep in mind to call ahead of time about the status of climbing tours during the hot summer months