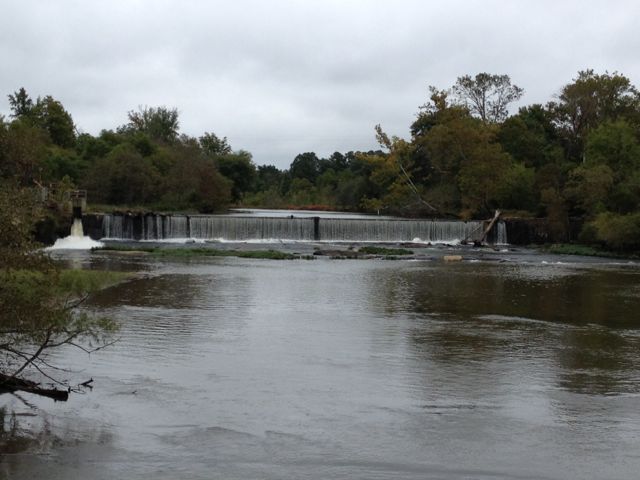 While I was training for the City of Oaks 10k last fall, it gave us a chance to try out several trails during my longer runs on the weekend.   One Saturday we headed over to the Neuse River Greenway near Anderson Point Park for a 4 mile run.  The Neuse River Greenway runs through Anderson Point Park and since I had explored part of the trail south of the park, we decided to park in the small lot prior to the entrance to Anderson Point Park and run north.
The parking lot at 22 Anderson Point Dr is rather large and serves for access to the greenway, overflow parking to the park, and canoe launch access to the river.  After parking, we headed north on the greenway and shortly saw mile marker 17 and signs for Mingo Creek Trail, which is maintained by the Town of Knightdale.
Along our 4 mile run (2 miles out and back) we passed over several pedestrian bridges, ran under New Bern Ave, passed a good amount of bikers and runners and discovered the beautiful Milburnie Dam.  The nearby greenway bridge provides great straight-on views of the dam, which has been out of commission since the 80s.  Milburnie Dam was first built in the mid-1850s as a power source for a paper mill.  From powering a paper mill, streetcars, and gristmill this dam has seen several changes since its inception according to the on-site information guide.  While the dam hasn't been in use since the 1980s, it has since created a vibrant habitat for several animals.  In researching more about the dam it seems that removal of the dam has been debated for the last decade so its future use is unknown.  In the meantime, be sure to visit this great spot for some amazing photo opportunities…yet another reason why running on the greenway can provide beautiful surprises.
There is a small parking lot for quicker access to Milburnie Dam near the intersection of Old Milburnie Rd and Loch Haven Rd.
Check out Raleigh Nature's blog post for more information on the Milburnie Dam.
Thumbs up: beautiful views of Milburnie Dam, relatively flat and shady greenway, having a playground near the greenway
Thumbs down: nothing to report