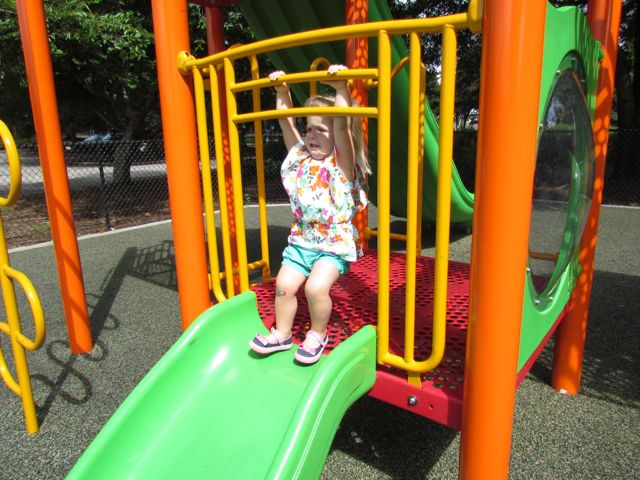 Millbrook Playground at Millbrook Exchange Park (1905 Spring Forest Rd) was renovated this past summer and we made our way over there to explore the new digs!  Within the park, it's located between the adult center and the community center near the ball fields.  There's so much to do at this new park for everyone – a tot jungle gym for the 2-5 age group and a larger (and very tall) jungle gym for the 5-12 age group.  Both jungle gyms have a rubber surface also making this a very crawler-friendly play place for the mobile, but not yet walking littles ones!  There is also a small sandbox with two diggers, two tot swings, and four regular swings, one of which is handicap accessible.

The 2-5 age group jungle gym has a few slides, some musical instruments, teeter totters, and climbing structures.  It's on the small side so Ashley quickly got bored of it and ventured over to the 5-12 age group jungle gym.  This play place has different height levels for playing that peak at a very tall height.  There are a few openings that lead down to climbing structures, but for the most part this jungle gym is well enclosed.  Ashley loved the tall slides, but was surprised at how fast she went down them! It also has some smaller slides near the ground, tunnels, monkey bars, swinging bar, a rock climbing wall, and some low height seats.  Once you get over the height of the playground, this is a great place for able kids to play!

Scattered around the park are several benches and sidewalk games of hopscotch and four square.  We were there in the morning, which didn't have much shade so plan accordingly based on the time of day and season.  I don't recall seeing a nearby picnic table, but after walking towards the tennis center we found several in the shade.  The landscaping immediately around the park was less than desired and the grass was pretty high as if it hadn't been mowed in weeks.

After visiting the playground, we had a quick snack at the picnic tables and then headed towards the tennis center to explore.  It turned out we showed up just in time for the last day of a weekend tennis tournament so we stayed to watch for awhile before heading home. On our way back to the car we spotted some steel art, the Immigrant Gate II by Jim Gallucci.  I was amazed at how extensive the tennis center is – there are 23 tennis courts, several backboards, and a large indoor area with observation deck, conference room, pro shop and locker rooms.  I look forward to getting back into tennis one day 🙂
Thumbs up: variety of play things on 5-12 age group jungle gym, swings, tennis center
Thumbs down:  no picnic tables in immediate playground area, landscaping/field maintenance