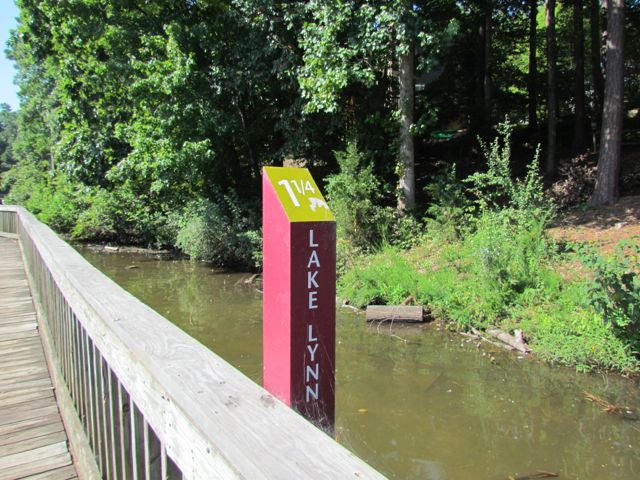 When I decided to run the City of Oaks 10k this past November, I used my toddler-free Tuesdays and Thursdays (thanks to preschool) to do my longer runs at Lake Lynn Trail. During these times I only had Claire with me, which meant I could run longer with the single BOB stroller. Pushing a double BOB stroller is exhausting!
Lake Lynn Trail is part of the Hare Snipe Creek Trail and about a 2.15 mile loop around Lake Lynn in North Raleigh. There are two entrances from where you can access the trail – one at Lake Lynn Community Center (7921 Ray Road) and one near the intersection at Lynn Rd and Leesville Rd.  Both entrances have large parking lots with easy access to the trail.  If you're trying to get a good run in and need to avoid the playground, be sure to use the Lynn Rd entrance.  The Lynn Rd entrance is also where the mile marker starts at 0.
One of the main reasons I enjoy the Lake Lynn loop so much is that it's a relatively flat trail that follows along the perimeter of the lake, offering nice views.  I knew the City of Oaks 10k would be pretty hilly (and it certainly was) but I was banking on the fact that I'd survive the race since all my runs were completed pushing at least one child in a stroller.  I also enjoy this loop because there's a good amount of traffic so I feel safe when running by myself, although it can get rather crowded at peak times (mornings, weekends, and I'm sure evenings too).
Lake Lynn trail is paved with large sections of wooden boardwalk near the northern part of the trail.  It's pretty noisy on the boardwalk so if you're planning for little ones to sleep on this run, they will probably wake up when you reach the boardwalk.  The water level is pretty low near the boardwalk and has become a popular hangout for children feeding the ducks and geese so you may have to play Frogger™ to get around that area.  But, please remember to follow all city regulations and DO NOT FEED THE GEESE….they are a nuisance and will survive just fine without the extra feedings.  Instead, take the kids around the trail and look for the sweet sunning turtle families.  There are also several apartment complexes located around the lake, so it'd be a great place to live for anyone looking to be near the greenway.
Thumbs up: relatively flat and shady trail, great views along lake, sunning turtles
Thumbs down: paved portion of trail is bumpy with tree roots, bottleneck of patrons feeding ducks, entrance from Lynn Rd is initially hard to spot