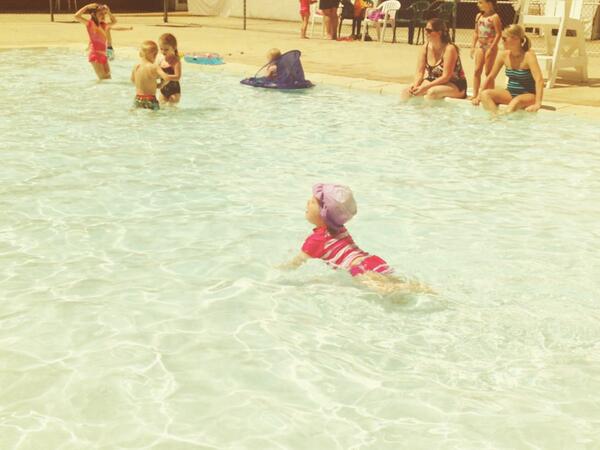 This summer we spent several evenings cooling off at our neighborhood pool and eating dinner poolside (what a great excuse for not cooking at home).  On one particular weeknight we walked over and then realized we forgot the pool had closed early because of a swim meet (ay dios mio)!  Needing a quick solution to a 2yr old desperately longing for some pool time, we decided to walk back home and head to Millbrook Pool, the city pool about 5 minutes away.  Even though the weather was looking rather threatening, we decided to chance it anyway.
Millbrook Pool is located at 1905 Spring Forest Rd in North Raleigh and is part of the Millbrook Exchange Park complex that includes a tennis facility, off-leash dog park, playground, community center, and senior center.  Millbrook has a main pool with lap swimming and open swim areas that is covered year-round.  During the summer season they open several garage-style doors to allow folks to easily get to the outdoor swimming areas.  Millbrook also has an outdoor baby pool and splash garden area that are only open during the summer.  The baby pool area is a large rectangle (no zero-depth entry) that is 18 inches deep in the middle.  It is fenced it with both concrete and grassy areas, but they do not allow picnicking in this area.  You can bring inflatable rings, noodles and other pool toys into the baby pool.  There are several picnic tables outside the baby pool that are both covered and uncovered, but it was still a pain with a little one that we couldn't just eat in the grassy area.  The splash garden area is always a big hit with toddlers, but unfortunately the only entrance to that area is from outside the baby pool area.  It would be much more convenient to have another entrance directly from the baby pool area.
The indoor pool at Millbrook typically has 6 lanes dedicated to lap swimming with a depth from 4ft to 5 1/2ft.  The open swim area is a depth from 3 1/2ft to 4ft.  Again, there are several rules for swimming in the open swim area.  We were whistled at several times for various things – trying to borrow a noodle and using the kick board in the open swim area.  Needless to say we spent most of our time in the baby pool, but Ashley had recently discovered kick boards at our neighborhood pool and just had to get her exercise in.  Being about 39 weeks preggo, I enjoyed watching them swim together from the side of the pool!
Check out the City of Raleigh website for the pool's hours of operation and fees.
Thumbs up: large baby pool area, indoor swimming option for non-summer months
Thumbs down: not being able to eat in the baby pool area, no direct entrance to splash ground area from baby pool, picnic areas had LOTS of flies