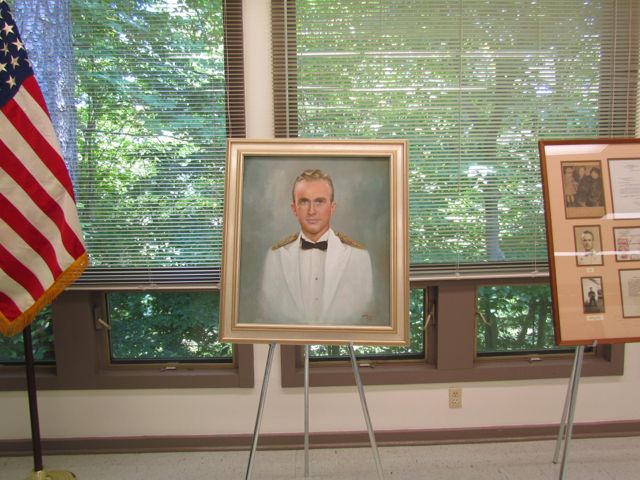 We had the great privilege of being invited to the private dedication of Marshall Park at Glen Eden Pilot Park on Memorial Day this year (what an appropriate post now that summer has ended).  It was a gorgeous day despite the heat and humidity and a wonderful way to celebrate and honor those who have served in the US Armed Forces.
At least 100 people were in attendance to remember and honor Lt. Col. George F. Marshall who died while commanding troops during the British-American invasion of Oran, also known as Operation Torch.  The ultimate goal of this invasion on November 8, 1942, was to secure the port and keep it open.  Of the 17 officers and 376 men of Col. Marshall's battalion, 9 officers and 180 men were killed in this operation, which was deemed a failure.

When Col. Marshall died, he left behind a grief-stricken 26 year-old wife, Dahlis Marshall, and two young boys, George "Rick" Jr. and Michael.  Mrs. Marshall wrote letters asking for more details surrounding her husband's death.  Leo Disher, a war correspondent who had accompanied Marshall's troops, eventually received her letters while he was recovering in a hospital in England.  They corresponded several times over the heroics and terrors of WWII, but she was finally able to piece together enough information so that when her sons were old enough she could tell them how courageous their dad was.  My favorite excerpt (that gives me chills) from a telegram from Disher to Mrs. Marshall is, "You need never fear the boys' questions, Mrs. Marshall.  You can tell them their father tackled a job of greatest importance to the success of our armies and that he never quit fighting against impossible odds, and that he never struck the ship's colors.  I hope this letter may help a little.  But it is wrong for you to say you are asking a great deal of me.  You are one of whom a great deal was asked and proudly given.  You and a great many others at home."
The dedication was a very special one, especially with all the family members in attendance.  Mrs. Marshall remarried in 1945 to Lt. Col. Robert Middleton Booth, a classmate of Col. Marshall, and several of the Booth family members were also in attendance.  Col. Marshall's son, Rick, understandably got choked up several times during his speech especially when recounting his father's war-time bravery and when his young son surprisingly came to the mic to say a few words about his late grandfather.
After the ceremony, which also included a tribute from Brig. Gen. William J. Gothard and keynote address from historian Warren Bingham, we walked along House Creek Greenway to the park site followed by a large tented luncheon (which we opted out of).  The community building nearby also housed a great deal of Marshall memorabilia including those special letters between Disher and Mrs. Marshall.  It was amazing to see how many keepsakes the families had preserved.
The dedication program listed some additional credits, from which I've included a few excerpts: "Soldiers of the Press is a war drama that was created in New York and originally broadcast on Sundays from Feb 1943 – Aug 1945.  There are at least 39 episodes in circulation out of the 148 known to exist.  Two episodes, 5 and 11, are about war correspondent Leo Disher.  Episode 5 reenacts his experiences on the HMS Walney where he met Lt. Col. Marshall.  Episode 11 revisits Disher's Walney experience as he reads Ms. Marshall's letter and dictates a reply."  When I find some spare time I'll listen to these two specific episodes.
It was an honor to be invited to such a ceremony and I'm looking forward to telling Ashley (and now Claire) about the reasons for Memorial Day and the importance of such heroic men and women.  Visit my original review of this park and how I stumbled upon it.  This is one of the hidden gems in Raleigh and a great spot for reflection amid a run or bike ride.