Easter was an especially exciting time this year because my lil' brother and sis-in-law welcomed their new baby girl, Emma Caroline, on March 27!  I drove up to Virginia with Ashley to help in anyway I could and to steal some newborn kisses and snuggle time.  Here are some fun photos of baby Emma and Easter:
While we were visiting VA, we found some time to head into downtown Fredericksburg and explore Chatham Manor, which is part of the National Park Service and served as a Union headquarters and hospital during the Battle of Fredericksburg in the Civil War.  Chatham Manor is a gorgeous Georgian mansion located at 120 Chatham Ln that overlooks the Rappahannock River.  It was built in 1771 by William Pitzhugh and named after William Pitt, the Earl of Chatham.  Chatham Manor was a thriving plantation and home to several owners and famous guests (Washington, Lee, Lincoln, Clara Barton, Walt Whitman) over the years.  Unfortunately, wartime caused much destruction to the house and grounds and it sat in much disrepair until Helen and Daniel Devore began restoration in the 1920s.  In 1931, John Lee Pratt purchased the home and willed it to the National Park Service in 1975.  Read more about the history of Chatham Manor here.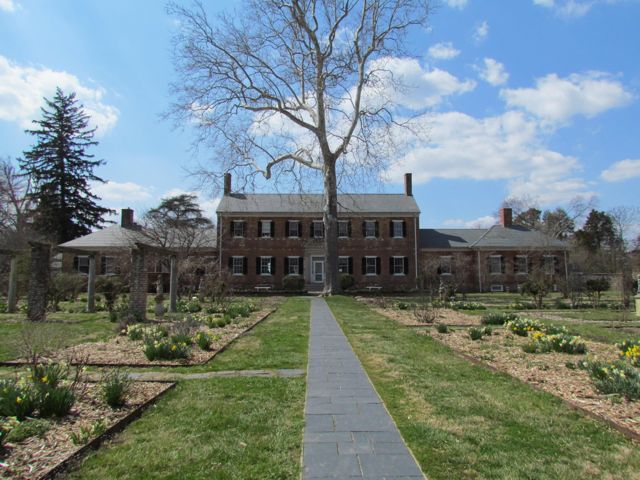 Today, Chatham Manor and its grounds are still beautiful and a symbol of the South.  The entrance through the gardens is surrounded by a large brick wall.  We visited at the beginning of Virginia's spring season so the gardens were popping with daffodils.  Other than the main house, there is a fish pond, kitchen, dairy barn, and greenhouse.  The main house has exhibits that are open to visitors (our little visitor was not interested in walking through the house that day) but the other structures on the property are not open to the public.  The back of the property overlooks the river, providing gorgeous views of downtown Fredericksburg.  You can also see a replica cannon and pontoon bridge, similar to what General Burnside's Union army used to cross the river in 1862.
Having not visited a Fredericksburg-area historical site since an elementary school field trip to Ferry Farm, I can't wait to return and explore the other nearby battlefield areas with Baby Emma, Ashley and other future little ones.
Thumbs up: rich history in Fredericksburg, gorgeous views, gardens
Thumbs down: nothing to report