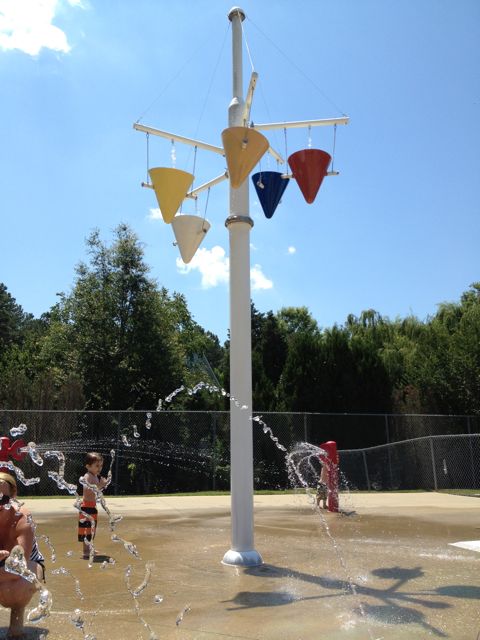 This post originally appeared on Southwestraleigh.com where you learn more about how to live, work and play in the Creative District.
Are you looking for a fun way to cool off this summer in the Creative District?  Then head to Lake Johnson Pool where you can catch a tan, swim some laps, or let the little ones burn off some energy.
Lake Johnson Pool is located at 1416 Athens Dr, adjacent to Athens Drive High School.  Turn down the side street opposite Athena Woods Dr and continue until you see the pool sign on the left.  There is a smaller parking lot near the pool gate entrance and an overflow parking lot not too far away.  The building with the main entrance contains the locker rooms, vending machines, guard office, and a small shelter area.
After walking through the main building you have your choice of three different swim areas: wading pool, open swim and lap lane pool, and splash garden.  The wading pool is a separately fenced-in area with a water depth of 10-in to 18-in and a large spray fountain at one end.  There is a small canopy for shade near the gate and a large amount of deck space between the pool and fence.  With the pool just opening the weekend before and the lack of summer heat thus far, the water was chilly, but refreshing.
The splash garden is a separately fenced-in area that has a concrete deck with several fun water features.  It has several small fountains, two fire hoses, a spray fountain, and a water bucket feature.  There's a small grassy area nearby for watching the little ones play.
The large pool area has an open swim area and a few lap lanes.  The water depth starts at 4 ft and goes up to 5 ft 6 in.  There's a grassy area surrounding most of the pool with piles of plastic deck chairs for patrons to set out as needed.  Picnic tables are sparse, but there's quite a bit of grassy area to spread out blankets and towels.  Also sprinkled around the pool are flower gardens, trees, and wind chimes.
Here are the operating hours and pool fees for Lake Johnson Pool:
Fees
Ages 1-12: Resident – $1/Non-Resident – $2
Ages 13-54: Resident – $3/Non-Resident – $6
Ages 55+: Resident – $2/Non-Resident – $4
Wading & Spray Pool
Mon-Fri: 9am-8pm
Sat: 10am-8pm
Sun: 1-6pm
Open Swim
Mon-Fri: 12pm-8pm
Sat: 10am-8pm
Sun: 1-6pm
Adult Lap Swim
Mon-Fri: 8am-8pm
Sat: 9am-8pm
Sun: 1-6pm
Lake Johnson Pool is open until September 3.  Visit the City of Raleigh website for more information about admission fees/policies and days of operation.
Thumbs up: landscaping inside pool, grassy picnic spots, fenced-in wading pool and splash garden
Thumbs down: locker room areas, lack of picnic tables