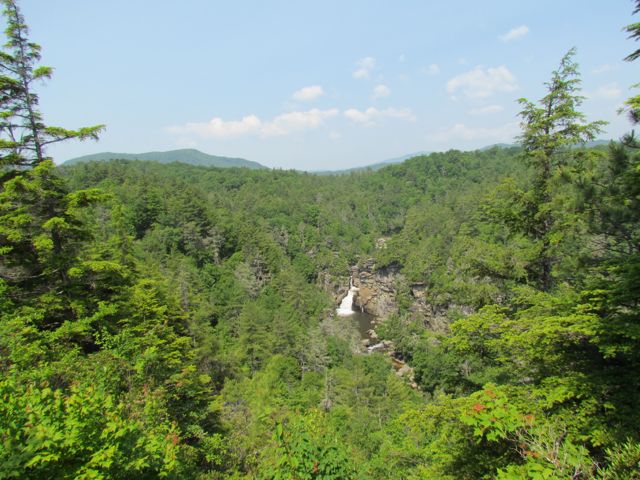 For Memorial Day weekend we headed out to the Grandfather Mountain area on the annual Raleigh Jaycees camping trip for some cabin camping.  This was the first time we had ever been to the Boone/Blowing Rock/Banner Elk area and we can't wait to go back!
We stayed at the Grandfather Mountain campground, which is not on the state park property, but only about 5 miles away at 125 Profile View, Banner Elk.  Being our first year up there (and with a baby), I was reluctant to jump into tent camping so we opted for one of the nearby cabins.  It was a two-bedroom place with a small kitchen, bathroom, living room, and cable TV…basically a primitive hotel room on a campground, but I was happy! All our friends camped at the nearby open field, so we happily mooched off their campfires and s'mores all weekend!
My goal for the weekend was to make sure we had enough fun outdoorsy things to do during the day to keep baby entertained.  I researched a few things ahead of time and got some advice from friends so our weekend was pretty jam-packed, but just the way I wanted it.
On Saturday morning we headed out to Linville Falls, which is about 10 miles southwest of where we stayed.  It is located on the Blue Ridge Parkway and maintained by the National Park Service.  From Grandfather Mountain campground on 105, you follow 105 south, turn onto 221 south and then north on the Blue Ridge Parkway.  In about a mile onto the BRP, you'll take a right into Linville Falls.  Follow the road for a few miles where you can take pictures near the unexciting overlooks and then it'll dead end into the parking lot for the park.
Earlier last week I found an amazing Craigslist deal on a Kelty 2.0 child carrier.  It was a crucial purchase for this weekend.  We quickly strapped Ashley in and away we started for the visitor center and maps.  Linville Falls has  three main trails – Erwin's View Trail (moderate), Plunge Basin Trail (difficult) and Dugger's Creek Loop Trail (easy).  Each one has a few different overlooks to hike to and the map clearly notes the length of each trail, which are all under 1.5 miles.  Being our first major hike with Ashley and the backpack we opted for Erwin's View Trail.  Here's a link to a Linville Falls map.
The first overlook we came to was the Upper Falls Overlook.  The narrow pathway of stones led to a large rock outcrop where you had gorgeous views of several falls.  Upstream the river was rather wide and then near this overlook the river narrowed creating a gushing of water down below.  Large rocks lined the downstream falls making the last section of waterfalls look like an infinity pool.
Next we continued on towards the northern most falls – Chimney View (closed due to fallen tree branch) and Erwin's View.  The hike up there was very moderate.  In general, the majority of the paths were very easily travelled with 10ft+ wide paths sprinkled lightly with tree roots and stones.  At the clearing near the top is where Chimney View is located, which was closed.  There was also a nearby pavilion with some benches.  A little further up the path was Erwin's View.  We had to climb a few stairs to get to this section, but it was well worth it.  As you look across the river you see the opposite view from the upper falls.  Even though the view of the falls is far away, the mountain views were gorgeous.  We stuck around here for about 20 minutes to let Ashley get out and enjoy a quick snack before heading back down.
After leaving Linville Falls we tried going to Linville Caverns, which is only about 5 miles away but decided to leave it for another trip after we found out that child backpack carriers weren't allowed.  So, we headed back north to downtown Boone in search of lunch.  Back at VT, our club field hockey team once travelled to App State for a game, but we never had the chance to explore anything besides the football field.  Downtown Boone definitely reminded us of being back in Blacksburg with the local shops and restaurants and college students and families out and about, except downtown Boone was much busier than any summer day we'd ever seen in Blacksburg.  We stopped in at Our Daily Bread and scarfed down some yummy sandwiches and cups of water.
After our fun adventures on day 1, it was time for showers followed by yummy campfire burgers and s'mores!
Thumbs up: gorgeous views, relatively easy hike, photo ops
Thumbs down: get there early in the morning as it gets busy with tourists
P.S. Yay for my one-year blog anniversary!