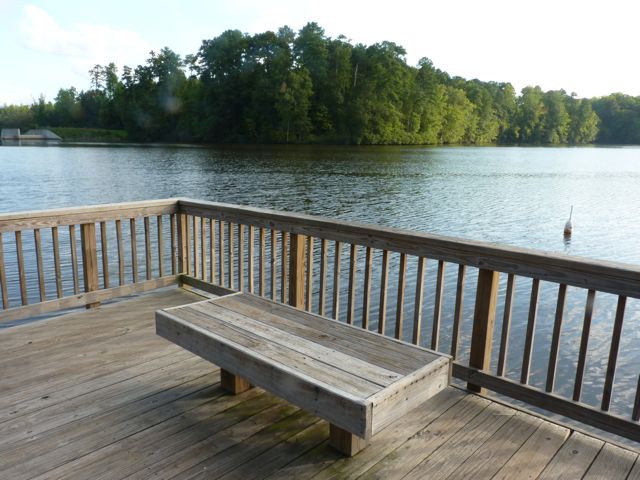 This post originally appeared on southwestraleigh.com, where you can learn more about what a great place South West Raleigh is to live, work, and play.
The last time I was at Lake Raleigh (unknowingly) was during last year's Polar Plunge 5k race with the Raleigh Jaycees. The race started near the lake, meandered through Centennial Campus, and then ended back at the lake where several people plunged into Lake Raleigh…in February! All for a good cause nonetheless.
Visiting Lake Raleigh on a cool-summer-almost-Fall-time day is a much more practical way to explore the lake.
Open to the public, Lake Raleigh is located on NC State's Centennial Campus, nestled between college buildings, corporate/government/non-profit partners, and residential space. Like any place you visit on a college campus, parking will always be a nuisance. There is a small parking lot at Lake Raleigh, but it requires an NC State parking permit Mon-Fri from 7am-5pm. You can pick up a $2 visitor day pass from the visitor center or plan to go during other times. There is also parking along Main Campus Dr, but those too have parking restrictions.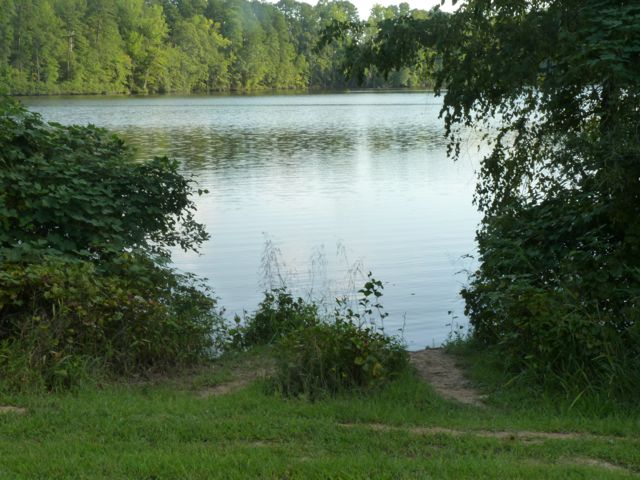 Fishing is permitted in marked areas and non-motorized car-top boats such as kayaks or canoes are also allowed in the lake. There are two fishing piers near the entrance with long benches, perfect for enjoying the views or waiting for a bite. The paved trail is part of the Centennial Greenway, which is a work-in-progress.
The trail extends in both directions past the main entrance, but does not loop around the lake. If you walk to the right, you'll pass other popular fishing spots, wetlands, The Shores residential area, and a bridge perfect for taking photos. If you walk to the left, you'll pass gorgeous views of the lake, the SOUL community garden, the 9-hole par 3 frisbee golf course, and an exercise station before coming to the tunnel under Main Campus Dr.
As noted above, the trail is part of the Centennial Greenway, which is a fitness trail and educational tool for the campus community. Little mowing is done around Lake Raleigh to allow the natural plants to thrive. Future development of the greenway will connect Centennial Greenway to the Capital Area Greenway at Lake Wheeler Rd and Lake Johnson.
Thumbs up: beautiful views, fishing, boating, frisbee golf course
Thumbs down: parking, lack of area map near main entrance