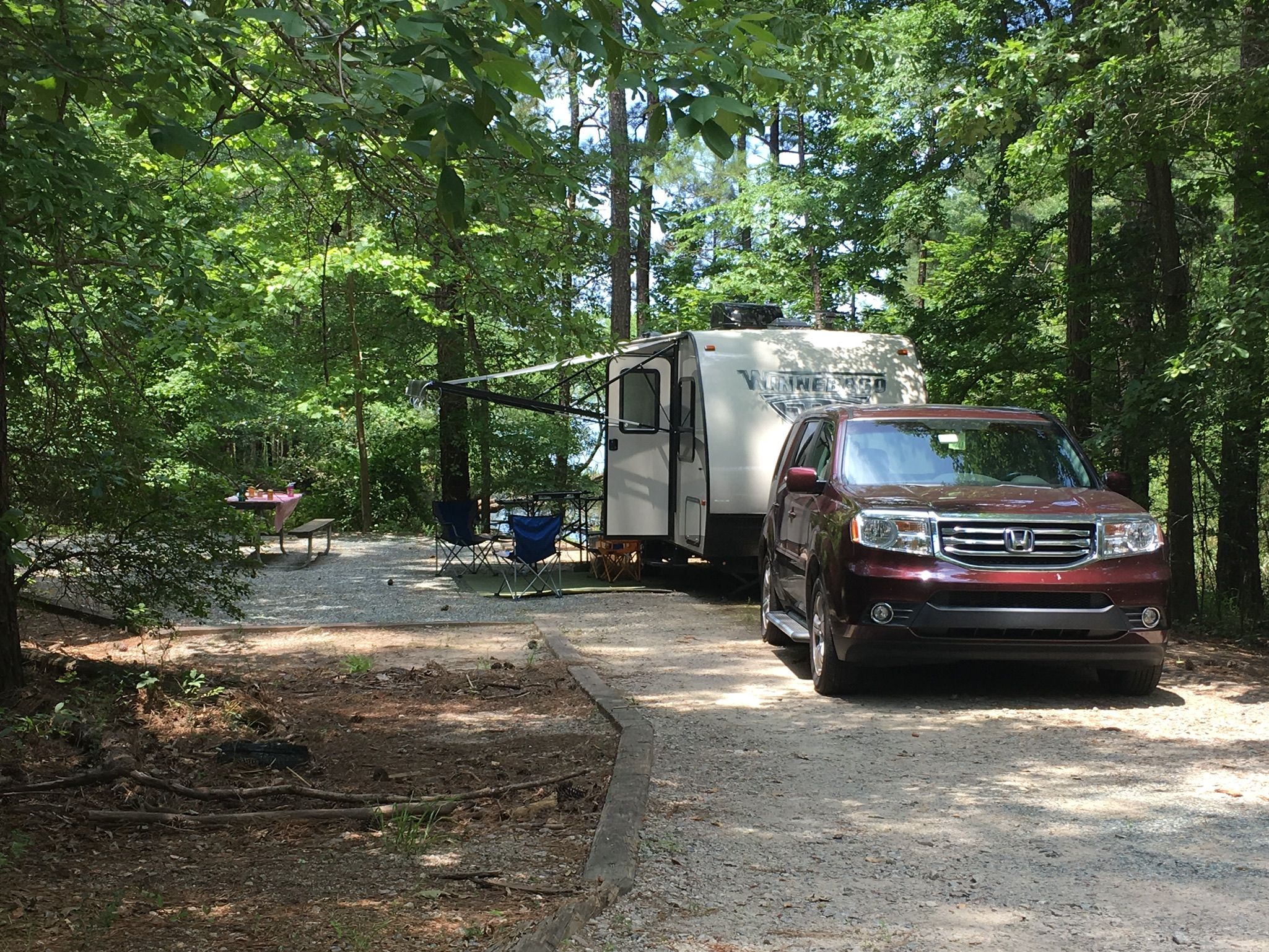 For our maiden voyage in the Winnie, we headed to Jordan Lake State Recreation Area for a quick 24-hr overnight trip. We wanted to get a small sample of camping while staying close to home. Jordan Lake State Recreation Area is located about 30 minutes west of Raleigh off US-64. Whether you're going for a short trip or several days, Jordan Lake has lots of outdoor experiences and recreational activities to offer.
Camping
A few weeks before our trip we reserved a campsite online with electric and water hook-ups at Poplar Point Campground. The entrance for Poplar Point Campground is located at 558 Beaver Creek Rd in Apex. Jordan Lake State Recreation Area is enormous with over 1,000 RV and tent campsites scattered over five different areas. We chose Poplar Point Campground because it has many waterfront campsites available with water and electric hook-ups and a recreation beach at Loop E. We reserved spot 58 at Loop H, which is a back-in spot, like most at the park. The NC State Park registration system is very useful. You can search by amenities, whether you need a pull-through spot, and length of site. Similar to hotel room booking systems, it also shows multiple pictures of each campsite.
We arrived early on a Saturday morning and checked-in at the Poplar Point front gate. The ranger confirmed that we could switch our spot for the more popular first-come, first-serve spots at Loop E if we wanted. Loop E features a beach area, playground and more waterfront sites. But, after driving by our site at Loop H, we decided to stick with our original plan. We were anxious to set-up the Winnie and explore the campground.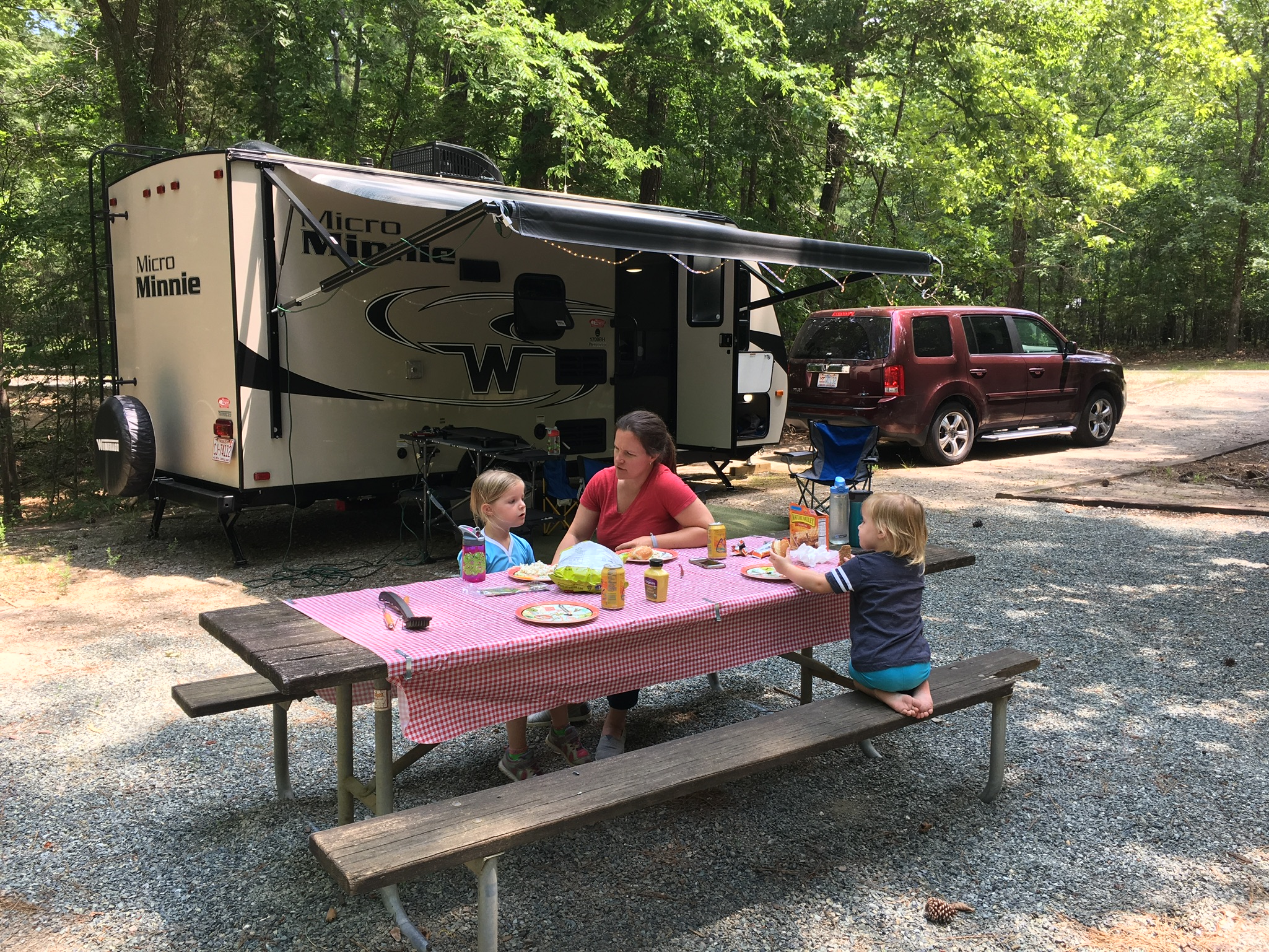 Our partially shaded campsite featured a flat gravel pad, picnic table and grill. There's a short walk to the water, which we were hoping to use for fishing access, but unfortunately there was more poison ivy than we wanted to dodge. We found another access to the water, but the low-lying trees made casting difficult for the girls. Surprisingly, we didn't have any neighbors during our entire stay. Though the girls were sad because they couldn't play with new friends, it also meant they could run around like maniacs without worrying about traffic.
We spent about 45 minutes setting up camp by rolling out the rug, organizing the outdoor food station, hooking up the water and electric, and making sure the party lights hung perfectly. This park (and most state parks) features a dump station near the entrance, which we used on the way out to empty our gray and black tanks. For lunch, we quickly cooked hot dogs and grilled deli sandwiches on the griddle before heading to the beach.
Recreation Area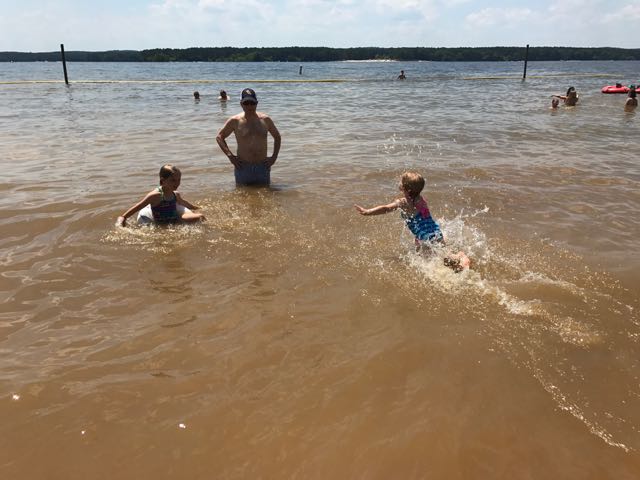 After lunch we headed to the recreation area to cool off in the beach. The recreation area at Loop E features a large sandy shoreline with designated swimming area. The water was refreshing and the boats racing by made fun waves for the girls. The girls loved catching the waves with their inner tubes and building sand castles on the shore. They enjoyed racing into the water and diving into the calm water. Even though the water was a little murky, they didn't seem to mind.
The recreation area has a narrow forested area near the parking lot with picnic tables and benches. We spotted several fishermen fishing further down the shoreline. We also saw a pontoon boat selling shave ice and snacks on the shoreline. Even though we just missed the shave ice, we watched the boat motor to the recreation area on the opposite side of the lake.
Unfortunately we left several of our beach essentials (beach chairs, umbrellas, sand toys) at home, placing greater attention on our camping items. We bought inner tubes at the convenience store off US-64, which proved crucial beach toys. Despite not having all our regular beach things, we spent over two hours at the lake beach having a fabulous time.
Dinner Camping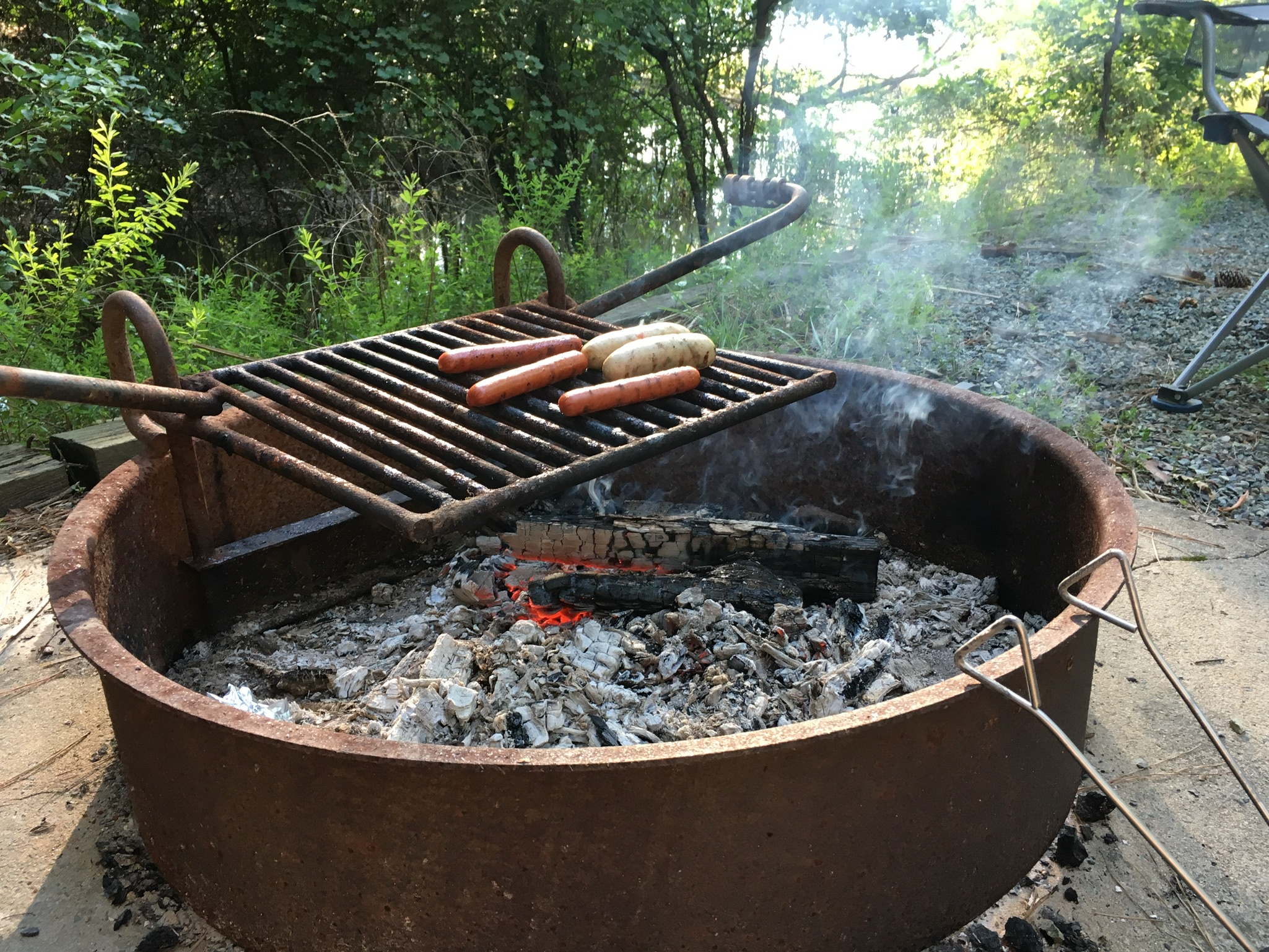 After playing at the beach we headed back to our campsite for showers and dinner prep. The girls helped shuck corn for grilling on the fire pit while I made mac n cheese on the trailer range. We grilled chicken sausages, corn on the cob, hot dogs and cinnamon sugar filled apples for dessert.
After cleaning up dinner we settled in for puzzles and Uno. I also taught the girls how to play the card game, War, which immediately became their favorite game! Once the sun went down, we chased fireflies around the loop and used our campfire to make s'mores. Then, we read a bit of Wind in the Willows around the campfire before tucking the girls into their bunks.
Though it took the girls a little longer to fall asleep, they slept soundly until morning. Bill and I enjoyed some music around the campfire while listening to insects chirp near the water. Overall, our first overnight trailer trip was a big success! Camping in the trailer was an exciting, but relaxing experience while Jordan Lake offered lots of fun at a quick drive away.
Thumbs up: campsite space, large beach recreation area, affordable family camping,
Thumbs down: poison ivy down to the water near campground