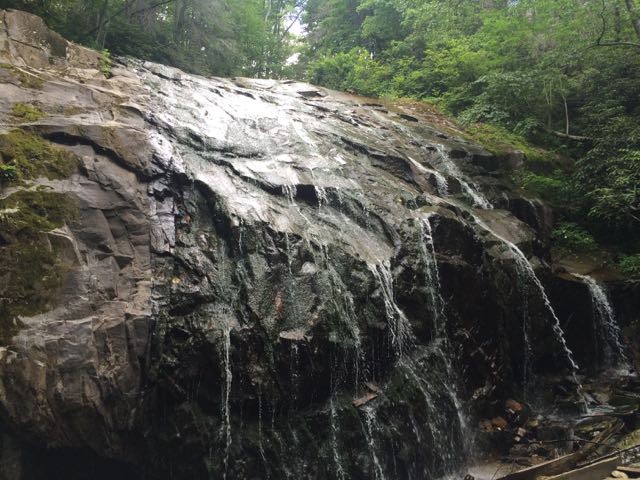 While we were in the NC mountains, Bill and I scooted out for a day date hike and beers in Blowing Rock.  We hiked the Glen Burney trail located just off Main St at 229 Laurel Ln in Annie Cannon Gardens.  The Glen Burney Trail is 1.6 miles long (3.2 total miles out/back) and parallels the New Year's Creek, which eventually flows into the Catawba River Basin.  The trail is unlike others I've ever hiked because it starts at 3,920 ft in elevation and drops 600 ft to the base of the falls.
The hike started off moderate as we crossed a few gentle streams and walked along even ground.  Then we hiked by dramatic backyard views of a private home and ruins of a former sewer plant that was in use until 1929.  Soon thereafter, the trail became more strenuous as we crossed large roots, steep hills, and fallen logs.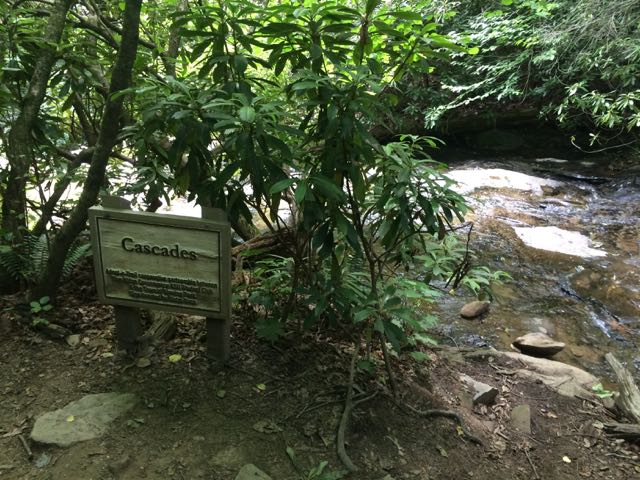 We arrived at the first waterfall, the Cascades, a little past halfway down the trail.  The creek water gently flows over these moderately sloped rocks, allowing hikers to cautiously climb up the rocks to higher ground.  We stopped to take in the sights and sounds before moving farther down the trail. On our next stop we hiked to the base of the trail at Glen Marie Falls.  We climbed up large boulders sandwiched between small streams to get higher views of the mountains in the distance.  Again, we stopped for several minutes to take in the quiet sights and sounds.
After Glen Burney Falls, we started our ascent back up the trail and stopped at the Glen Marie Falls.  We had passed the sign for these falls on the way down the mountain. We hiked a short ways off the trail to the reach the falls, and it was well worth it.  I walked along the creek rocks to enjoy cooling off in the waterfall where water gently flows from a 30+ft boulder.
We then continued our ascent up the mountain, which was much shorter than our hike down; walking down we focused a lot of our time on our footing.  Overall, the hike took about 1 1/2 hours and was strenuous, so we were right to hike this trail without kids.  Judging by the little foot traffic, it's a hidden gem of a hike even though busy Main St is a few blocks away.  After our hike we wandered around Annie Cannon park, which features several spots for quiet reflection, a small creek, an amphitheater, and beautiful landscaping.
Thumbs up: beautiful views, little foot traffic, easy access to waterfalls, unique hike down and then up
Thumbs down: nothing to report