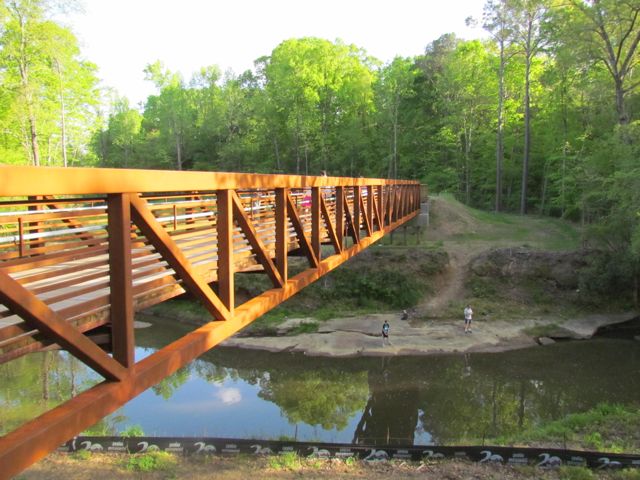 A couple of months ago we attended the Neuse River Trail grand opening at Anderson Point Park located at 20 Anderson Point Dr.  Most grand openings we attend are usually low-key and only involve a few important speakers, but this celebration was full of food trucks, live music, crafts for kids, local vendors and more.  As typical, we sat through 5 minutes of the grand opening speeches and then played on the playground before hitting up the food, vendors and crafts.
The Neuse River Trail is located on the eastern side of Raleigh paralleling the Neuse River with 7 bridges over the river throughout the trail; it  begins at Falls Dam Lake and continues south past the WRAL Soccer Park, Buffaloe Rd Park, Milburnie Park, Anderson Pointe Park and to the Johnston County line.  The new section of trail added 20 additional miles, bringing the total distance of this paved trail to 27.5 miles.  The Neuse River Trail allows for easy connections west to Crabtree Creek Trail or Walnut Creek Trail and is a great connection between the municipalities of Wake Forest, Raleigh, Knightdale, and Johnston County.  Part of the trail is also a segment of the Mountains to Sea Trail that extends from the Great Smokey Mountains to the Outer Banks.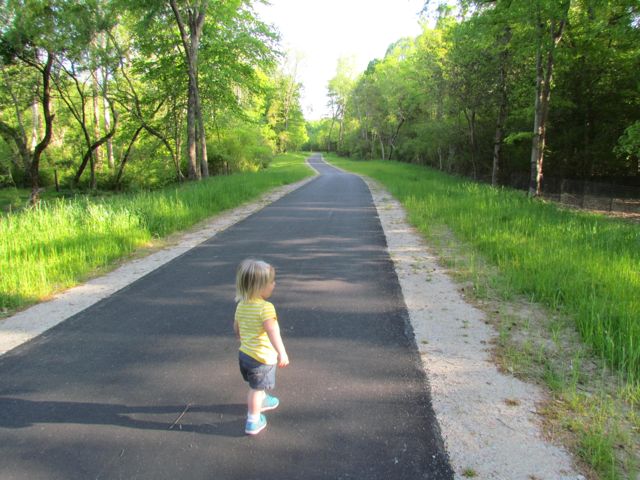 After devouring some delicious pizza from my favorite local food truck, Klausie's, Ashley and I headed south on the trail for about a mile before her patience and the time got the best of us.  The parts of the trail we walked were gorgeous – the trails are 10ft wide, the views of the river are amazing, and the bridges make for exciting photo ops.
To access the Neuse River Trail near Anderson Point Park, the parking spots are either inside the park or at the parking lot near the canoe put-in at 22 Anderson Point Dr. At this location, you'll be near mile marker 17 of 27.5.  I can't wait to return and explore more of the trail on bike next time!
Additional Resources:
Thumbs up: condition of trail, scenic views of river, photo ops, bridges
Thumbs down: signage to trails from within park