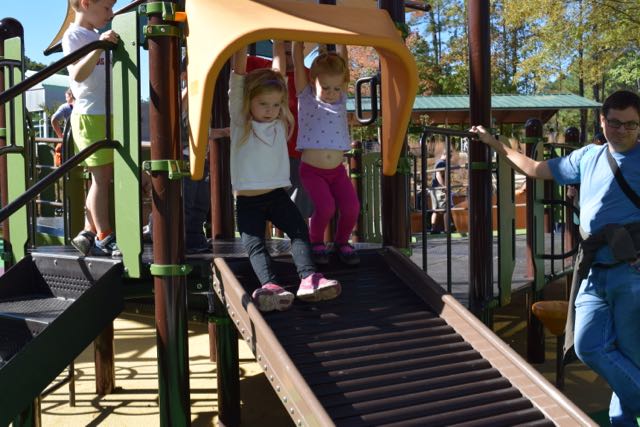 Writing escaped me this fall and winter. As I tried writing, my head jumbled and I lost my writing motivation. Writing is something that can only get better with practice, and I'm hoping in the early months this year, I'll become more motivated and write more frequently.
Last fall we visited the newly opened Laurel Hills Sassafras All Children's Playground in West Raleigh. The playground is located at 3808 Edwards Mill Rd, convenient to Crabtree Valley Mall, I-440 and I-40. If you're looking for unique climbing structures and play areas to exhaust excite your kids, this is the place! The new playground features over 3.5 acres of multi-level swinging, climbing, running and sliding fun. It features several "tree house" play structures connected by wide, low-grade ramps with lots of climbing and sliding options for getting on and off the playgrounds. My girls loved the more challenging ladders, tree trunk steps, and rope nets – "bring on the heights and danger" is their motto! The connected play structure contains some shorter climbing areas with tunnels, balance beam, and a rolling slide – perfect for toddlers. The smaller tot play area features tethered rope swings and a small climbing sphere.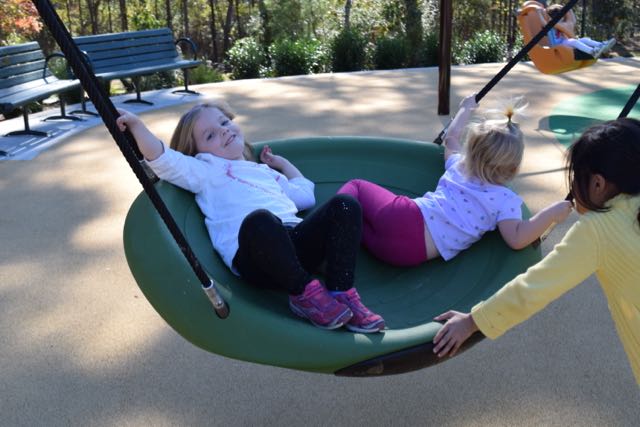 The far end of the playground contains swings (tot swings, tire swing, regular swings, and handicapped-accessible swings) and basketball court. Tall grasses arranged in a fun maze provide a textured separation from the rest of the playground. The large sandbox area features a handicapped-accessible sand table and wall seating for grown-ups. The girls also loved the zip lines, which feature about 20 yards of fast-flying fun on cables; one zip line contains a bucket seat for added safety.
Park benches installed around the perimeter and interior of the playground provide lots of options to rest and monitor children. With so many features this park can be overwhelming to keep track of multiple children. We still managed to lose track of our kids, despite having Bill with me. An elevated grassy spot helps alleviate those concerns, but with my busy kids we still had trouble. Unfortunately, there's not an outdoor bathroom facility within eyesight of the playground; however, the community center has several bathrooms and an outdoor facility is located down the paved trail across from the small pond. The main entrance of the playground contains picnic tables and a nearby large pavilion available for rent.
While we'll all miss the old all-wooden castle playground at Laurel Hills, the unique play areas of the new playground provide thrilling play for all ages and abilities. With the recent warm February weather, I'm excited to visit the playground again, knowing we probably overlooked some play spots during our first visit.
Thumbs up: thrilling slides, uncommon play features such as zip lines, variety of swings for all ages and abilities, unique sand box equipment, rubberized surface, landscaping
Thumbs down: bathrooms aren't within eyesight, it's difficult to keep track of multiple children