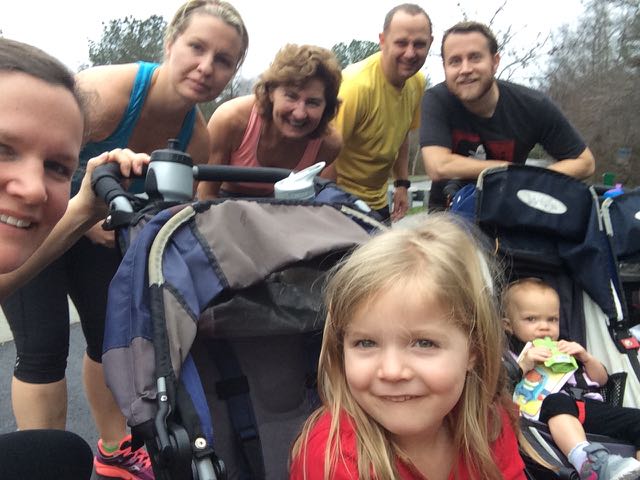 When the weather hovered in the high-70s on Christmas Eve, my family headed to a newly opened section of greenway for some exercise before filling up on holiday libations and rich foods.  East Fork Mine Creek is a 2.5 mile north-south paved trail that runs along Mine Creek near Lynn Rd to the north side of Strickland Rd.  We drove to one of the entrances of the trail near the intersection of Newton Rd and Sandy Creek Rd and parked in the shopping center across the street (note: take note of "no parking" signs; we arrived before the shops opened so we thought we'd be fine with parking in the center).
After crossing Newton Rd and heading north on the trail we quickly passed mile marker 1.  With the recent rains the paved trail was pretty wet with debris and the nearby Mine Creek flowed quickly.  This section of the trail runs behind a residential area of houses and apartments.  We also passed by a large section of tall bamboo on the side of the trail opposite the creek.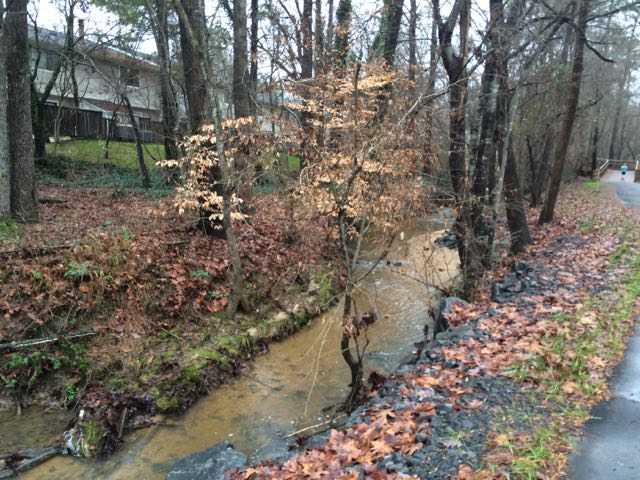 We continued north on the trail until we came to Old Deer Trail, a neighborhood street in the Summerfield subdivision.  We crossed over Old Deer Trail and followed the Capital Area Greenway signs as we winded our way through this cute, low-traffic neighborhood.  We passed a few other bikers and walkers along the way before coming to Strickland Rd.  We crossed Running Cedar Trail, heading east on Strickland Rd where we also passed West Millbrook Middle School and mile marker 2.5, the end of East Fork Mine Creek Rd.  At this point of the trail there is a well marked pedestrian crossing area designated for crossing over busy Strickland Rd.  My aunt and I opted to head back to the car while the rest of the group crossed Strickland Rd to extend their run on the connecting Honeycutt Creek Trail (more on this hilly trail in a future post).
A morning run on this section of East Fork Mine Creek was the perfect pre-Christmas exercise to involve all ages.  This section of the trail is pretty flat and offers lots of creek views, houses and people for little ones to view.
Thumbs up: flat trail, creek/residential views, safety, well-marked pedestrian crossing at Strickland Rd
Thumbs down: designated trail parking near Newton Rd