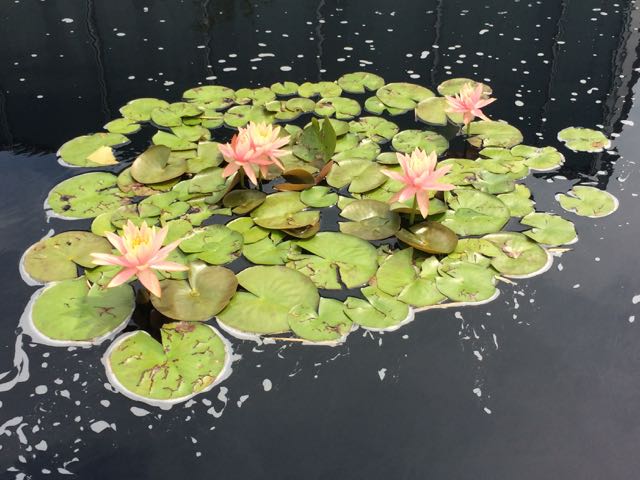 Over the past two years, I've learned that Mother's Day is all about the balance for me. After losing my mother so suddenly in 2015, I realize I yearn for more reflection and relaxation (aka alone time without kids) to counter my natural tendency for wide-open family fun and adventure. I've consciously let the reflection and relaxation needs run their course because I know later that day, that week, or that month I'll be a less crazy better mom and wife.
After our traditional Nags Head trip with friends last year (aka the fun and adventurous side of things) I walked solo around the NC Museum of Art's Museum Park while listening to music and my favorite parenting podcast, Atomic Moms. It helped me clear my head, process things, and feel grounded. This year, I'll probably head to a similar place after getting home from our Nags Head trip.
So, if you're around in Raleigh this week/weekend and are looking for a special way to celebrate the special wife or mom in your life, look no further than this list of upcoming organized events in the local parks and my personal mix of outdoor outings to balance adventure with relaxation.
Happy Mother's Day to all the moms out there and cheers to making memories and searching for finding balance.
Organized Programs
You are my Sunshine Mother's Day Craft at Buffalo Road Athletic Park (Tues., May 9 at 11am) – Join the super fun Fit4Mom Midtown Raleigh Stroller Strides group after class for a Mother's Day footprint craft. All ages welcome & all supplies will be provided. Meet by the playground and we'll make sunny feet under the shade at the picnic tables; all ages welcome; FREE
Dorothea Dix Guided Walking Tour at Dorethea Dix Park (Tues., May 9 from 5:30-7:30pm) – Take a 2-hour, 3.5 mile tour that covers the history of the buildings, land, and legacy of Dorothea Dix, the current use of the area as the headquarters of the Department of Health and Human Services and the steps the City will take in planning a future park; pre-registration required; FREE
Moonrise Stroll at Falls Lake State Recreation Area (Tues., May 9 from 7:30-8:45pm) – join an easy 1.2 mile hike to watch the nearly full moon rise over Falls Lake; start location – Beaver Dam Recreation Area, Duck Cove Trailhead; all ages; FREE; hikers are encouraged to pre-register
Birds & Nests at Annie Louise Wilkerson Park (Wed., May 10 from 10:30-noon or Sat., May 13 from 10:30-noon) – go on a bird hunt, make a craft, and meet Mama and Papa bluebird and take a peek in their nest box; $3; ages 3-5 with parent; course # 205486, 205487
Gifts for Mom at Worthdale Community Center (Wed., May 10 from 10-11am) – Make a special gift for Mom; $8; ages 2-5; course # 207187
Mother's Day Crafts at Hill St Community Center (Wed., May 10 from 5-6pm) – create a special Mother's Day Craft; ages 5-12; FREE; course # 197397
Mother's Day Tea Party at Greystone Community Center (Thurs., May 11 from 10-11:30am) – do you want to make Mom feel special? Come and enjoy time with your mom/caregiver at our Mother's Day Tea Party. This workshop will give children an opportunity to create a special gift for their mother. Enjoy tea/juice and cookies; ages 18 months to 4 years with parent participation; $9; course # 205695
Photography walk at JC Raulston Arboretum (Thurs., May 11 from 2-3pm) – let mom explore the close-up world in the garden and achieve strong compositions and fun abstracts; $10 members/$15 non-members
Nature & Sensory Play Day at Durant Nature Preserve (Fri., May 12 from 10-noon) – come check out Durant's Sensory and Nature Play Garden! Enjoy self-guided activities to delight the senses and encourage nature play. Although registration is not necessary, it is helpful for preparation; all ages, with parent participation; FREE; course #205363
Wee Wetland Walkers at Walnut Creek Wetland Center (Fri., May 12 from 11am-noon) – this program is designed to move at a toddler's pace: Run. Stop. Pick dandelions. Run. Climb on a rock. Find an interesting leaf! Join others for an easy-paced hike around the greenway, accompanied by one of our naturalists. Registration is not required but is helpful for planning; FREE; all ages; course # 203539
Parents' Evening Escape at Millbrook Exchange Community Center (Fri., May 12 form 6-8:30pm) – Mom and Dad deserve a night out! Let your child join us for a fun-filled night of games, activities and pizza. Participants will create a Mother's Day gift while you're out; $15; ages 5-10; course #205154
Nature Scavenger Hunt at Horseshoe Farm Nature Preserve (Sat., May 13 from 1-2pm) – Exploring the preserve, and learn about nature while uncovering the hidden nature-themed treasures! Make an afternoon of it and bring a picnic lunch to enjoy before or after the hunt; ages 4 years and up with adult participation; $1; course # 206618
Weekend Family-Friendly Tours: Bon Voyage at NC Art Museum (Sat., May 13 or Sun., May 14 at 10:30am) – Discover all the places art can take you as you travel the world without leaving the Museum walls; FREE; half-hour tours for ages 5-11 with their adult companion
Are you my Mama at Blue Jay Point County Park (Sat., May 13 from 1-2pm) – Create great Mother's Day cards while learning about different styles of mothering in the animal world; $1, all ages but most appropriate for ages 5 years+, pre-registration required
Mommy & Me Tea Party at Eastgate Park (Sat., May 13 from 2-4pm) – Celebrate Mother's Day with a spot of tea at an afternoon tea party for mothers and daughters of all ages. We will enjoy tasty treats while sipping steaming cups of tea or ice cold lemonade. Mothers, grandmothers, daughters and other significant women in your young lady's life are all welcome; $10 per person; all ages, course #205100
Home Grown Adventure & Relaxation