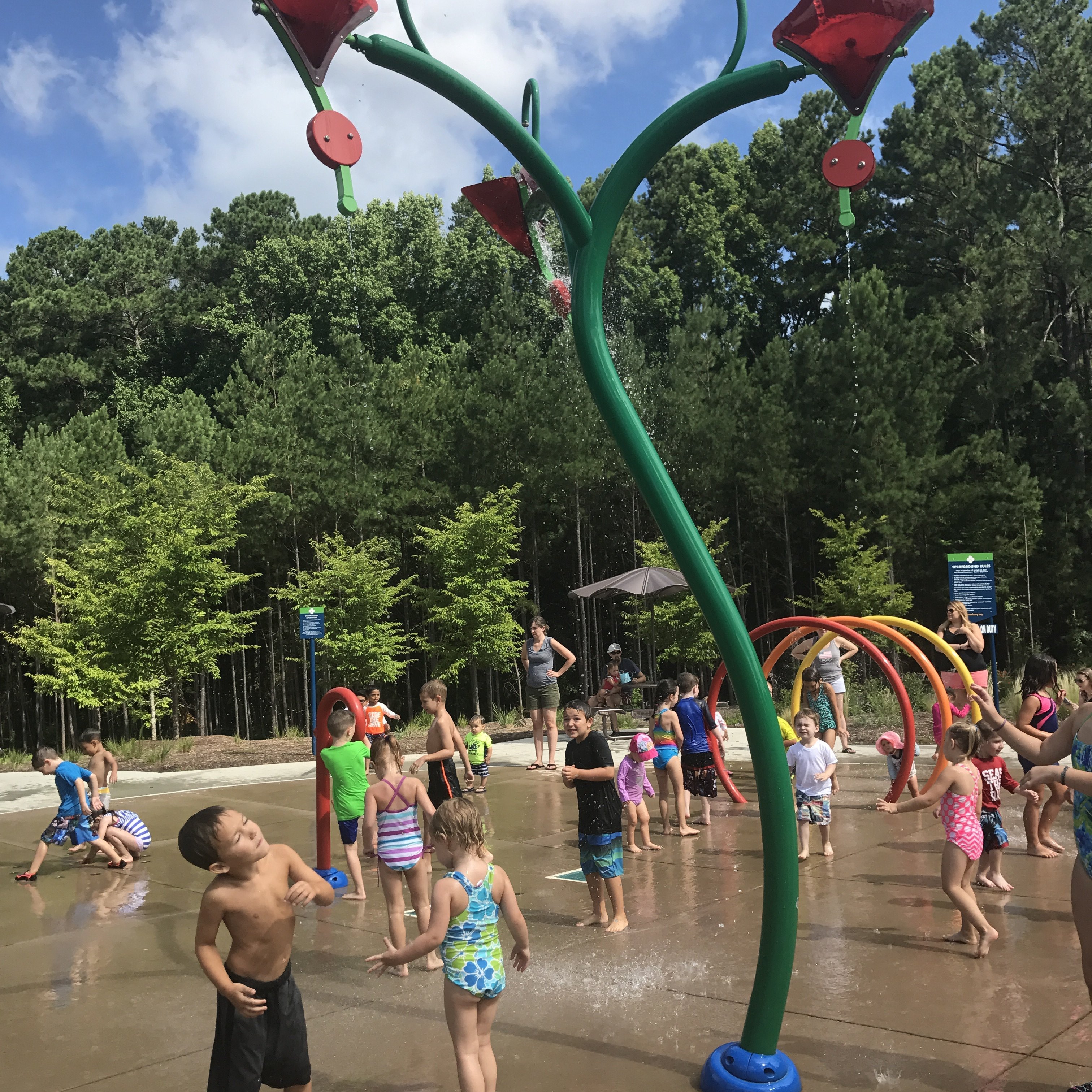 Back in June, my sister and niece visited the same weekend we planned a trip to Jack Smith Park with our Raleigh Jaycee friends. Jack Smith Park is located at 9725 Penny Rd and opened towards the end of last summer. If you're looking for a one-stop shop for outdoor fun, this is the park!
Jack Smith Park features a splash pad, multiple playgrounds for all ages, a rock climbing structure, walking trails, and a dog park. We arrived at the park at 10am when the splash pad opened. Luckily, some friends saved a table under the pavilion for our group to stash our gear while out playing. The splash pad features tall buckets that dump, gentle water fountains, circular misting fountains, and maneuverable water guns. Picnic tables with umbrellas, clean restroom facilities, large pavilion, and half-walls for sitting are adjacent to the splash pad.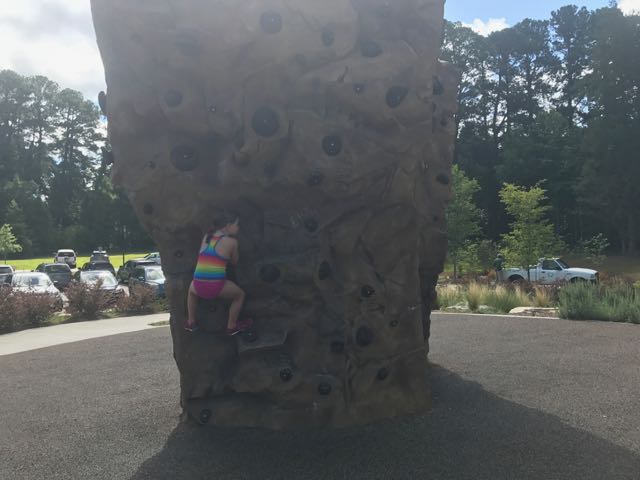 After my kids tired of the splash pad they played on the playground areas and rock climbing structure. The smaller kid playground features several slides, a small rock climbing wall, sails for shade, and a curved climbing ladder. The bigger kid playground features a tall spider web climbing net, challenging curved climbing ladders, gyro spinners, slides, and stepping stones. The regular swings, baby swings, and tire swing are located near the perimeter of the park. When I wasn't poking my head around parents and play things to keep an eye on the girls, I was pushing the girls on the tire swing. Boy, do they LOVE a tire swing!
And, my oldest daughter loves rock climbing! She's pretty fearless and persistent, and loves the challenge that rock climbing presents. The park's rock climbing structure is at the far end of the park. Large natural rocks surround the structure which sits upon a rubbery surface. She tried multiple times to climb the hardest section of the rock before trying her hand at the flatter sides. Though she didn't climb up very far, she enjoyed climbing alongside the bigger kids.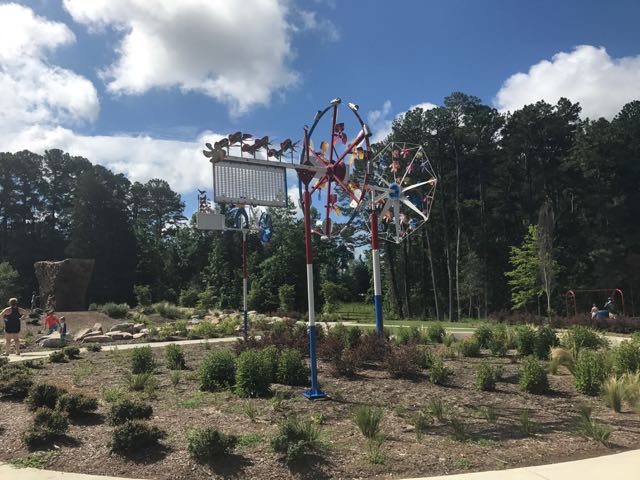 The Town of Cary parks always impress me with their attention to landscaping, public art, and availability of public restrooms. Young trees surrounded by half-walls create nice sitting areas for parents. The park features several ornamental grasses, flowering shrubs, and a large open grassy field down from the playground. Many benches and shaded picnic tables also scatter the perimeter. Vollis Simpson's folksy art sculptures take center stage as you park near the playground. Finally, the restrooms are very clean and roomy, and have water fountains and a nearby hand shower for spraying off the treated water.
Despite being super busy on a weekend morning, I look forward to bringing the girls back here one day. Splash pads offer a quick water alternative to cooling off in the pool. And, with so many other activities at this park, it makes for many fun-filled hours!
Thumbs up: one-stop shop for fun, rock climbing structure, mixing water play with dry activities, outdoor art, natural climbing rocks, nice landscaping, lots of seating options
Thumbs down: very crowded, can be difficult to manage multiple small kids