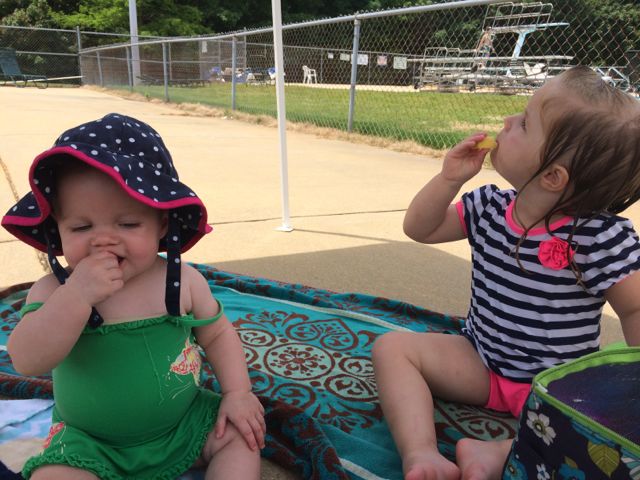 It's been a hot summer and the best way to cool off from the hot Raleigh heat is by hitting the pools! Most recently, we spent a lot of time at Optimist Pool while Ashley had preschool level 1 swimming lessons. I was on the fence about whether I felt she could handle lessons by herself (without me in the water), but ultimately I decided to go for it since she's finished other preschool and recreational activities on her own. And, my decision proved to be the right one…she barely even looked back at me when the first class began.  On this particular pool trip we stayed after swimming lessons to swim in the baby pool and have a picnic.
Optimist Pool is in North Raleigh at 5900 Whittier Dr.  The main pool is a covered year-round Olympic-size pool with depths from 3'6″ to 5'6″ with several lap lanes and wide step entrances at both ends of the pool.  Ashley's swimming lessons were mostly held in the shallower end of the pool on the wide steps with a few trips with life jackets on to the deeper end.  The instructor was super personable and even made time to chat with the parents after each class about each child's progress.  The main pool building also contains several chairs and bleachers surrounding the pool and a small lounge area separated by glass.  The bathroom facilities were very nice with updated showers, lockers and bathroom areas.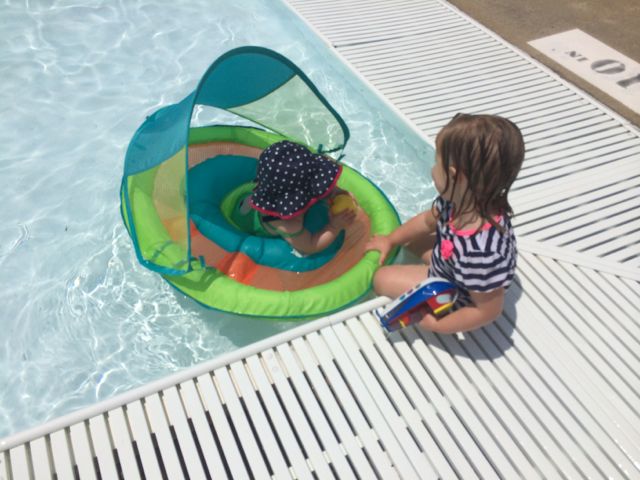 The large baby pool and diving well areas are located outside and run on a seasonal availability.  The baby pool area is fenced in with a large rectangular pool with depths from 10″ to 18″ in the middle.  There are several deck chairs, a little grass seating, and a portable tent for some added shade.  Various floats and pool toys are allowed in the baby pool area.  Claire thoroughly enjoyed swimming in her shady float while Ashley continuously threw her body into the water.  The diving well features low and high diving boards with deck chairs and bleacher seating on the pool deck.  There are several picnic tables located between the outside and indoor pool areas.  With a toddler and a baby I found it most helpful to bring the single BOB stroller inside the pool area, which helped contain Claire and also provided more storage for all our crap.
By the way, I'm writing this post from my sister's house in VA.  I've brought the girls down here for a few days to help house sit and take care of her dogs while my sister and bro-in-law await for baby Ava to be born…I'm so excited I could bust!
Resources:
Thumbs up: City of Raleigh swimming lessons, large baby pool area, clean bathrooms, helpful lifeguards/superb swimming instructor (Kenny), seating options
Thumbs down: nothing to report