Posts Tagged 'North Raleigh'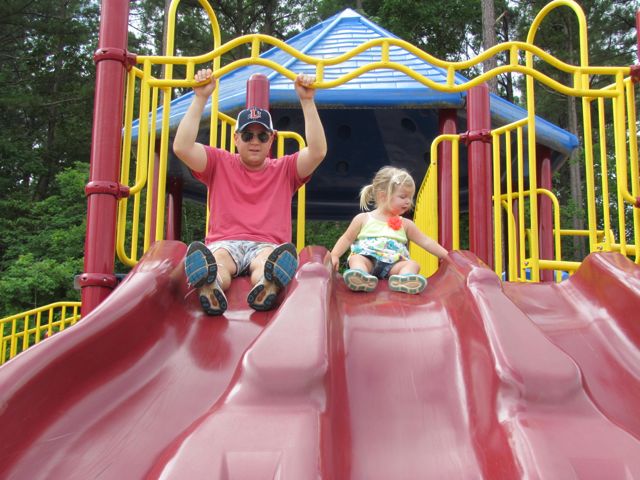 The final park we explored as a family of three was Honeycutt Park in North Raleigh.  Knowing that baby #2 was cozy and not giving any hints to arrive anytime soon (still late though), we ventured out to Honeycutt Park on the Sunday morning before baby Claire was born.  This park is located at 1032 Clear Creek Farm Dr just outside 540 near Falls of Neuse Rd.  For a Sunday morning in Raleigh it was par-for-the-course quiet; we had the park to ourselves for at least 30 minutes.
The playground area is completely unshaded, so plan accordingly if you're trying to avoid the sun.  There are playgrounds for both age groups of 2-5 and 5-12.  The 2-5 age playground has several slides and few challenging climbing structures for the little ones.  It also has a fun "theater" play area under the playground, which can be fun for the young ones.  Ashley quickly ran through all the play areas at this playground and headed to the older kid playground.  The 5-12 age playground also has several slides, one of which includes a trifecta slide where 3 friends can race each other at the same time.  Since I was feeling too large to race, Bill and Ashley enjoyed several runs down the racing slides.  This playground also has several climbing structures too, which include a rock wall, swivel monkey bars, and a rope ladder.
After a lot of playground time we explored the rest of the park.  Adjacent to the playground is a large shelter complete with charcoal grills and restrooms, lit baseball field, basketball court, and sand volleyball court.  Adjacent to the basketball court and parking lot is a large open grassy memorial area surrounded by large rocks and dedicated to Rosalina M Rodriguez.  Then, we walked down the nearby greenway to learn that it is under construction.  The scope of this greenway project is to design and build a 5.6 mile segment of greenway trail, connecting the existing Mine Creek Greenway Corridor to the South Shore Trail on Falls Lake.  For more information about this project visit the City of Raleigh website.
While this was our last park trip as a family of 3, we couldn't be more excited to share so many future park visits with baby Claire.
Thumbs up: fun playground slides, large shelter, future greenway project
Thumbs down: unsightly utility area, lack of shade around playground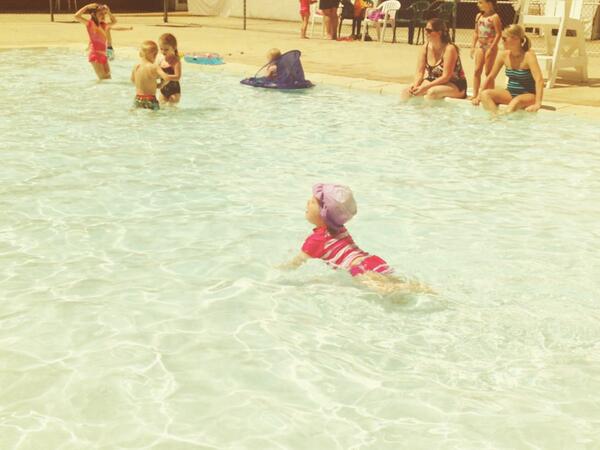 This summer we spent several evenings cooling off at our neighborhood pool and eating dinner poolside (what a great excuse for not cooking at home).  On one particular weeknight we walked over and then realized we forgot the pool had closed early because of a swim meet (ay dios mio)!  Needing a quick solution to a 2yr old desperately longing for some pool time, we decided to walk back home and head to Millbrook Pool, the city pool about 5 minutes away.  Even though the weather was looking rather threatening, we decided to chance it anyway.
Millbrook Pool is located at 1905 Spring Forest Rd in North Raleigh and is part of the Millbrook Exchange Park complex that includes a tennis facility, off-leash dog park, playground, community center, and senior center.  Millbrook has a main pool with lap swimming and open swim areas that is covered year-round.  During the summer season they open several garage-style doors to allow folks to easily get to the outdoor swimming areas.  Millbrook also has an outdoor baby pool and splash garden area that are only open during the summer.  The baby pool area is a large rectangle (no zero-depth entry) that is 18 inches deep in the middle.  It is fenced it with both concrete and grassy areas, but they do not allow picnicking in this area.  You can bring inflatable rings, noodles and other pool toys into the baby pool.  There are several picnic tables outside the baby pool that are both covered and uncovered, but it was still a pain with a little one that we couldn't just eat in the grassy area.  The splash garden area is always a big hit with toddlers, but unfortunately the only entrance to that area is from outside the baby pool area.  It would be much more convenient to have another entrance directly from the baby pool area.
The indoor pool at Millbrook typically has 6 lanes dedicated to lap swimming with a depth from 4ft to 5 1/2ft.  The open swim area is a depth from 3 1/2ft to 4ft.  Again, there are several rules for swimming in the open swim area.  We were whistled at several times for various things – trying to borrow a noodle and using the kick board in the open swim area.  Needless to say we spent most of our time in the baby pool, but Ashley had recently discovered kick boards at our neighborhood pool and just had to get her exercise in.  Being about 39 weeks preggo, I enjoyed watching them swim together from the side of the pool!
Check out the City of Raleigh website for the pool's hours of operation and fees.
Thumbs up: large baby pool area, indoor swimming option for non-summer months
Thumbs down: not being able to eat in the baby pool area, no direct entrance to splash ground area from baby pool, picnic areas had LOTS of flies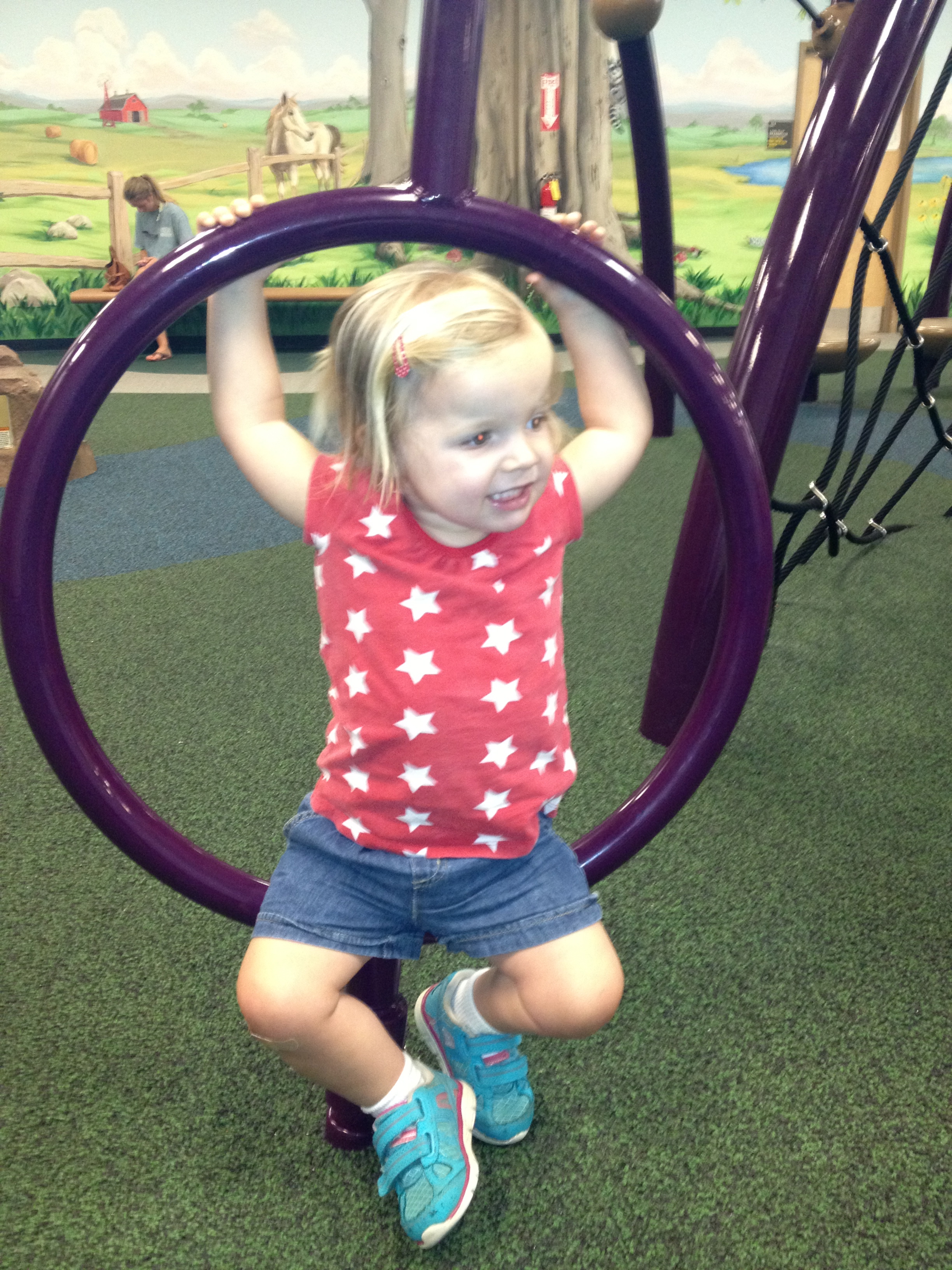 The weather this summer was extremely kind to my previously pregnant self.  There were few, if any, days where the weather was so ungodly hot you couldn't go outside.  On those ungodly hot days we ate an early lunch followed by some type of run-your-ass-til-you're-tired activity…all indoors.  This is when I discovered the super cute local coffee shop, Sola, in the Greystone Shopping Center in North Raleigh.  Actually, I didn't discover Sola, but TriangleExplorer writes about it frequently so we finally checked it out.
True to the reviews, the folks there are super nice and accommodating of small children and they make some delicious sandwiches and mini donuts!  Let me repeat – they make mini donuts and they are freaking amazing!  They are also super fancy with their coffee making techniques, so if you're looking for a french press coffee these are your people.
After a lunch at Sola we had some extra time to kill before nap, so we ventured over to Greystone Recreation Center, which is located in the same shopping center as Sola.  The last time we visited Greystone, Ashley was still crawling and it wasn't a practical place to take her.  Now that she's a rough and tumble 2 1/2 yr old she can pretty much do everything in the play area.  We arrived at just the right time too – summer camp was finishing up for the day so the play area was pretty quiet.  The playground is a perfect spot for kids who love to climb, jump and swing from ropes.  Ashley is still learning how to climb the rope ladders so this was a good place to try because the surface is spongy and I can be right there to assist.  She wasn't a fan of the spinning play equipment yet, but also liked the 2ft tall rock you can jump off from.
It's been interesting to see how my perspective of playgrounds has changed over time while Ashley has become more capable of doing difficult activities.  I wouldn't dream of bringing a crawling child here again because of the smallness of the play area and all the big kids like Ashley running around, but I'm excited to see how much fun she'll have here over the years to come.  If visiting Greystone, be sure to check the playground hours before going as they seem to change quite a bit over the year.
Visit my original post on Greystone Rec Center for additional photos.
Thumbs up: great indoor activity for hot or rainy days, various organized programs held through City of Raleigh
Thumbs down: smallness of area, tendency for playground to be crowded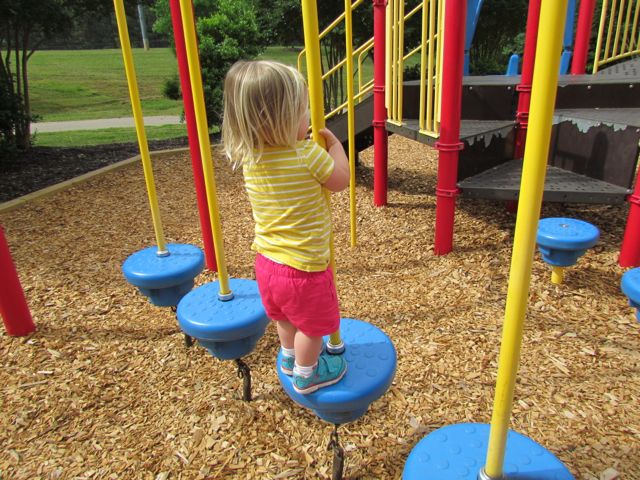 The playground at Baileywick Park was closed this past winter so we finally made a visit in late May.  Baileywick Park is located in Northwest Raleigh at 9501 Baileywick Rd.  Upon entering the park you pass access to the Baileywick greenway trail and eventually come to a large parking lot that provides access to all of the park's amenities.  We parked near the bathroom facilities and started with a visit to the playground.
The playground consists of an expansive jungle gym for ages 5-12, a smaller jungle gym for ages 2-5, four tot swings, four regular swings, a sand box with diggers, and several teeter totters.  The base of the playground is covered in wood chips and there are several benches scattered around the playground.  The playground for ages 5-12 has several slides that are of medium height, multiple climbing options, monkey bars, bridges and more.  The tot playground has several slides, matching games, and a few different climbing ladders.
Adjacent to the playground is a large open field, restrooms, a large shelter with eight picnic tables, an area shaded with trees (no picnic tables though), a covered bench area, and two lighted baseball fields.  A paved walking trail is also nearby, which leads to another shelter with two picnic tables and an open field.  This park is also equipped with the Big Belly solar trash and recycling compactors, which has provided great savings for the city.  These have been installed in several places throughout Raleigh and it's great to see them at the parks.  Learn more about the Big Belly solar compactors in this N&O article from earlier this year.
Thumbs up: open fields, numerous benches, several swings, climbing options on large playground, nearby walking trail, landscaping around playground (several hardwoods and crape myrtles)
Thumbs down: full-sun playground area is very hot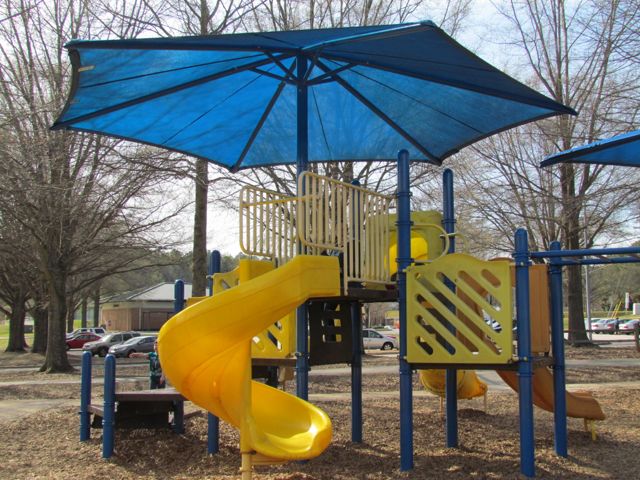 Williams Park is a bustling playground in the center of North Raleigh adjacent to Lynn Road Elementary School.  It is located at 1525 Lynn Road and some of the photos are from when Ashley was much younger and some are from this Spring.  As you can see, having a friend to climb through tunnels with, chase through the soccer field, and swing with is the best way to spend an early Spring afternoon!
In addition to the large playground area (complete with shady canopies), Williams Park has a large open field with soccer goals surrounded by a short walking path, tot swings, sand volleyball courts, youth swings, tennis courts, a large shelter area, and some shaded sitting areas.  The playground surface is made of wood chips and sand.  The playground areas are a series of small climbing structures with slides that are connected by monkey bars.  For younger ones, that means lots of repetitive trips down the same slides or that they'll need your help getting to the other play areas.  Since Ashley was just beginning to climb ladders at this time, she needed my help getting up to the higher slides too.
If you take a walk along the trail at the park, you'll find a small plaque memorializing the park to Peter P. Williams Jr.  According to a News & Observer article, his father donated the land for the park in honor of his son.  I always enjoy when I can find some tidbits on the history of a park!
Thumbs up: great shade, close parent-sitting areas throughout the playground
Thumbs down: I've been here in the past and seen where drainage can be an issue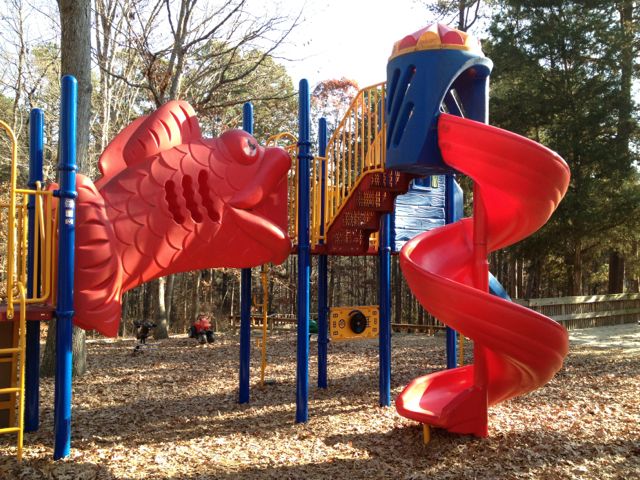 A few months ago Ashley and I explored Cedar Hills Park, just a fews minutes from our new neighborhood.  Cedar Hills is located in North Raleigh at 5600 Sweetbriar St , which is the main entrance to access the playground, tennis courts, basketball courts and pavilion.  There are also entrances at Rosehaven Dr and from Spring Forest Rd but those provide easier access to the softball fields.  The frisbee golf course is accessible from all entrances, with hole #18 located near the main entrance.
After following the park signs from Millbrook Rd, we arrived at the Rosehaven Dr entrance, unsure how to get to the playgrounds.  The lack of signs made it difficult to figure out where we should go, so we got back in the car, broke out the iPhone and eventually arrived at the Sweetbriar entrance to play on the playground.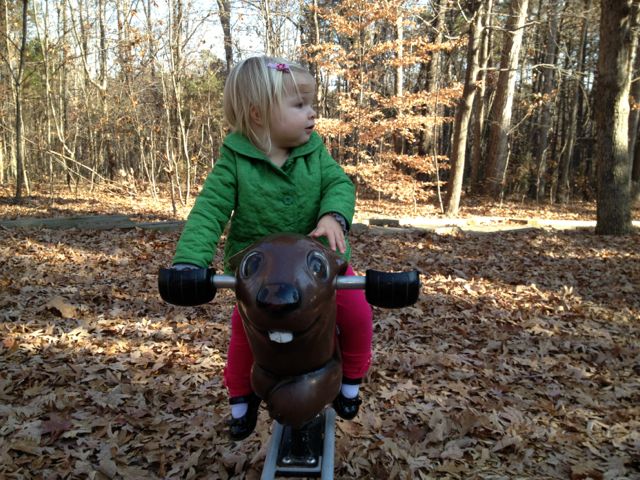 The playground has a wood chip base with a small sandbox play area.  There are two playgrounds – one for tots and one for the older kids.  Cedar Hills also has plenty of swings for everyone – four tot swings and four big kid swings.  There are a few benches along the perimeter of the playground.  Adjacent to the playground are the tennis courts, complete with a backboard for single play.  The basketball courts are also nearby.  The park sits amongst a dense forest, which is a great backdrop for the 18-hole frisbee golf course.  Each time we've visited this park, the playground has been rather empty while the frisbee golf has been pretty busy.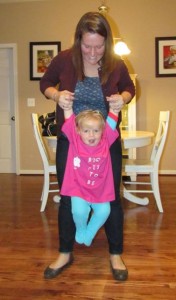 We'll have many reasons to visit this park for years to come especially since we'll be welcoming baby #2 this summer!  I had my 20 week check-up today and baby Montgomery is happy and healthy and looking forward to surprising his or herself on or around July 14th!  Bring on the hot and humid North Carolina summer!
Thumbs up: playground area, shady spots, tennis courts, swings
Thumbs down: lack of signs to other park features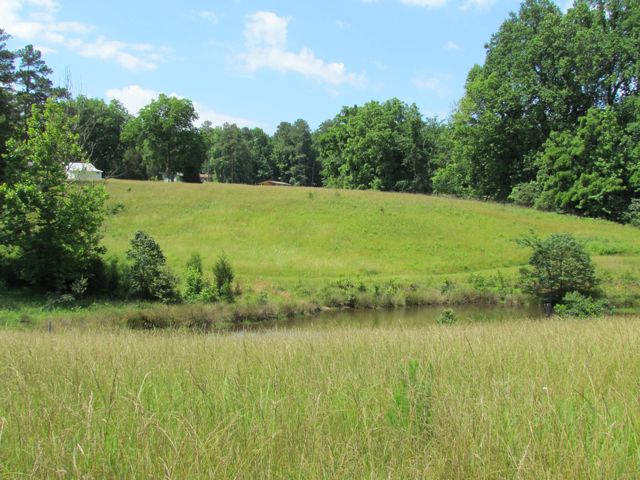 If you're looking for a place to go hiking in Raleigh and have exhausted your options at Umstead Park, you should definitely make your way into North Raleigh to Annie Louise Wilkerson, MD Nature Preserve Park.  Being the only visitors at the park a few months ago, we visited the main office and spoke to the very friendly and knowledgeable staff about the history of the park.  It was lovely to hear her speak about Dr. Annie's will to leave the land as a nature preserve park.  The park office was converted from an old residence on the property and there are future plans to convert Dr. Annie's old standing residence into indoor classrooms.
After visiting the park office, we headed off on the Hidden Rocks trail (1 mile long), which is known for having several crops of hidden rocks throughout.  The trail is about 2ft wide in most places and an easy path to walk, but there are a few narrow and slippery spots throughout.  This trail passes through open fields, forests of hardwoods.  As this park is still taking shape, the signs aren't completely finished yet, so be sure to pay close attention to where you are going.  After Hidden Rocks trail, we walked the Pond Loop, which is about 1/2 mile long and crosses over one of the ponds on the property.  This particular day was absolutely gorgeous and the reflections off the pond were crystal clear.  On our next trip here, we'll be sure to bring our hiking backpack instead of the Bob stroller that we used.  I'm sure we looked ridiculous with our stroller!
Being that this is a nature preserve park, you won't find any of the regular playground equipment you're accustomed to at other parks.  However, that did not prevent Ashley from having an amazing time in the natural play area; complete with stumps, teepees, tall grasses, and large logs, there are a lot of options for kids to have some imaginative play.
Near the natural play area is also a large pavilion used for educational programs and the public restrooms.  For more information about the Dr. Annie park, visit the City of Raleigh website.
Thumbs up: hiking trails, play area, park office, views of the open fields, photo ops, picnic spots
Thumbs down: signage through hiking trail
With the weather being rainy on the 10th day of Raleigh Parks Christmas, we headed to an indoor park (yes, that's correct) in North Raleigh.  We visited Greystone Recreation Center at 7713 Leadmine Rd in the Greystone Village Shopping Center.
Greystone Rec Center has a unique indoor playground area with several different climbing structures that are all intertwined. There's a giant rope spider web, holes suspended by rope to climb through, nature rocks, and spinners.  The back wall has been turned into a great climbing wall.  The playground area sits atop the spongy surface, which is mostly green in color except for the blue "river" that runs through the playground.
This indoor playground is mostly designed for kids ages 5-12 years old, but there were plenty of kids ages 2 and up enjoying the playground too.  I was clearly the one with the youngest baby and the staff didn't say anything to me about her age.  We mostly hung out near one of the corners by the rock wall, cruised along the rock wall, crawled on the ground, and tried to stay out of the way of the older kids.  Ashley was also pretty entertained by the paintings on the wall too.  The playground hours are 9-11am and 12:30-5pm Mon-Fri and 9-noon on Saturday.
This indoor park also has several benches along the wall, vending machines, and nice restrooms.  Greystone Rec Center also has several programs for people of all ages going on throughout the year.  Here are a few coming up:
Jan 10-Feb 2: Mom and Tots Leap into Learning (ages 20-24months, Tues/Thurs, 9:15-10am, $35)
Jan 12-26: Dance-Twinkle Toes I (ages 2-3yrs, Thurs, 11:20-12:15, $40)
Jan 12-26: Tumbling Tinies (ages 9-24months, Thurs, 9:30-10:15am, $40)
Jan 12-Feb 2: Math Madness (ages 3-5yrs, Thurs, 2-3pm, $40)
Jan-Apr: Mahjongg Open Play (adults, Mon, 2-4pm, FREE)
Jan-Apr: Bingo (adults, 1st & 3rd Tues, 2-3pm, $1)
Jan-Apr: Senior Fitness (Mon/Fri, 10-10:45am, $15/month)
Thumbs up: unique indoor play area, rock wall, community center programs
Thumbs down: indoor playground is small and gets easily crowded on popular days, unattractive shopping center setting
Your ads will be inserted here by
Easy AdSense.
Please go to the plugin admin page to
Paste your ad code OR
Suppress this ad slot OR
Suppress Placement Boxes.
On the seventh day of Raleigh Parks Christmas, Kris gave her husband Bill (that's me) an assignment: visit the Carolina Pines dog park with the dog and baby while she was doing Raleigh Jaycees board of directors stuff. After some confusion about where the car seat and stroller were, we ended up at a different dog park: Millbrook Exchange.
There's a lot going on at Millbrook Exchange: a pool, community center, tennis center, dog park, basketball courts, baseball fields, and playground. Today, we just explored the dog park.
There are actually two dog parks here, sharing a common fence: a large area (maybe 2 acres) for large dogs, and a small area (1/4 acre-ish) for small dogs. Ripken plays like a large dog, but he can get crazier than a sack of rabid weasels at the dog park and I've got a baby to manage, so we stick to the vacant small dog area. There are plenty of water bowls, tennis balls, and poop bags; no need to bring your own. Lots of mature hardwoods and pines, too–perfect for shade in the summer or doggie outhouse all year round.
Ripken and Ashley both had a blast, and we left the dog park after dozens of Ripken races up and down the fence and horsey rides for Ashley on daddy's shoulders.
Next, we walked around and photo-documented some of the other facilities, as you can see in the gallery below. But, it was getting close to nap time and we had to split. This one deserves another visit and a feature-length post in the spring.
Thumbs up: Lots of mature trees, tons of facilities, both large and small dog parks.
Thumbs down: Seems like parking might be an issue on nice days; it was 75% full on a damp Saturday morning in December.
Your ads will be inserted here by
Easy AdSense.
Please go to the plugin admin page to
Paste your ad code OR
Suppress this ad slot OR
Suppress Placement Boxes.
On the fourth day of visiting Raleigh Parks we headed to North Raleigh to check out the newly constructed Strickland Road Park.  It's located at 12804 Strickland Road, not far from the intersection of Leesville Road.  This park has picnic tables, benches, a walking trail with access from the nearby neighborhood, swings for kids of all ages, and a large playground area.
The playground area has equipment for kids ages 2-5 and 5-12 to use and all the equipment is in the same area making it convenient for parents with kids of different ages.  There is a large jungle gym with monkey bars, slides, and climbing areas for the older kids.  There is a sandy playground area and fun slide for the younger ones.  Between the two areas is a sitting area with benches, which is nice for the parents.  The nearby swingset has a spongy surface, which is great for crawlers to play around on.  I also love that even though this is a new park, much of the surrounding woods are still in tact, making it seem like a real park.  The new camellia bushes that have been planted are already in bloom adding some great color to the landscape.
According to the City of Raleigh's website, there are future plans to add basketball courts and a community center to this park.
Thumbs up: playground areas, sitting areas for parents
Thumbs down: sidewalks on busy Strickland Rd would increase walk ability to this park