Posts Tagged 'North Raleigh'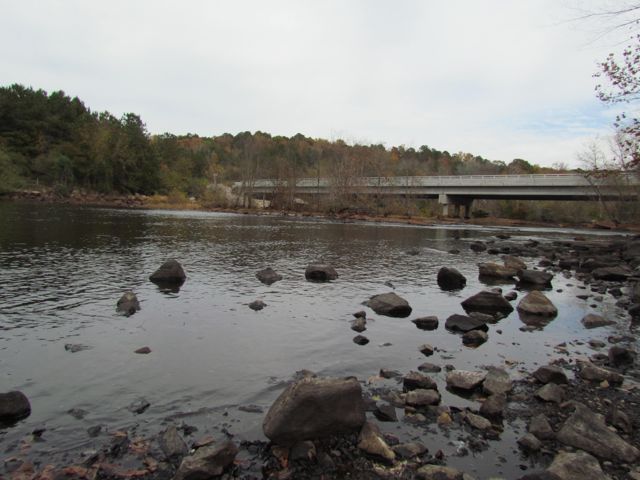 This fall we wanted to further explore Falls Lake so we set off with intentions to start closer to the dam and finish Day Hike A of the Mountains-to-Sea trail.  Falls Lake Dam is on the eastern side of the lake (see map) and has helped control flooding from the Neuse River ever since its completion in 1981.  Having previously hiked a portion of Falls Lake starting at Raven Ridge Rd we wanted to start closer to the dam in hopes of actually seeing it before the kiddos got too tuckered.
Unfortunately the main entrance gates to Falls Lake park were closed on this Sunday morning so we had to park in the small parking lot near Falls Center Management Rd/Falls of Neuse Rd intersection.  After a long walk into the park on the paved trail that parallels the road, the little ones in the group were restless for any trail hiking so we explored the areas around the dam including the (surprise!) playground instead.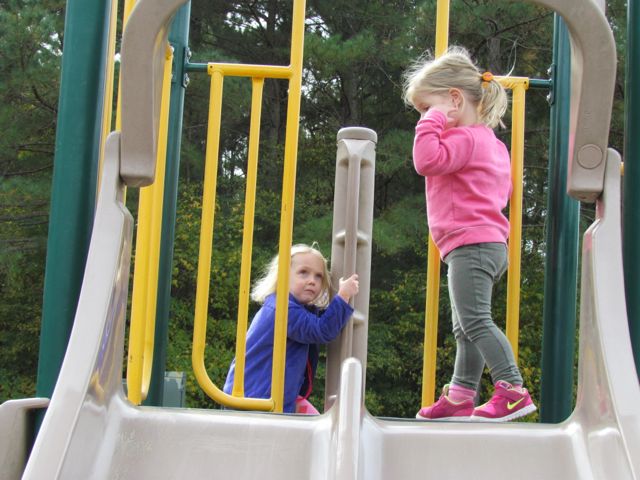 The playground is designed for ages 5-12 and includes a few slides, climbing structures, tic-tac-toe, and several nearby picnic tables and benches.  It's a small playground, but the perfect size for a park with so many more activities.  After taking in the views from the top of the dam, we walked down the unpaved trail adjacent to the playground where we got up close and personal with the beginning of the Neuse River.  The girls enjoyed throwing rocks in the water while we saw fishermen and birds.  There's also a small parking lot, canoe launch, restrooms, information map, picnic tables, and access to the start of the Neuse River Trail greenway at the bottom of the dam.
Even though we didn't make it to our planned trail that day, everyone had a fun time whether it was on the playground, along the river bank, or finding furry caterpillars.  I look forward to attempting Day Hike A again sometime soon where we'll park in the lot closest to the dam!
More Resources:
Thumbs up: views from top of dam, playground, considerable amount of picnic tables
Thumbs down: signage in park, nc state park information online lacks details (no mention of gate closure, playground, parking near dam)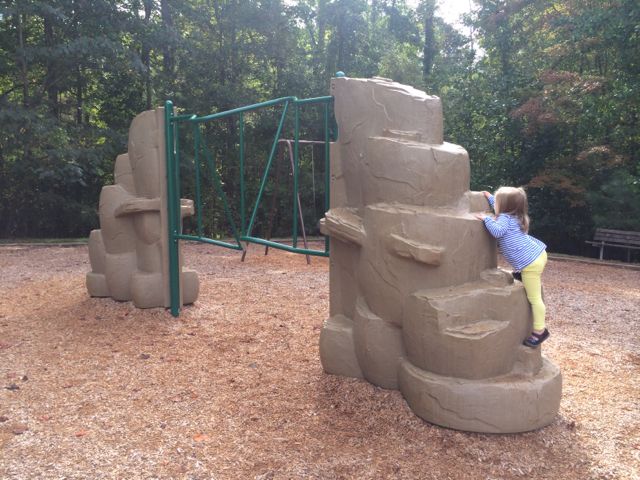 I spent some time again this fall running around Lake Lynn with the girls while training for the City of Oaks 10k race.  After a few laps around the lake we spent time at the playground so they could get their own exercise.  We were pleasantly surprised to find a few updates to the playground area.
Lake Lynn Park & Community Center is located in North Raleigh and has two entrances.  If the kids are with me I'll park at the main entrance near the community center and playground off Ray Rd, but if I'm going there for a solo run I'll park at the smaller entrance with immediate access to the trails off Lynn Rd.
The tot playground area has a new climbing area with a vertical climbing bridge sandwiched between two rock walls, which was a big hit for Ashley.  The older tot swings and small tot jungle gym and bigger kid playground haven't changed.  Adjacent to the playground is a new large pavilion with about 12 picnic tables, making it a great spot for group gatherings and birthday parties!  The nearby bocce ball courts also seemed to have gotten a small facelift and there seem to be several more picnic tables scattered around the perimeter of the playground.  There's a lot of other amenities at this park (baseball fields, tennis courts, batting cages), but having a playground area near a covered picnic spot and restrooms is usually what we're looking for these days!  Most recently we enjoyed a Halloween party with our Stroller Strides friends where kids of all ages enjoyed the playgrounds and there was easy access to the nearby pavilion and community center.
More Resources:
Thumbs up: proximity of playground area to pavilion/community center
Thumbs down: nothing new to report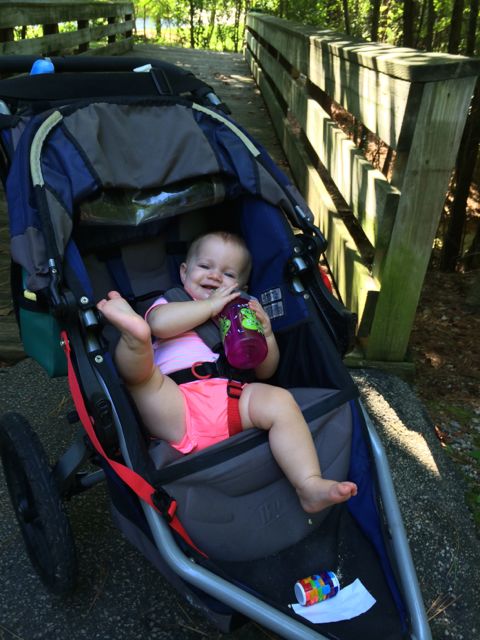 Oh, Summer! What began as a daunting three months of partially empty calendars quickly filled with pool trips, swimming lessons, park time with friends, family visits, and so much more.  One August morning Ashley started another week-long stint at a City of Raleigh summer camp.  I've been so pleased with her introduction into the city summer camps and can't wait for her to continue with them through the years.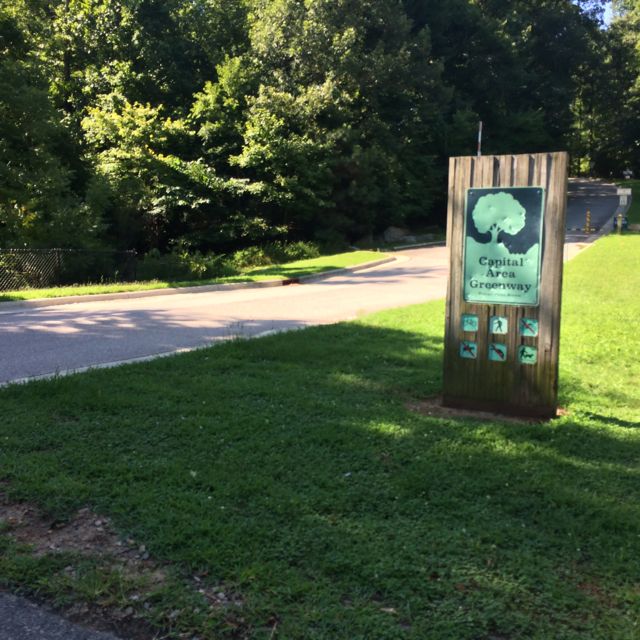 So, after a Monday morning camp drop-off at Greystone Rec Center, Claire and I researched nearby greenways to explore using the RGreenway app.  After some deliberation, we drove east for a run along Simms Branch Trail. We parked along a residential street at 9410 Cub Trail (parking spot #4 on the Capital Greenway map) near the Falls of Neuse and Durant Rd intersection.  The greenway entrance was clearly marked so we set off on this relatively flat and shaded trail.  We winded through various residential areas and a small stream to the south of the trail.  We passed a few school yards along the way and had to cross a few residential streets and small bridges before coming to the end of the trail, which is just past the entrance for Durant Nature Park.  This out and back trail is about 3.25 total miles.
After our run we headed over to the super kid-friendly Lafayette Village shopping center to experience Jubala coffee (another recommendation from fellow blogger TriangleExplorer).  Claire and I shared some delicious homemade biscuits and I enjoyed a fresh cup of coffee.
Thumbs up: proximity to residential areas, nearby stream, easy access, shady
Thumbs down: nothing to report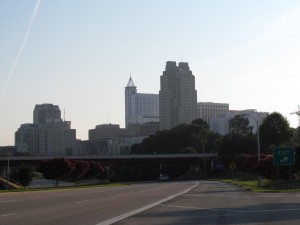 A few weeks ago, I woke up before sunrise and headed downtown with just a coffee and my camera in hand.  I have a lot of photos of parks and greenways throughout the city, but not many personal photos of downtown Raleigh.  It was a muggy Sunday morning, so downtown Raleigh had a faint Bourbon Street-like smell with evidence of a super fun Saturday night.  I've always had a lot of respect for real photographers, but after this personal quest to capture photos to print for our house I have so much more appreciation for the pros who can really nail down the fine details of light, exposure, camera angle, etc.  It was fun, but exhausting hopping around downtown from Boylan Bridge, near the Shimmer Wall, on McDowell St looking North into downtown Raleigh, and on Fayetteville St.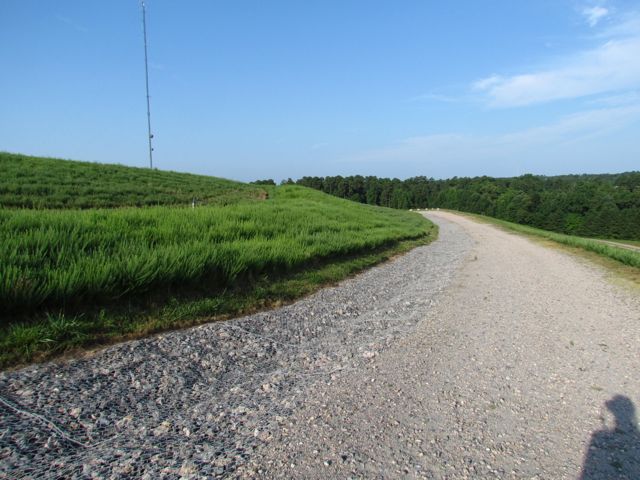 After about an hour of exploring and taking photos of downtown Raleigh, I headed back to North Raleigh to capture photos from one of the highest places of elevation in Raleigh – Top of the Hill trail in North Wake Landfill District Park.  I've visited this park before, mostly for the kids to play on the playground, so it was nice to explore a park solo.  After entering the park, which is under construction, I parked in the small parking lot and made a short .1 mile walk up the gravel trail.  The 360-degree views from the top are amazing!  Despite a muggy morning, I could still see several downtown Raleigh buildings (thanks to the bright red Redhat sign), neighborhoods and water towers in the distance, and trees for miles!  It was so comforting to see how green Wake County still is!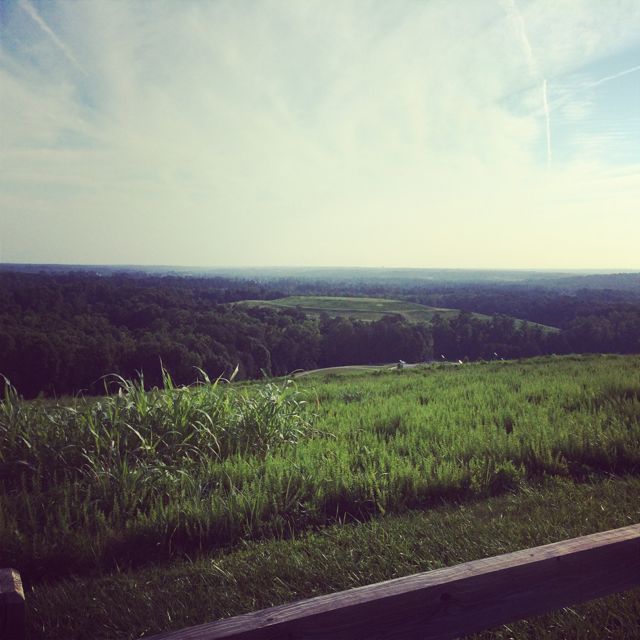 Other than great views from the top, there are several picnic tables, benches, and a bike rack. Even though my downtown Raleigh pictures didn't turn out as well as I would've liked, the whole experience certainly fueled my desire to practice and learn more about photography.
More Resources:
Thumbs up: beautiful views, quiet mornings Thumbs down: lack of signage directing you to the trail inside the park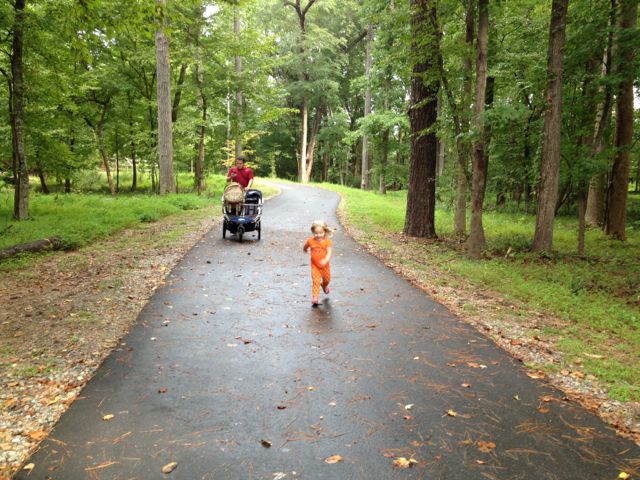 It might be snowmaggedon part 2 in Raleigh right now, but months ago it was a beautifully warm day for a run in North Raleigh along Abbotts Creek Trail.  Abbotts Creek Trail is 2.9 miles and connects Simms Branch Trail with the Neuse River Trail.  We parked on-street near the intersection of Falls River Ave and Ashmead Ln.  Abbotts Creek Trail is connected by the sidewalk near where we parked so after some walking back and forth, we got our bearings and headed north on Falls River Ave where we shortly caught up with Abbotts Creek Trail.  Again, I'd love some directional signage throughout the greenways.
Abbotts Creek Trail is a wide, flat, and paved trail that runs between the Bedford at Falls River subdivision to the north and Abbotts Creek to the south.  It nicely carves a path through a moderately wooded forest (great for shadiness in the hot NC summer).  Along our run we passed several bikers and joggers, crossed multiple bridges, and explored the blue heron habitat.  While we didn't see any blue herons, we did see evidence of their nests, which were easy to identify with help from the information guides.  Near the habitat are several benches, great for resting while doing some bird watching.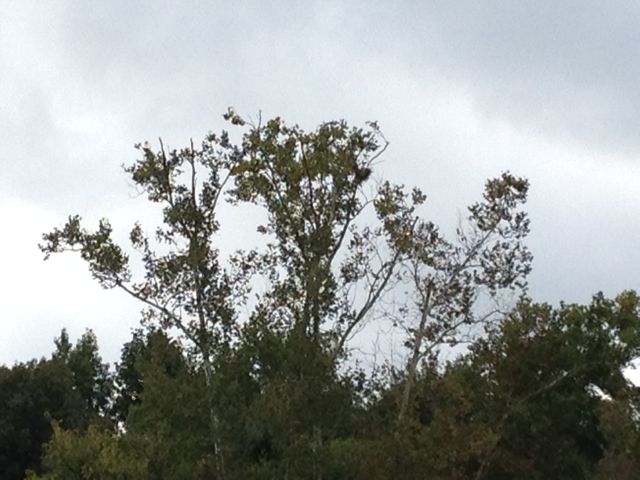 When we reached the end of Abbotts Creek Trail we turned left north onto the Neuse River Trail for a bit before turning around.  While on the Upper Neuse River Trail we passed the 2 3/4 mile mark and were impressed with the information guides about the floodplains and benches along the way.  Our out and back run was a total of 3.2 miles and I look forward to getting back up here again to explore the southern half of Abbotts Creek Trail, which I think leads to the North Wake Landfill District Park.
Thumbs up: flat and wide trail, lots of shade, fun nature stops along the way, busy foot traffic
Thumbs down: signage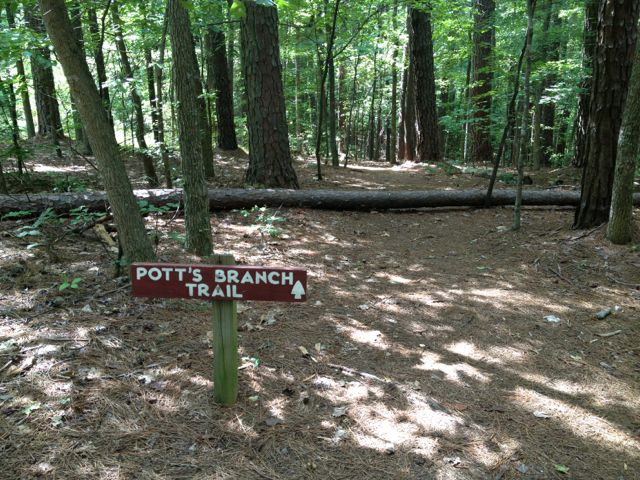 At the end of last summer we ventured out for some hiking at Umstead Park.  Since Claire was only about a month old at the time, we wanted to keep it pretty easy so we explored Pott's Branch Trail, which is only 1.6 miles and easy on the difficulty scale.  To get to Pott's Branch Trail, use the park entrance at 8801 Glenwood Ave and continue straight to the back of the park where you'll come to a large parking lot.  We parked in the larger, two-level parking lot and after a lot of configuring backpacks and bjorns we set off to find the trail head.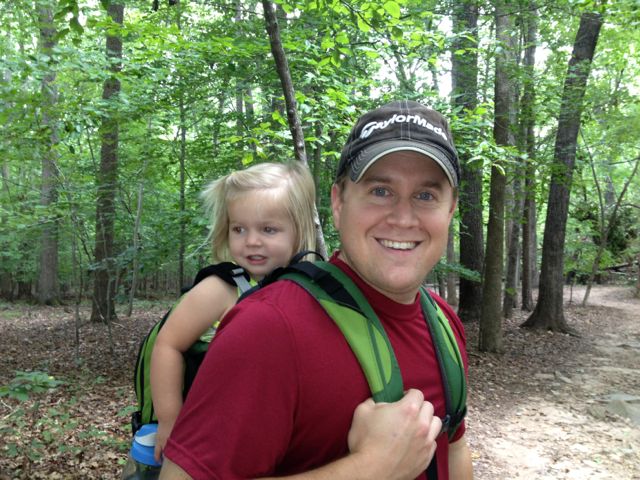 For some reason, even for two directionally-sound people we had a hard time finding the trail head for Pott's Branch Trail.  From what I remember the signage was horrible and after a lot of stumbling around, we eventually found it.  Lucky for us, this is small looped trail so regardless of where we got on, we'd eventually get back to the parking lot.
Raleigh had a very wet summer last year and the trail was evidence of such.  Portions of the trail parallel a small stream, which had debris filled branches indicative of higher water levels.  There were also some large downed trees and muddy areas, which made us think the stream must have risen over the bank in areas.
The trail itself was very easy; other than a few downed trees that we walked around and large tree roots along the way, the trail is very flat and comfortable for most any fitness level.  Along the way, you'll pass a large wooden deck, picnic table and small grill, and roads in the very far distance.  Since this trail is on the opposite side of the road from Big Lake, you won't see any large bodies of water, but the flowing stream offers some interesting views and holds the attention of toddlers!
Thumbs up: quick and easy hike, nearby stream, wide and shady trail
Thumbs down: poor signage from the parking lot to trail head

Sal's Branch Trail Photo Update
Labor Day weekend my sister and brother-in-law visited so we headed back to Umstead Park where we hiked Sal's Branch Trail again.  Be sure to read my first review of that trail, but again, I love that it's a good distance (2.75 miles) and has nice views of Big Lake.  We got such an early start on the hike that we were able to grab lunch to go from Moe's and visit the nearby Gizmo Brew Works for some much needed beers and a picnic lunch! Gizmo Brew Works is nestled in an industrial park off Glenwood Ave and has an array of inside seating (couches, tables) and some picnic tables outside. Albeit, probably not designed to bring kids, but we made it work! They don't serve food, but we're fine with us bringing outside food so plan accordingly.
Helpful Links: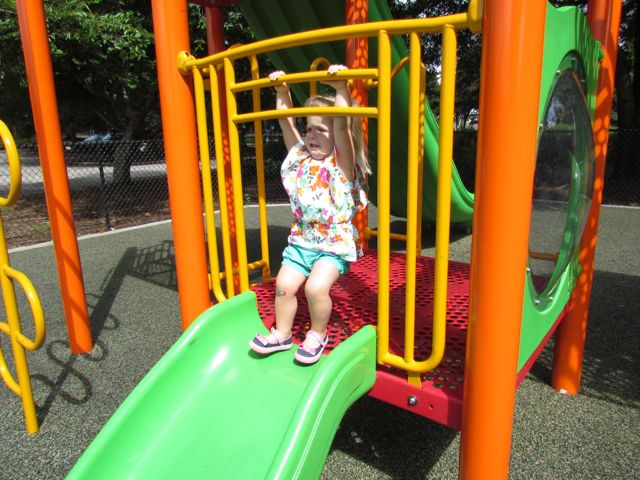 Millbrook Playground at Millbrook Exchange Park (1905 Spring Forest Rd) was renovated this past summer and we made our way over there to explore the new digs!  Within the park, it's located between the adult center and the community center near the ball fields.  There's so much to do at this new park for everyone – a tot jungle gym for the 2-5 age group and a larger (and very tall) jungle gym for the 5-12 age group.  Both jungle gyms have a rubber surface also making this a very crawler-friendly play place for the mobile, but not yet walking littles ones!  There is also a small sandbox with two diggers, two tot swings, and four regular swings, one of which is handicap accessible.

The 2-5 age group jungle gym has a few slides, some musical instruments, teeter totters, and climbing structures.  It's on the small side so Ashley quickly got bored of it and ventured over to the 5-12 age group jungle gym.  This play place has different height levels for playing that peak at a very tall height.  There are a few openings that lead down to climbing structures, but for the most part this jungle gym is well enclosed.  Ashley loved the tall slides, but was surprised at how fast she went down them! It also has some smaller slides near the ground, tunnels, monkey bars, swinging bar, a rock climbing wall, and some low height seats.  Once you get over the height of the playground, this is a great place for able kids to play!

Scattered around the park are several benches and sidewalk games of hopscotch and four square.  We were there in the morning, which didn't have much shade so plan accordingly based on the time of day and season.  I don't recall seeing a nearby picnic table, but after walking towards the tennis center we found several in the shade.  The landscaping immediately around the park was less than desired and the grass was pretty high as if it hadn't been mowed in weeks.

After visiting the playground, we had a quick snack at the picnic tables and then headed towards the tennis center to explore.  It turned out we showed up just in time for the last day of a weekend tennis tournament so we stayed to watch for awhile before heading home. On our way back to the car we spotted some steel art, the Immigrant Gate II by Jim Gallucci.  I was amazed at how extensive the tennis center is – there are 23 tennis courts, several backboards, and a large indoor area with observation deck, conference room, pro shop and locker rooms.  I look forward to getting back into tennis one day

Thumbs up: variety of play things on 5-12 age group jungle gym, swings, tennis center
Thumbs down:  no picnic tables in immediate playground area, landscaping/field maintenance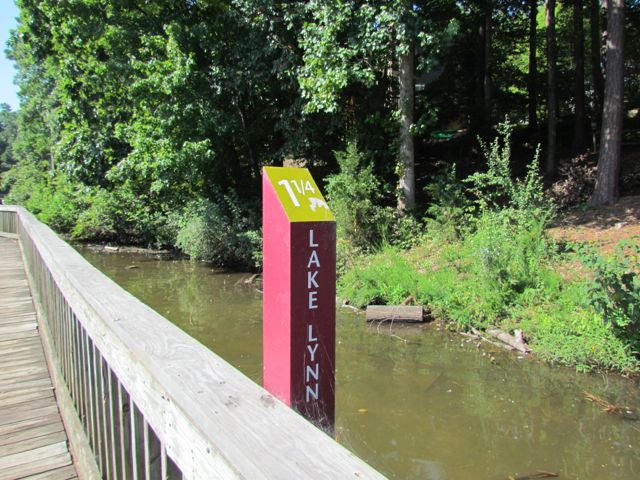 When I decided to run the City of Oaks 10k this past November, I used my toddler-free Tuesdays and Thursdays (thanks to preschool) to do my longer runs at Lake Lynn Trail. During these times I only had Claire with me, which meant I could run longer with the single BOB stroller. Pushing a double BOB stroller is exhausting!
Lake Lynn Trail is part of the Hare Snipe Creek Trail and about a 2.15 mile loop around Lake Lynn in North Raleigh. There are two entrances from where you can access the trail – one at Lake Lynn Community Center (7921 Ray Road) and one near the intersection at Lynn Rd and Leesville Rd.  Both entrances have large parking lots with easy access to the trail.  If you're trying to get a good run in and need to avoid the playground, be sure to use the Lynn Rd entrance.  The Lynn Rd entrance is also where the mile marker starts at 0.
One of the main reasons I enjoy the Lake Lynn loop so much is that it's a relatively flat trail that follows along the perimeter of the lake, offering nice views.  I knew the City of Oaks 10k would be pretty hilly (and it certainly was) but I was banking on the fact that I'd survive the race since all my runs were completed pushing at least one child in a stroller.  I also enjoy this loop because there's a good amount of traffic so I feel safe when running by myself, although it can get rather crowded at peak times (mornings, weekends, and I'm sure evenings too).
Lake Lynn trail is paved with large sections of wooden boardwalk near the northern part of the trail.  It's pretty noisy on the boardwalk so if you're planning for little ones to sleep on this run, they will probably wake up when you reach the boardwalk.  The water level is pretty low near the boardwalk and has become a popular hangout for children feeding the ducks and geese so you may have to play Frogger™ to get around that area.  But, please remember to follow all city regulations and DO NOT FEED THE GEESE….they are a nuisance and will survive just fine without the extra feedings.  Instead, take the kids around the trail and look for the sweet sunning turtle families.  There are also several apartment complexes located around the lake, so it'd be a great place to live for anyone looking to be near the greenway.
Thumbs up: relatively flat and shady trail, great views along lake, sunning turtles
Thumbs down: paved portion of trail is bumpy with tree roots, bottleneck of patrons feeding ducks, entrance from Lynn Rd is initially hard to spot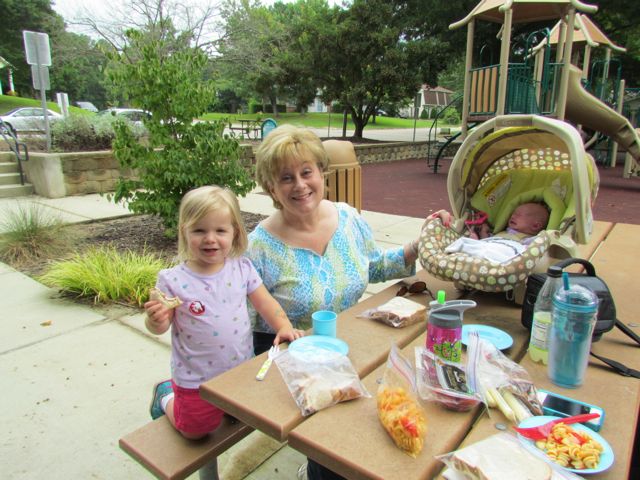 The week after Claire was born we had lots of family helping keep us sane while adjusting to life with two sweet girls.  My sweet mother-in-law, Janet (aka Gaga), came to visit for several days and for one outing we explored Longstreet Dr. Playground, which is less than 10 minutes from our house.  Longstreet Playground is a neighborhood park located off Six Forks Rd, just north of Lynn Rd at 7334 Stuart Dr.
Longstreet Playground was a pleasant surprise of a nearby park!  It's on the small side, but just perfect when you just want to pull up to the park and be there.  This was especially crucial with having a newborn because I had to truck back to the car a few times to get things I had forgot to bring with me.  The park is fenced-in 3/4 of the way and has one main picnic table, which was great since we packed our lunch (big surprise, I know).  It has two different playground areas – one for the 2-5 ages and one for the 5-12 ages.  The 2-5 age playground has several slides, a low bar for hanging from, and a small climbing structure.  There are some nearby springy rides and a very small sandbox with diggers.
The 5-12 age playground has a climbing wall up to the main play structure, several slides, monkey bars, many climbing structures, and a play steering wheel and drama scene.  At first, I was hesitant to let Ashley climb up the wall to the playground, but she quickly proved to be a pro!  There are a few openings in the playground that lead down to more advanced climbing structures, so I really had to caution Ashley on them.  Next to this play area are the swings – one tot swing and one regular swing.  There are a few benches scattered throughout the playground and the surface is mostly rubber with some concrete sidewalk.
Ashley had a great time exploring this new park while Gaga enjoyed some special time with her girls.
Thumbs up: small park with lots of features
Thumbs down: litter surrounding park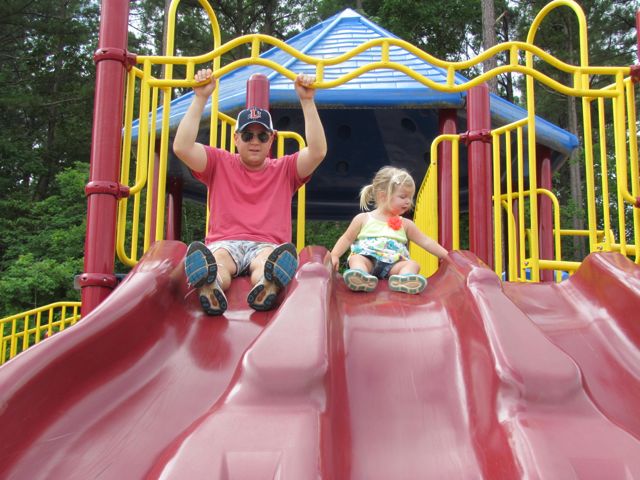 The final park we explored as a family of three was Honeycutt Park in North Raleigh.  Knowing that baby #2 was cozy and not giving any hints to arrive anytime soon (still late though), we ventured out to Honeycutt Park on the Sunday morning before baby Claire was born.  This park is located at 1032 Clear Creek Farm Dr just outside 540 near Falls of Neuse Rd.  For a Sunday morning in Raleigh it was par-for-the-course quiet; we had the park to ourselves for at least 30 minutes.
The playground area is completely unshaded, so plan accordingly if you're trying to avoid the sun.  There are playgrounds for both age groups of 2-5 and 5-12.  The 2-5 age playground has several slides and few challenging climbing structures for the little ones.  It also has a fun "theater" play area under the playground, which can be fun for the young ones.  Ashley quickly ran through all the play areas at this playground and headed to the older kid playground.  The 5-12 age playground also has several slides, one of which includes a trifecta slide where 3 friends can race each other at the same time.  Since I was feeling too large to race, Bill and Ashley enjoyed several runs down the racing slides.  This playground also has several climbing structures too, which include a rock wall, swivel monkey bars, and a rope ladder.
After a lot of playground time we explored the rest of the park.  Adjacent to the playground is a large shelter complete with charcoal grills and restrooms, lit baseball field, basketball court, and sand volleyball court.  Adjacent to the basketball court and parking lot is a large open grassy memorial area surrounded by large rocks and dedicated to Rosalina M Rodriguez.  Then, we walked down the nearby greenway to learn that it is under construction.  The scope of this greenway project is to design and build a 5.6 mile segment of greenway trail, connecting the existing Mine Creek Greenway Corridor to the South Shore Trail on Falls Lake.  For more information about this project visit the City of Raleigh website.
While this was our last park trip as a family of 3, we couldn't be more excited to share so many future park visits with baby Claire.
Thumbs up: fun playground slides, large shelter, future greenway project
Thumbs down: unsightly utility area, lack of shade around playground