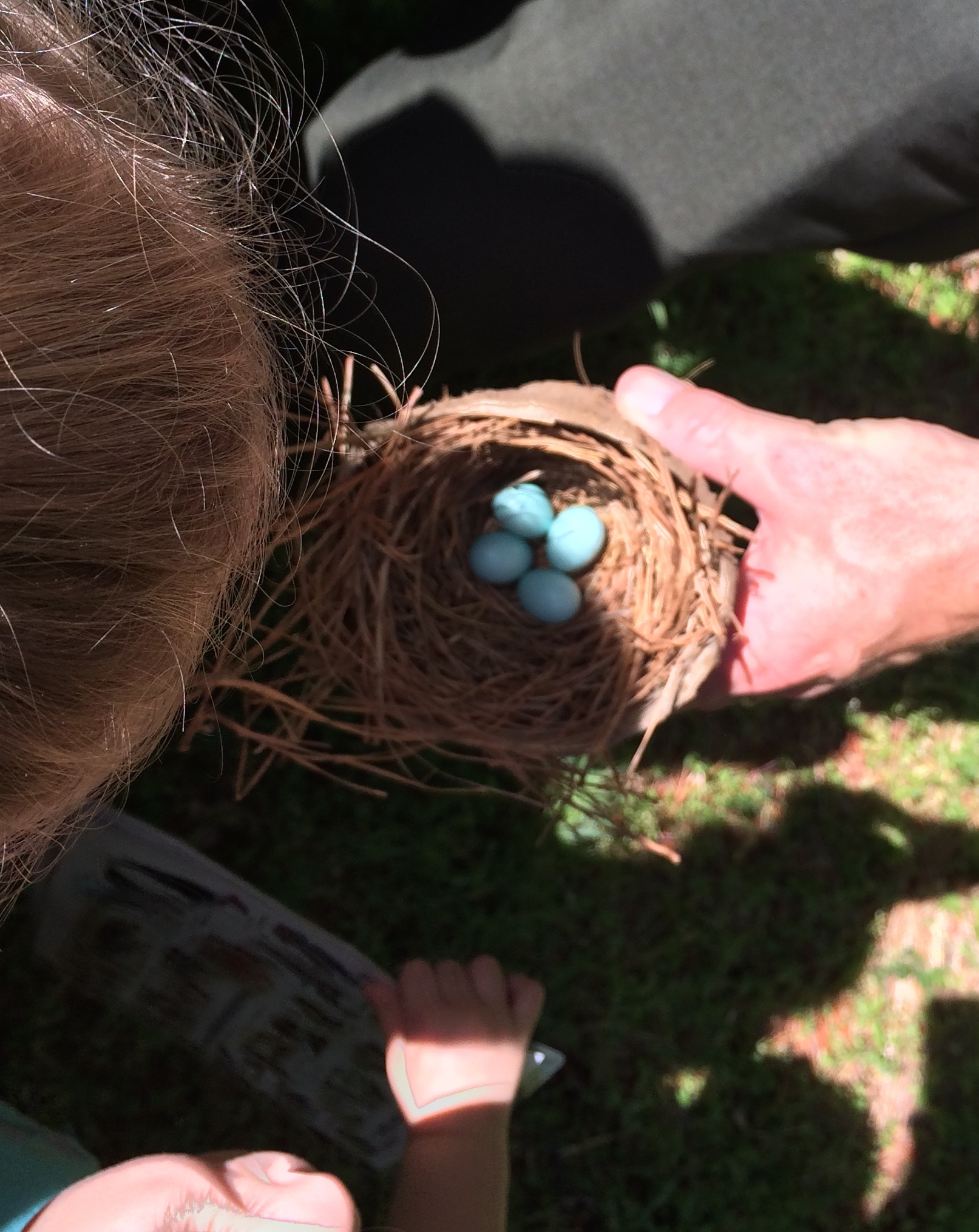 With mild weather in the forecast and more nature parks on our mind, we headed to Durant Nature Preserve Park (8305 Camp Durant Rd
in North Raleigh) to attend the Wee Walkers program with friends, play in the natural playground, and explore the butterfly and bird garden.  We've attended the Wee Walkers program several times over the years and the girls (and I) always have a great time.  The program is a fun way to get out and explore nature with a knowledgeable guide, the program is FREE and doesn't require registration (although it helps for their planning purposes), and you learn about and see different animals and parts of the park each trip.
This Wee Walkers program focused on birds and we hiked along the White House Road trail that meanders through the shaded forest on the northern side of the park.  Staff Ranger Jack kept us moving at a steady pace for such a large group while pointing out several flora and fauna along the way: skinks, bluebirds, lots of centipedes, frogs, centipedes, robins, spiders and more.  He spotted eggs in one of the bluebird houses, which was a big hit for all the parents and kids, and he also talked about some of the migratory birds that we'd find in the park.
After the hiking program, the girls played in the natural play area that sits near the painted shed in the north entrance parking lot.  The natural play area features a rock garden, small fish pond surrounded by native plants, fairy house building, bird houses, sandbox, and fort building supplies.  The girls have had so much fun playing in Raleigh's natural play areas lately that we've tried to incorporate several of them in our own backyard with fairy garden building, dinosaur fossils and other small treasures hidden in a dirt box, and a painted rock garden.
Once the girls finished in the natural play area, we walked across the parking lot and open field area to the bird and butterfly garden.  The butterfly garden has a short trail surrounded by natural butterfly habitats of lilac, Queen Anne's Lace, daylilies, eastern blue star and more.  The butterfly garden leads into the shaded bird garden that features a mulched trail with several feeders, bird houses, and informational guides.  We heard and saw a lot of birds flying in and around the gardens, but my bird identification skills are pretty pathetic – maybe some adult birding classes are in my future!
On our way back to our car we spotted a large doe along the perimeter of the park, so you never know what you'll see at the park.  The next Wee Walkers program is Thursday, July 7 at 10am and maybe we'll see you there!
Additional Resources
Thumbs up: guided Wee Walkers program, natural play area, bird and butterfly garden, shaded trails for hot summer days
Thumbs down: nothing to report