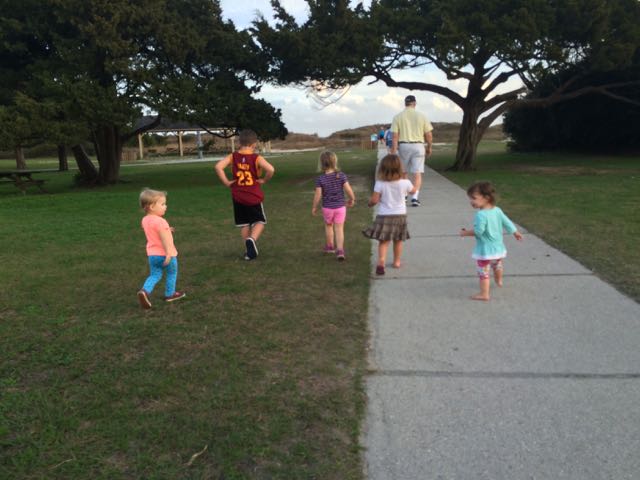 Over New Years we spent time with dear friends at their parent's new home in Murrells Inlet, SC. I've known Jennie since 6th grade and Bill and Jennie's husband, Gary, became fast friends over a decade ago when we first met Gary. With growing families and distance (they've been in Columbus, OH) our time spent together has been few and far between. Lucky for us they are moving to the Greater Raleigh area this Spring so our families will get more time together, which is great news for us and our kids, as they've all become fast friends too!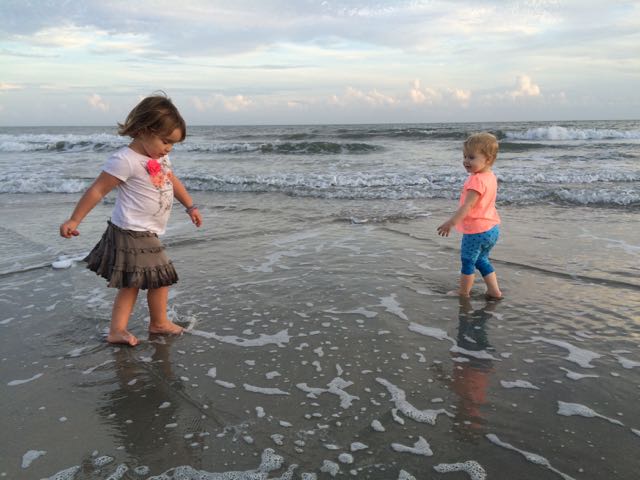 The weather was unusually warm around New Years so shortly after arriving we took advantage of the remaining sun and made the short drive to Huntington Beach State Park, located at 16418 Ocean Hwy in Murrells Inlet. This park is named after Anna Hyatt & Archer Huntington who lived on the land and the adjacent Brookhaven Gardens (more on this in an upcoming mini-post).  After paying a small daily per person fee at the gate, we followed the road over the saltwater marshes to the main parking lot area near the Education Center (more on this below). This state park offers amazing beach access, an Education Center with live animals, fishing, hiking, camping and much more. With it being close to sunset we headed straight for the beach with kites. We parked in the large lot in the back of the park and within a short 50-yd walk we were on the beach. The beaches at this park are pristine and expansive, about 3 miles long and offer lots of space to plop down beach chairs, fly kites, or go for walks. The kids loved chasing each other around, running into the calm surf, and taking turns with the kites.  Before leaving we washed our feet off on in the convenient outside showers.  The 1930s Moorish-style winter home the Huntingtons lived in, Atalaya, is still standing near the back parking lot and offers regular tours.  Maybe we'll catch a tour next time we're in town!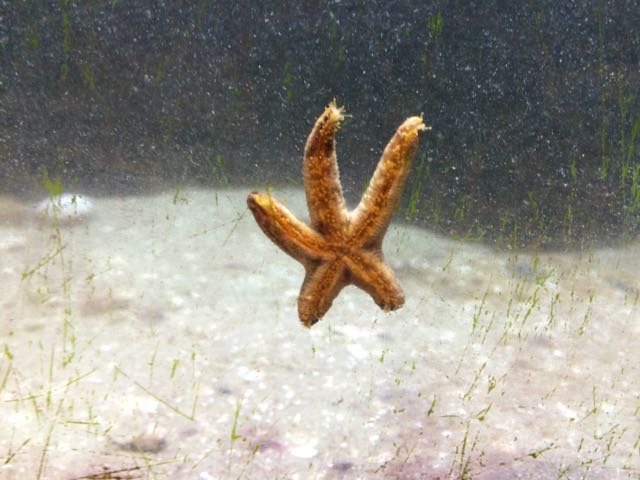 The next day we returned to the park to explore the Education Center, which is only open during daytime hours and offers daily feeding times where you can watch and learn how they feed several of the animals.  With about two dozen animals to look at and learn about, we spent well over an hour in the center.  They have a touch-tank with a horseshoe crab and stingray, a star fish, baby alligator, terrapins, snakes, turtles, and some hands-on exhibits about the nearby environment.  The tanks are at perfect heights for little ones to get in on the action. After we exhausted the Education Center, the kids enjoyed a snack on the outdoor benches and we ran along the boardwalk overlooking the saltwater marshes.  We learned about the numerous inhabitants – spider crabs, stone crabs, snapping shrimp, oysters, alligators, and lots of birds.  Even though we didn't see any of the 50-100 alligators living in the park we saw several oysters and lots of birds up close!
Speaking of oysters, this town is the place to enjoy oysters.  Both nights we visited we went to fabulous restaurants and had some of the freshest seafood.  Murrells Inlet is a jewel of a small town with a happening Marsh Walk area of live music, bars and restaurants.  Located about 15 minutes south of Myrtle Beach, it seems worlds away from the busy beaches to the north.
More resources
Thumbs up: beautiful beaches, super kid-friendly Education Center and variety of animals to see, easy access to beach area
Thumbs down: nothing to report