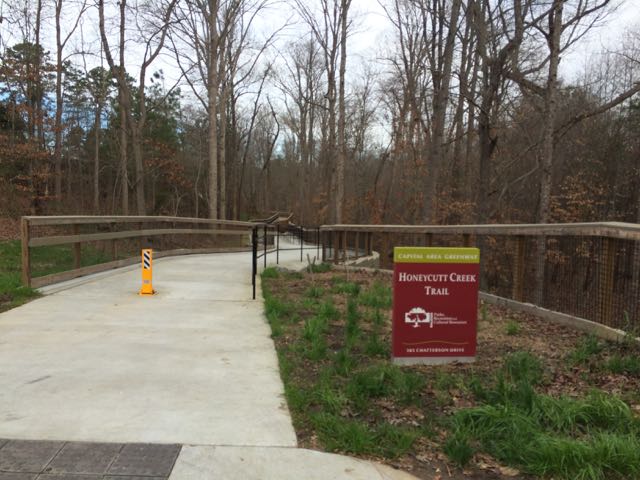 After exploring the northernmost section of East Mine Fork Trail, we crossed Strickland Road via the pedestrian access near West Millbrook Middle School to catch up with Honeycutt Creek Trail.  Heading east on Strickland Rd, we shortly passed mile marker 3.5 for Honeycutt Creek Trail.  Honeycutt Creek Trail was part of the 2003 & 2007 bond referendum that opened about a year ago and features 5.6 miles of greenway, some of which is unpaved.
Continuing on Strickland Rd, we followed greenway signs and turned left onto Carriage Tour Ln, which offered some great views of the gorgeous homes in the neighborhood.  Following the signs, we turned right on Chatterson Dr and found the official entrance to Honeycutt Creek Trail at 305 Chatterson Dr.  The beginning of the trail starts in dramatic fashion along a tall concrete walkway built between the homes of the Bent Tree neighborhood and forest that backs up to I-540.  The concrete walkway then leads into a slightly inclined wooden walkway that sits high off the ground offering great views of the nearby creek, residential homes and neighborhood pond.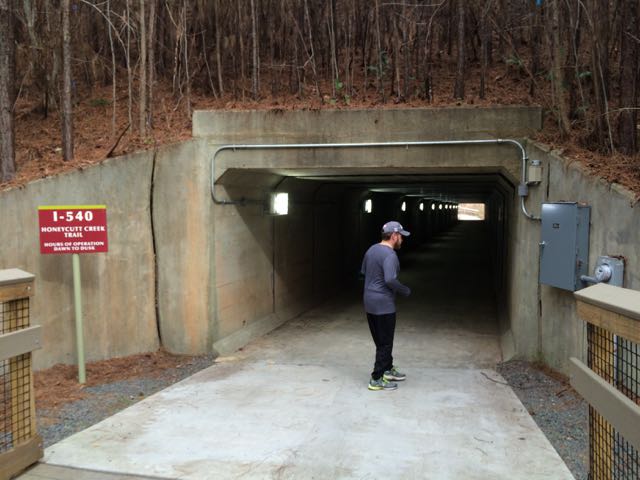 After running along the walkways we crossed under the I-540 pedestrian tunnel near the 2.75 mile marker.  I was pretty out of breath pushing the double stroller up the small hills we'd run so far, but I was definitely not prepared for the long, steep hills on the other side of the pedestrian tunnel.  Holy hills, Batman! Thankfully, Honeycutt Park (our destination) was only 1/2 mile away.  Honeycutt Park seems to be one of the lesser visited parks, yet it has great playgrounds with fun features for kids of all ages.  It also holds a special place in my heart as it was the last park our then family of 3 visited before little Claire was born (I have vivid memories of sweating it out in the full July sun).  The playground is in full sun, but there is a large nearby pavilion along with other park features including sand volleyball courts, basketball courts, and baseball fields.
After some playground time and a picnic lunch at the pavilion we headed back the way we came.  I was thankful the route was downhill, but had to work hard to control the heavy stroller down the steep hills.
If you wanted to continue north along Honeycutt Creek Greenway, follow the trail through the park and along Honeycutt Road to the Durant Rd intersection where it transitions to an unpaved trail.  According to the map, it continues north to Raven Ridge Rd where it connects with the South Shore Trail (part of Mountains-to-Sea Trail).  A note of caution: a portion of the unpaved trail between Durant Rd and Raven Ridge Rd is managed by the NC Wildlife Refuge Commission, which allows seasonal bow hunting.  According to the website, brightly colored vests are available for temporary use and signs display making it obvious of the game lands you're entering.
Additional Resources:
Thumbs up: connectivity to Honeycutt Park and beyond
Thumbs down: steep hills