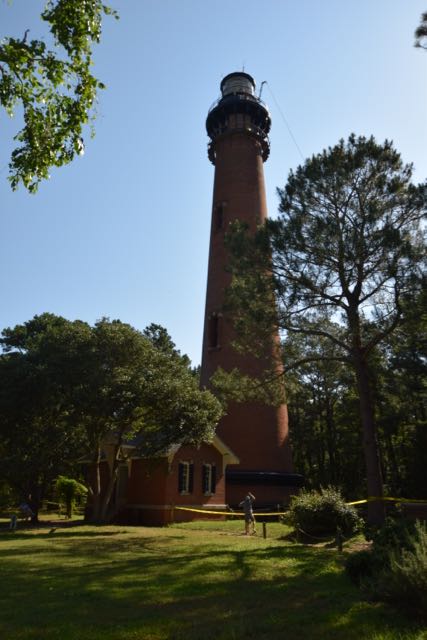 After school let out for the summer we headed with friends to Duck, NC for the weekend. The Town of Duck is located on the northern section of the Outer Banks mainland, not far (physically) from the Virginia border. We wanted to take advantage of staying in the northern Outer Banks, so we explored the Currituck Beach Lighthouse one morning.
Ever since watching Pete's Dragon as a child, lighthouses and light keepers always fascinated me. After reading "The Light Between Oceans" my fascination only grew stronger. Maybe I love the simplicity of their lifestyle or their strong connection to the water and ships they protect. Whatever the reason for my fascination, I'm thankful for being able to explore these historical landmarks.
History
Currituck Beach Lighthouse is located north of Duck in the historic village of Corolla, NC at 1101 Corolla Village Rd. In 1873 construction began on Currituck Beach Lighthouse to fill the gap of coastal darkness between Cape Henry Lighthouse in Virginia Beach and Bodie Island Lighthouse, just south of Nags Head, NC. It stands 162 ft tall overlooking the Currituck Sound and Atlantic Ocean. The lighthouse is unique in that they did not paint the exterior bricks. The lighthouse keepers and their families lived in the adjacent Victorian-style home until the 1930s when the U.S. Coast Guard assumed lighthouse duties. The U.S. Coast Guard automated the beacon, which continues to flash in 20-second intervals to alert ships at sea.
The lighthouse sat abandoned for decades after automating the beacon. In 1980, the non-profit Outer Banks Conservationists began to slowly restore the lighthouse over the next decade. The lighthouse opened to the public in 1990 and one of the keeper's houses opened later as the gift shop. The main keepers' house remains closed until restoration efforts finish.
Climbing the Lighthouse
The base and first two landings of the lighthouse feature interesting exhibits about the lighthouse's history. After paying the $10 admission fee and signing the waiver, I made separate trips with both girls up the winding 220 steps. Small landings between each floor offer chances to catch your breath and let others pass. We climbed slowly, but still reached the top of the lighthouse in a little over 5 minutes. We (so very carefully) walked around the outside of the lighthouse admiring the gorgeous panoramic water views.
When climbing the lighthouse stairs, small signs display in the windows letting patrons know the height and cardinal direction. The girls enjoyed learning how high up they climbed and looking out the windows. After climbing down the lighthouse we visited the museum gift shop and walked around nearby Historic Corolla Village.
Thumbs up: beautiful views, informative lighthouse museum, friendly volunteer workers
Thumbs down: nothing to report