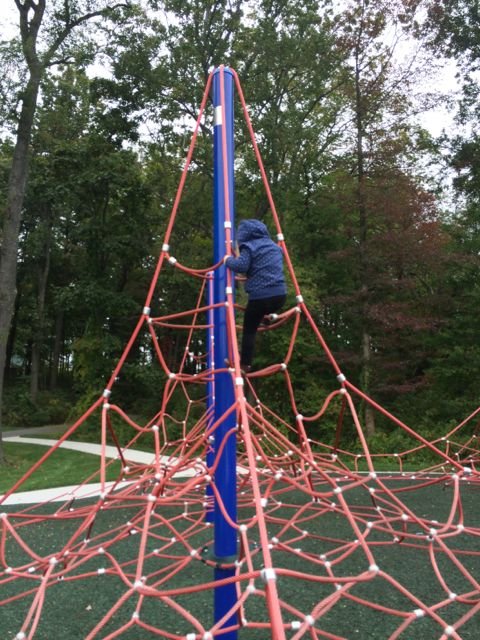 This Fall, we visited Bill's parents in Howard County, MD and made a morning trip to the nearby Western Regional Park.  Western Regional Park is located at 14800 Carrs Mill Road in Woodbine.  This park is a true symbol of where sports and recreation meet in the countryside.  Nestled among the scenic hills and nearby farms are playgrounds, walking trails, recreation fields, a community center, and lots more!
Upon arriving at the park, we drove to the back of the park near the large spiderweb climbing structure, since this was the highly anticipated play area.  Everyone (including grandparents) had a blast on this climbing area.  It consists of four tall poles connected through a series of spiderweb tightrope material.  Ashley had a blast shimmying around the climbing area and pretending the rubberized ground was "hot lava".  Also nearby are some climbing rocks and spinning wheels, which we all enjoyed.  Down from the parking lot are smaller football fields, a multipurpose grass field for lacrosse or baseball, and a small pavilion with charcoal grill.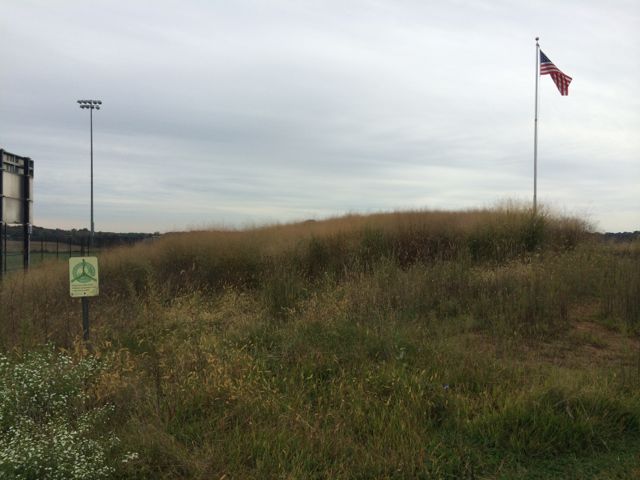 After exhausting our climbing skills, we explored the nearby paved trail in search for the other playground.  At the end of our short walk we saw a large lighted multipurpose artificial turf field with field hockey, soccer and football goals, a large open field, small mobile concessions, fenced-in basketball, community center, baseball fields, a line of porta-johns, tennis courts, and a playground.  Unfortunately the playground was being resurfaced while we were there so it was closed, but looked like it offered a lot for all ages and was fenced in!  The multipurpose field conditions were pristine – the grass was a luscious green color and very well maintained.  Another interesting feature of this park is the natural area preserved next to the sports fields; I imagine the spectators enjoy some depth to the typically flat parks.
Unfortunately we didn't have enough time to explore all of this park, but in looking online there are more than 4 miles of walking trails (including horse trails), a thorough listing of common flora and fauna, and a nearby library.  For more information about this park, including maps and a full list of amenities visit the Howard County website.
Thumbs up: gorgeous condition of fields, natural area near sports fields, spiderweb climbing area, paved sidewalks between amenities
Thumbs down: signage around park