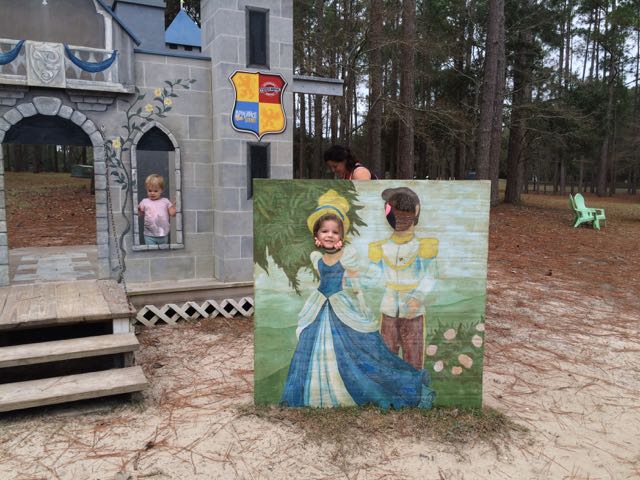 After our visit to Huntington Beach State Park in Murrells Inlet, we headed across the street (literally) to Brookgreen Gardens to spend time at the zoo, storybook playhouses and nature playground.  Brookgreen Gardens is located at 1931 Brookgreen Drive off US-17 and features thousands of acres of gardens and sculptures, a low country zoo, beautiful light displays in the evenings at Christmastime, educational programs and much more.
We didn't have time to visit the gardens, but spent about an hour walking the 1-mile+ loop and visiting the animals through the zoo.  We saw domesticated animals such as cows, horses, turkeys and several native animals such as alligators, bald eagles, foxes, otters.  The aviary features a boardwalk elevated over a swamp where you walk through the birds' habitat to see several different types of birds including herons and egrets.
After seeing the animals we walked over to the Storybook Playhouse area where the kids explored every inch of the storybook-themed houses for Cinderella's Castle, Hansel & Gretel's gingerbread house, Snow White's cottage, Dr. Seuss, and Rapunzel's tower.  Then the kiddos climbed, jumped and banged around the nearby nature playground.  They seemed to mostly enjoy making music with the pots and pans secured to the wall.
Brookgreen Gardens is an enormous place; we hardly dusted the surface of this Lowcountry garden and zoo.  In looking at their website, they have lots of cool exhibits and events scheduled for their 85th anniversary this year, including LEGO sculptures on display at the zoo.
Thumbs up: variety of activities, native animals, aviary exhibit
Thumbs down: nothing to report