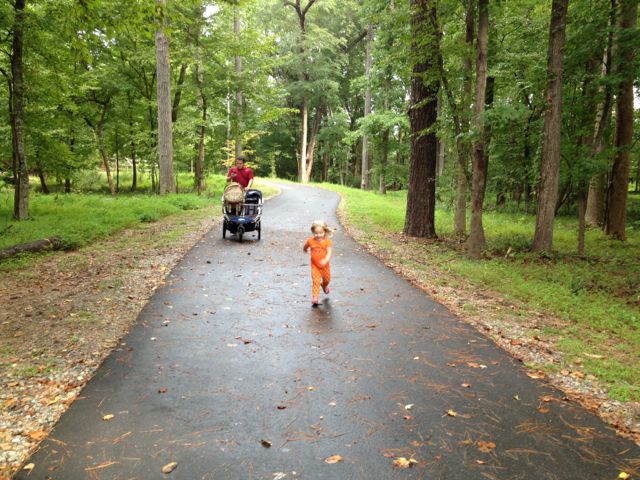 It might be snowmaggedon part 2 in Raleigh right now, but months ago it was a beautifully warm day for a run in North Raleigh along Abbotts Creek Trail.  Abbotts Creek Trail is 2.9 miles and connects Simms Branch Trail with the Neuse River Trail.  We parked on-street near the intersection of Falls River Ave and Ashmead Ln.  Abbotts Creek Trail is connected by the sidewalk near where we parked so after some walking back and forth, we got our bearings and headed north on Falls River Ave where we shortly caught up with Abbotts Creek Trail.  Again, I'd love some directional signage throughout the greenways.
Abbotts Creek Trail is a wide, flat, and paved trail that runs between the Bedford at Falls River subdivision to the north and Abbotts Creek to the south.  It nicely carves a path through a moderately wooded forest (great for shadiness in the hot NC summer).  Along our run we passed several bikers and joggers, crossed multiple bridges, and explored the blue heron habitat.  While we didn't see any blue herons, we did see evidence of their nests, which were easy to identify with help from the information guides.  Near the habitat are several benches, great for resting while doing some bird watching.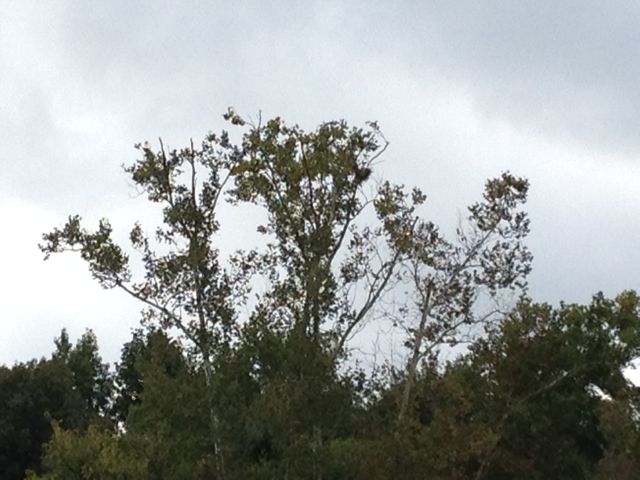 When we reached the end of Abbotts Creek Trail we turned left north onto the Neuse River Trail for a bit before turning around.  While on the Upper Neuse River Trail we passed the 2 3/4 mile mark and were impressed with the information guides about the floodplains and benches along the way.  Our out and back run was a total of 3.2 miles and I look forward to getting back up here again to explore the southern half of Abbotts Creek Trail, which I think leads to the North Wake Landfill District Park.
Thumbs up: flat and wide trail, lots of shade, fun nature stops along the way, busy foot traffic
Thumbs down: signage