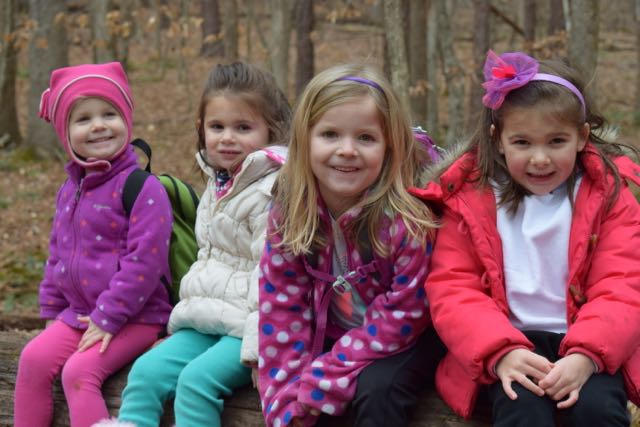 In January we headed with friends to Umstead Park to explore the super kid-friendly Oak Rock Trail, which is only 1/2 mile long. This is a great hike for young families or large groups with young kids. The trail has easy access to clean restrooms and picnic tables, and shallow stream access for water fun in the warmer months. It's also part of the Kids in Parks TRACK Trails program that provides self-guided brochures for outdoor adventures.
We accessed Umstead Park from the Highway 70/Glenwood Ave entrance at 8801 Glenwood Ave. Recalling the mobile map, we drove past the Visitor Center and then parked in the first parking lot on the left. Unfortunately there weren't signs from the main road directing you to the trail. After parking, we walked straight, following the signs for Oak Rock Trail and Kids in Parks.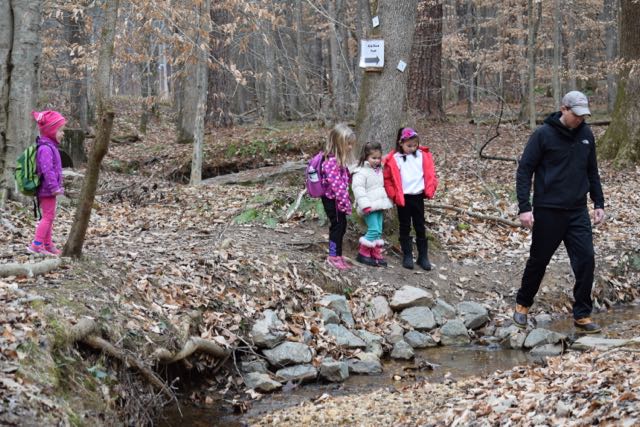 Since it was wintertime, the leaves covered the ground making it a little tricky to notice tree roots. Luckily, the girls heeded our suggestion for walking slowly. We zig-zagged over the small creek several times, throwing sticks and stones into the water and looking for tadpoles. The girls also enjoyed hopping on large stones to cross the streams.
Even though the trail is short, we spent extra time listening and looking for birds, picking up leaves, and finding moss. The girls enjoyed looking at the tangled tree roots coming out of the ground near the creek and the fallen trees along the way. At the end of the trail we enjoyed a picnic lunch while the girls traversed a large fallen tree. The nearby restrooms were clean and easily accessible.
Thumbs up: easy family hike, great for young kids, self-guided scavenger hunt brochure, plenty of picnic tables, creek for splashing
Thumbs down: poor signage to trail from main park road