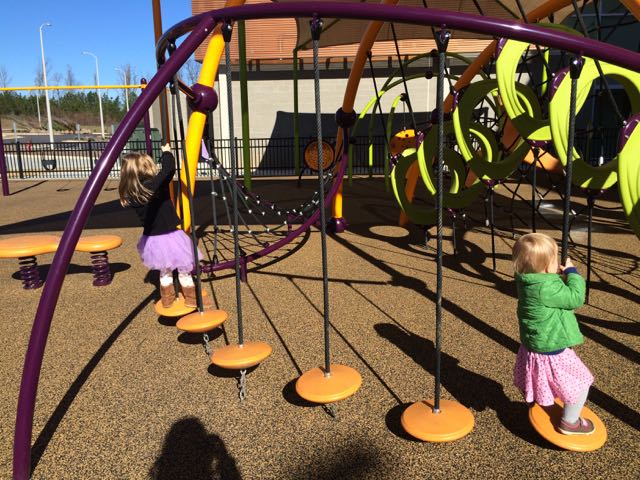 Before Christmas we headed to the newly opened Abbotts Creek Park, which is adjacent to Abbotts Creek Community Center and Abbotts Creek Elementary School.  Abbotts Creek Park is located in northeast Raleigh at 9950 Durant Rd, just down the road from North Wake Landfill.
The playground area is fenced-in and has brightly colored play features similar to the playgrounds at Greystone Community Center, Hill Street Park, and Powell Drive Park.  The smaller age playground features a slide, climbing ropes, and a planet-like climb-through structure.  Just a few steps away is the older age playground which features several connected rope climbing structures, climb-through rings, bouncy stepping stones, a tall slide, and a spinner.  The park also has a few benches, tot swings, regular swings, and shade canopies.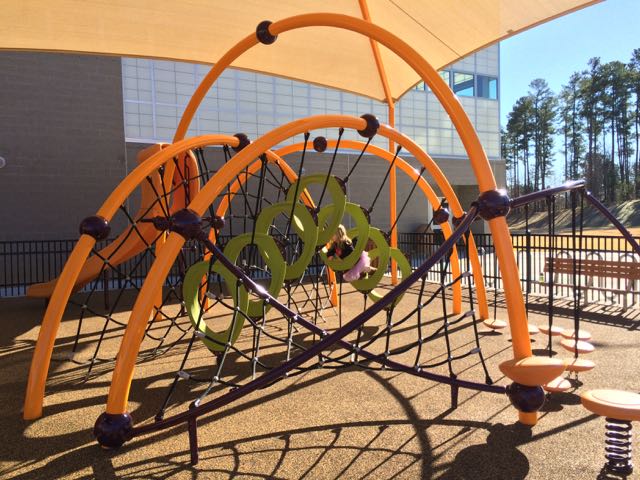 Outside the playground is a large concrete area with a large painted circle (presumably for playground games), four 100-yd dash lanes, a large grassy area, and rear access to the community center and elementary school play areas around the corner.  The outside spaces have lots of room to hopefully add picnic tables in the future.
We spent over an hour on the playground where the girls imagined treasure hunts, pretended the rubberized surface was hot lava, and hid in the castle (aka the top of the tall slide).  We couldn't visit the community center because it was closed while we were there, but according to the City of Raleigh website it features a, "two story community center houses a gymnasium with a real wood floor, fitness room, multipurpose classrooms, a fitness studio, lockers and dressing rooms, and office areas."  Even though it's a small playground area, there's a lot to do; but if you run out of fun here be sure to visit Durant Nature Preserve or North Wake Landfill District Park down the street.
Thumbs up: shade tarps for hot days, easy access, brightly colored play structure with interesting rope climbing features
Thumbs down: nothing to report