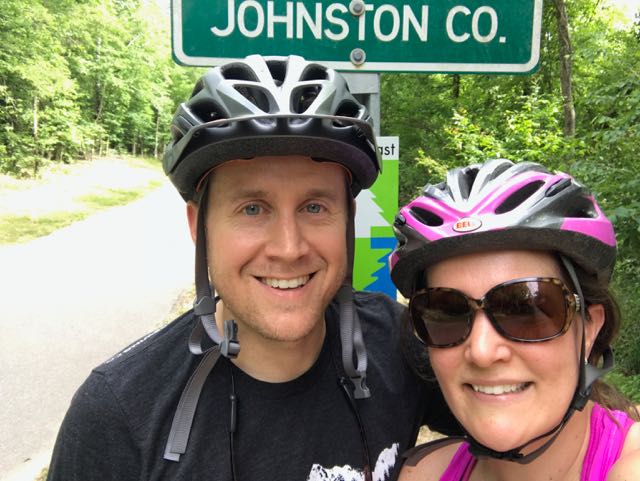 Over Memorial Day weekend, my sweet in-laws watched the girls while Bill and I enjoyed a biking and beers day date. Wanting to explore a new (to us) portion of the greenway, we headed to the southern portion of the Neuse River Trail near the Wake/Johnston County border. In all, we biked 15-miles (out and back total), crossed two counties, followed a river, detoured around an unpassable bridge, passed a historic bridge, and saw some art before grabbing beers at Deep River Brewing – a pretty awesome afternoon!
We parked in the greenway access parking lot at 6008 Mial Plantation Rd and turned left heading south toward Johnston County. We immediately crossed under Mial Plantation Rd bridge and passed the MP 26.25 sign. The trail is mostly flat with beautiful views of the rural fields separated by white split-rail fence. Shortly after, we biked past the Wake/Johnston Co line at MP 27.5, creating a fun selfie spot. The Town of Clayton maintains the greenway past the Wake County line with a portion of it affiliated with the East Coast Greenway.
Clayton River Walk on the Neuse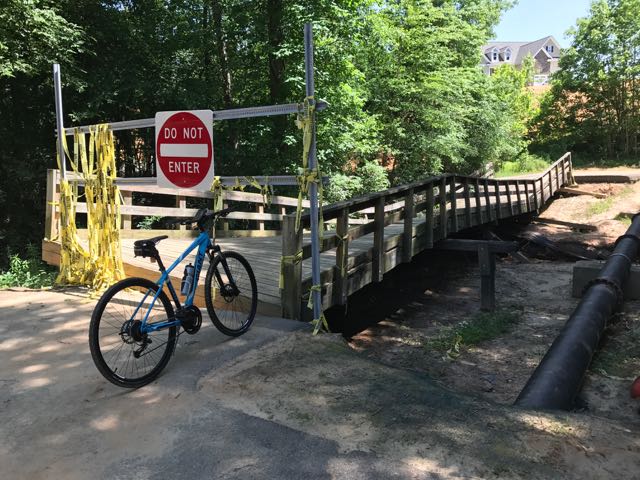 Continuing on Clayton's greenway (technically called Clayton River Walk on the Neuse), we arrived at the Riverwood neighborhood where we found the bridge damaged and unpassable. At the time we didn't see signage showing a detour route so I jumped onto the Town of Clayton website. I learned that last fall's Hurricane Matthew caused near record flood levels for the Neuse River and took out the bridge. The town's website shows a detour route through the Riverwood neighborhood that adds an extra five minutes via biking. The Town of Clayton is currently working with FEMA to replace the bridge, and there is no estimated completion timeframe.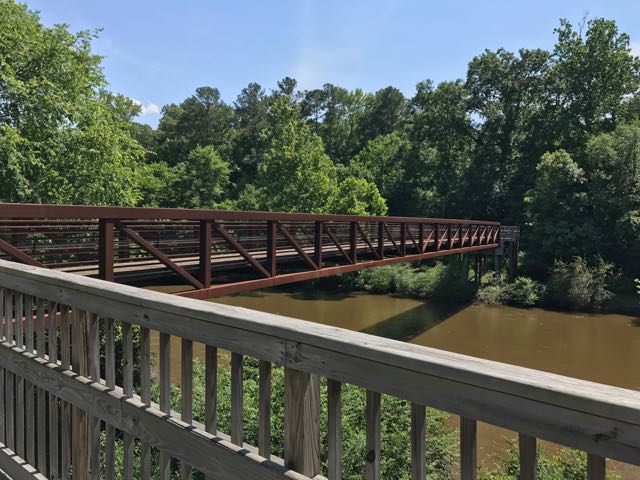 After biking the hilly detour through the neighborhood we met up with the trail and continued south. The trail remains mostly flat and sunny with clear views of the river. We passed a large sandy access spot for the river, complete with benches. Then, we biked under Covered Bridge Rd with a history that dates back to 1863 when it was first commissioned as a ferry replacement. Historians believe the bridge was covered around 1883 and most recently replaced in its current concrete form in 1980.
Shortly after passing Covered Bridge Rd, we passed MP 31 and crossed a large pedestrian bridge over the Neuse River. We enjoyed seeing so many benches and picnic tables donated by the Rotary Club of Clayton. About 1/2 mile later, we made a sharp right turn through a construction zone to stay on Clayton's greenway, officially called Sam's Branch Greenway at this point.
Sam's Branch Greenway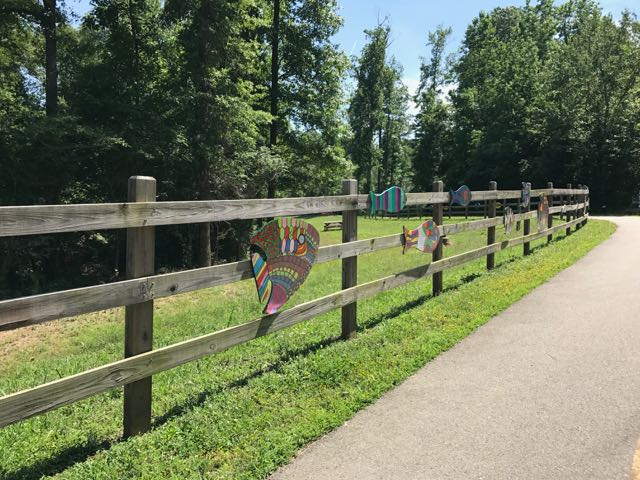 After safely maneuvering through the sand and dirt construction zone, the 1.25-mile paved trail leads away from the river towards North O'Neil St. Along the way we passed beautiful community art displays of hand-painted wooden fish. Then we biked by a public art garden featuring butterfly-shaped bike racks, benches, totem pole and a little free library. The trail also showcases information signs about forest animals in the area before passing a developing neighborhood and ending at a large greenway access parking lot at 1358 N O'Neil St.
Even though N O'Neil St is one of the main arteries leading to downtown Clayton (and Deep River Brewing) we aren't adventurous enough to bike on main roads yet. So, we turned around and biked the 7.5 mile return trip to Mial Plantation Rd. We noticed better detour signage around the damaged bridge on our way home.
Despite the detour and construction we passed, it's pretty amazing you can bike nearly 33 miles one-way from Falls Lake Dam to Sam's Branch Greenway trailhead. With greenway connections to the Town of Knightdale (via Mingo Creek Trail) and future connections to the Town of Wake Forest greenways, people all over the area have so much access to outdoor adventures.
Helpful References
Milepost Points of Reference
Falls Lake Dam – MP 0.0
Mial Plantation Rd greenway parking – MP 26.25
Wake/Johnston County line – MP 27.5
Covered Bridge Rd & Clayton River Walk on the Neuse trailhead – MP 31
Sam's Branch Greenway trailhead – MP 32.5
Thumbs up: donated benches and picnic tables sprinkled along the way, public art displays, scenic views along river, greenway access points, jurisdictional connections
Thumbs down: detour signage coming from the north, construction zone near intersection of Clayton River Walk on the Neuse and Sam's Branch Greenway