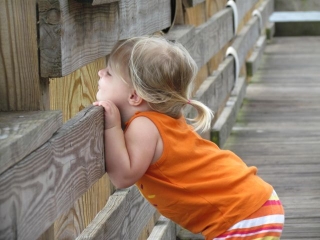 I had never been out to Lake Wheeler Park until this summer and I can't wait to return.  For the most part, Lake Wheeler is similar to
Lake Johnson
except that it doesn't have a paved trail surrounding it, but does have much more extensive boating, picnicking and playground areas.
Lake Wheeler Park is located at 6404 Lake Wheeler Rd in southwest Raleigh.  Upon entering the park, you'll notice the 650 acre lake to the south.  As you meander through the park on the main road, there are several spots along the way to stop and fish or shelters for picnicking.  Continuing on you'll pass large open fields with larger shelter areas and finally arrive at the large parking lot near the boat house.
We parked in the main parking lot and headed down to explore the boats and docks at the lake.  This particular day was extremely windy so the water was pretty void of any boaters.  We still managed to walk on the docks and talk about the different boats we saw (presumably for rent) – paddle boats, sunfish sailboats, kayaks, jon boats, etc.  For a complete list of boats for rent or launch visit the Lake Wheeler rental website.  You can also learn more about the depths of the lake (which get to 25ft in some spots) by visiting the information boards near the boat house.  Follow these guidelines for fishing in and on the bank of the lake.  Across from the boat ramps is the park's very impressive boat storage area.  In addition to renting various boats and fishing, you can also take several boating classes offered at Lake Wheeler, which start back up in the spring.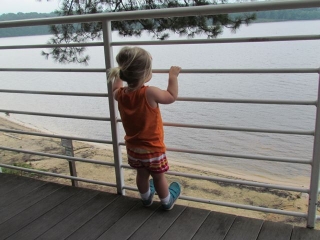 Next we explored the boat house area, which consists of a large veranda (covered and uncovered) overlooking the water complete with picnic tables and rocking chairs, indoor rooms for classes and rental, a concession area, restrooms, and beautiful landscaping leading up to the playground area.  The veranda, indoor room and deck are all available for
rent
for special events.  Ashley especially loved sitting in the rocking chairs while we talked about the different things we saw near the water (ducks, boats, people, etc).
After visiting the boat house, we explored the nearby t-shaped dock, which offered some great photo ops.  It has several fish cleaning spots and is completely fenced in, making it a fun place to explore for toddlers (provided no one else is around trying to fish).
Next we headed back to the playground, where we spent most of our morning.  This is a great place for playing and then having a picnic, as there are several picnic tables and even a small shelter and charcoal grill in the vicinity.  The playground offers a few areas for early walkers to play on, but is mostly geared towards the more steady walkers.  There aren't too many openings in the playground, making it easier for nervous moms to let toddlers run free in the playground.  The playground has big-kid swings and low swings for toddlers who can hold onto the chains, but no bucket tot swings.  It has a wood chip base and has several slides, tunnels, and ladders at different levels making it a fun and interesting place to play.
Finally, we made our way over to the large open field to "throw" our frisbee.  Being that we visited the park on the hottest day of the summer we didn't last too much longer, but enjoyed a fun morning with lots to look at, talk about and explore!  I can't wait to visit again and do some boating.
For more info about this park including boating, fishing and rental opportunities visit the City of Raleigh website.
Thumbs up: variety of boating activities, playground area, vicinity of picnic tables near playground, views from the boat house
Thumbs down: signage throughout the park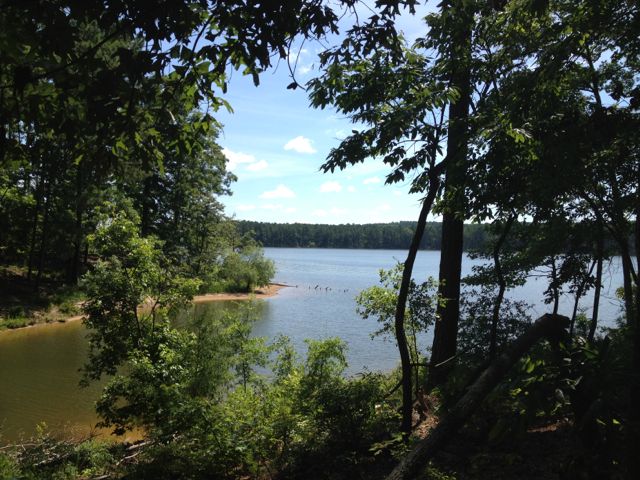 With Fall in full swing, it's a great time to do some hiking in Raleigh's backyard.  Months ago we visited Jordan Lake State Park for some hiking and a picnic and with the leaves changing colors now it'd be a perfect time to go back.   Having survived Profile Trail in western NC we wanted to try one of Jordan Lake's more challenging trails.  After researching the NC Parks website we decided on the blue trail at New Hope Overlook.   Jordan Lake has several hiking trails across many entrances so be sure to research ahead of time which one to go to.  New Hope Overlook is located off WH Jones Rd and has a cash-only entrance, where the fee is $6/car.
The parking lot at the trail head is shared with the boat ramps, so there should be plenty of parking for all patrons.  Before heading on the trail we scoped out the path again at the on-site map.  Needing to be home for a 1pm naptime we opted for the 2.7 mile Blue trail instead of the 5.4 mile Red trail.  The trail is heavily wooded and follows the perimeter of the lake through much of the trail.  Being so close to the water made for some great photo ops and a chance to see a lot of wildlife, such as ducks, herons, turtles and frogs.  It also gave us a chance to take a few breaks and let Ripken enjoy a cool dip in the water.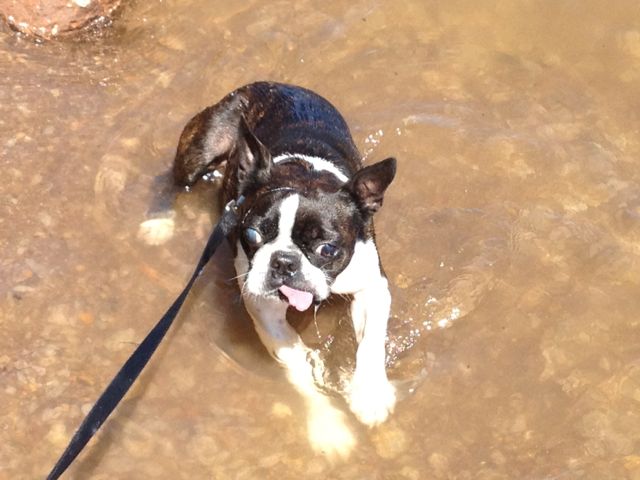 The Blue trail had a moderate difficulty with some gradual hills and tree stumps along the path.  It was well cleared and easy to follow.  It took us about 1.5 hours to finish the hike, making it a great mid-morning outing with Ashley and Ripken.  After the hike we headed over to the shore line near the boat ramps for a yummy picnic lunch.  Unfortunately there weren't any picnic tables so we roughed it on the shore line.  We all had a great time and can't wait to head back to Jordan Lake soon for some more hiking and perhaps some camping!  Visit the NC Parks website for more information about the features of Jordan Lake.
Directions from Raleigh: follow 64 west and turn left on Beaver Creek Rd before crossing over Jordan Lake, turn right on Pea Ridge Rd, and then a right on WH Jones Rd.
Thumbs up: scenery, shady trail, clearly marked paths, lake views, moderately challenging trail
Thumbs down: lack of picnic tables near parking lot