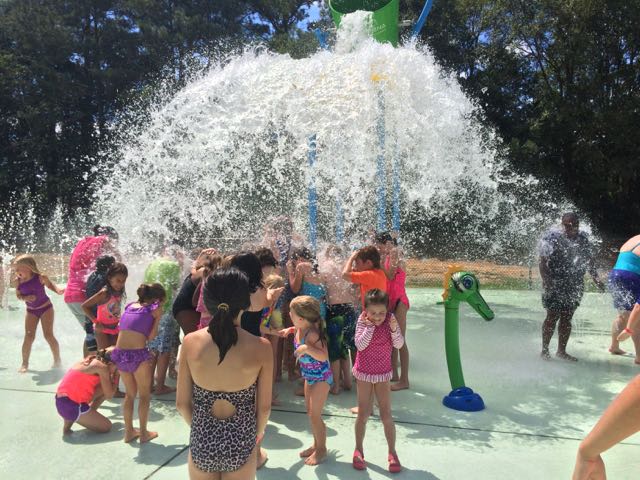 When we didn't travel this summer, we explored lots of different places in Raleigh – the library, nature parks, the pool, and trampoline parks.  After feeling like we exhausted places in Raleigh, we mixed things up and visited different places outside Raleigh.  First on our stop was the
Fuquay-Varina Splash Park
 with dear friends who have girls the same ages as ours.  The splash park is located inside South Park, about 40 minutes south of Raleigh at
900 S Main St
.
Splash pads (separate from a pool) are few and far between in Raleigh and can offer a fun alternative to the pool.  Fuquay's splash park is 6,000 sq ft of fenced-in water happiness for all ages!  Its most popular feature is the large green bucket that fills up and dumps like a big waterfall every few minutes.  Before the bucket nears its tipping point, most of the children line up below to squeal in excitement after the water dumps.  If being drenched isn't your thing (or your child's idea of fun), there are smaller water spray features throughout the splash pad including water guns, misting tunnels, gentle short sprays great for early walkers/babies, and taller sprays for bigger kids to run though.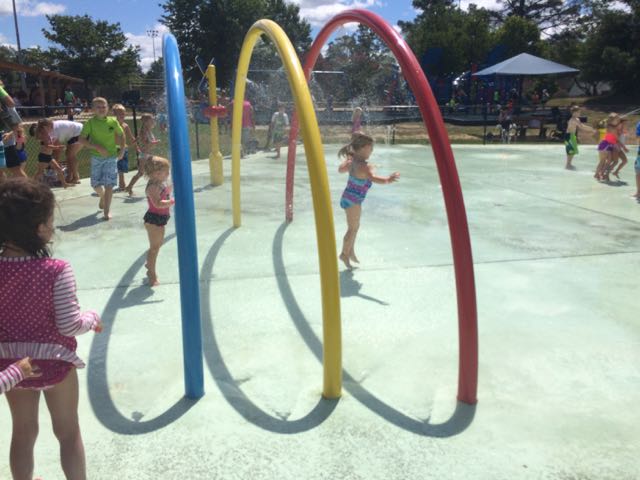 The splash pad costs $2 per child for non-residents (cash only) and is free for Fuquay-Varina residents with a Resident Splash Card.  During the summer, the splash pad opened at 11am so there was quite an initial rush and it was at capacity by the time we got there at 11:15am.  After about 15-20 minutes the attendant called for everyone inside the splash pad to exit while the next group entered.  This juggling of guests continued for a few cycles before the crowds naturally evened out.
After spending our time in the splash pad, we headed to the large adjacent pavilion for a picnic lunch.  There is also a nearby playground and swings for all ages, but our girls wanted to quickly eat and head back to the splash pad.  Despite little shade, the playground was wildly popular among other park guests and provided a nice option while waiting to go back into the splash pad area.
After another splash session, we packed things up and headed home with a quick stop in downtown Fuquay-Varina for froyo at Sweet Creations.  It's been at least four years since I've visited Fuquay-Varina and it's neat to see all the new and established downtown businesses doing so well.  I look forward to exploring the new Fainting Goat Brewing Company during my next trip!
Even though several area pools have closed for the season, the Fuquay-Varina Splash Park is open through September 11 with
limited hours
.  Despite its shorter hours, the splash park will still make for a nice reprieve especially from the upcoming weekend's heat.
Thumbs up: large park with fun recreational options, fenced-in splash park area, inexpensive entry fee, well managed crowd control, shaded dry seating areas outside the splash pad, large family-friendly restrooms
Thumbs down: earlier opening time might help with large crowds