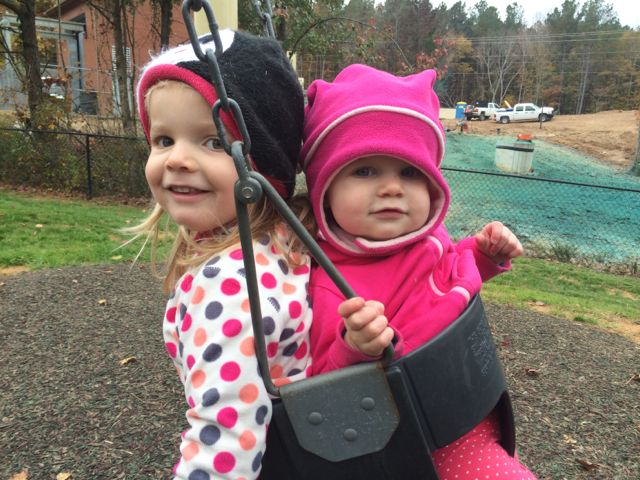 This winter we braved a cold, but clear day for new adventures in Apex, NC. After exploring a new (to us) park we heading to downtown Apex for a delicious lunch at Anna's Pizzeria.  It was the perfect combination of fresh air, exercise and comfort food!
We originally set out to visit the wooden playground at Kelly Road Park, but with the road detour on Olive Chapel Rd/Kelly Rd it looked like the park was going to be closed, so we instead stumbled upon the smaller Kelly Glen Park not too far away.  After some super helpful back and forth tweeting  with the Town of Apex (they even tweeted me a hand sketched map, must've known I was not from these parts), we learned that Kelly Road Park was open so we'll definitely be back to Apex soon!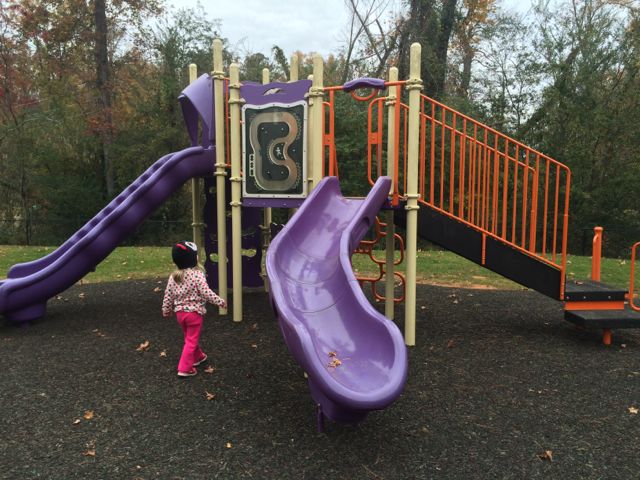 Kelly Glen Park is located at 1701 Kelly Glen Dr near a neighborhood cul-de-sac just outside I-540 in Apex.  There is a lot of construction along the nearby Kelly Rd bridge so parking is available in the cul-de-sac.  After parking, we followed the short, winding paved path past the pavilion to the playground.  The playground is designed for ages 5-12, but only has one opening at a tall height and Claire did a good job climbing around with my assistance.  The playground has several slides and a tall ladder and features several hand crank-operated marble games.  There is also a pair of nearby low-to-the-ground tot swings that both girls really enjoyed.  Even though Ashley is way TOO big for these swings, she loved running for a "take-off" while sitting in the swing.  Before leaving the park the girls spent quite a bit of time watching the nearby construction from the fence.
After the park we headed back towards Raleigh with a stop in downtown Apex for lunch at Anna's Pizzeria.  I've been wanting to try Anna's for awhile now and I'm so glad we did.  Despite the busy lunch crowd, we had attentive service and a great lunch of pepperoni pizza and garlic knots.  With so many restaurants and shops in downtown Apex I look forward to returning soon!
Thumbs up: helpful tweets from Town of Apex staff, tot swings, exploring downtown Apex
Thumbs down: in-your-face road closed signs made Kelly Rd Park seem closed even though it wasn't, noisy construction