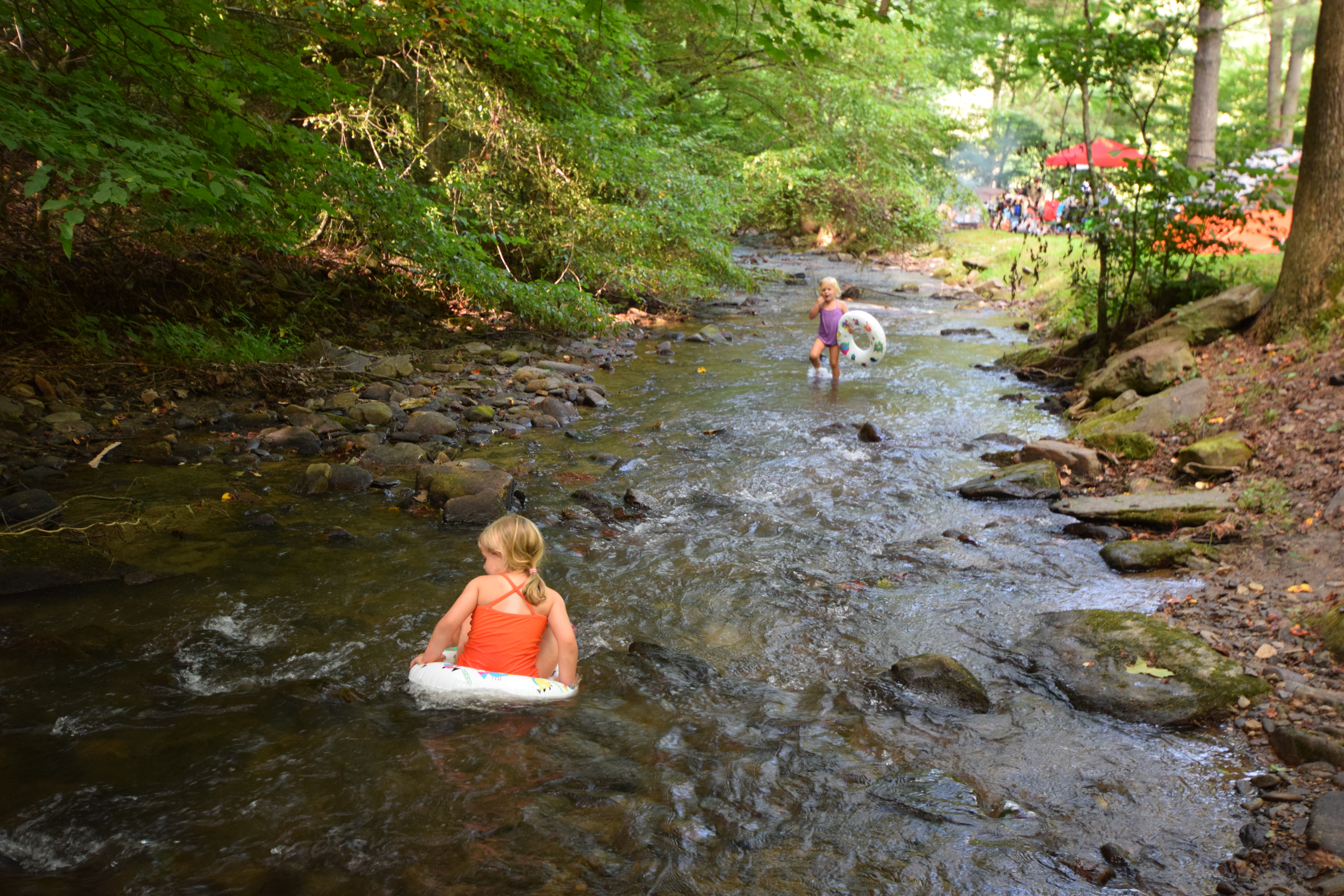 Phew! Where did the Fall season go?! It's almost December, but the recent warmer afternoon weather makes me reminisce about our amazing summer adventures with family and friends. Even though we didn't cross off everything from our 2017 Bucket List, we explored so many new (to us) places in the mountains and at the beach.
We kept the weekdays simple, yet fun, with pool time and swim team with friends, and spent the weekends mostly traveling around NC and VA. We had lots of ups – amazing travels meeting up with friends and family, fresh seafood, gorgeous waterfalls; but, we also had some downs – getting lost down a one-way road with the Winnie, late night kiddo fevers in the Winnie, Winnie electrical outages in hot July, and the Hatteras Island evacuation. So, when things got out of our control, we tried to stay positive and improvise knowing that things will come full circle, which they eventually did! We somehow turned Winnie around at the end of Little Buck Creek Rd, fevers magically disappeared, my sister saved our food (and sanity) during the great electrical outage, and we moved our family vacation to beautiful Emerald Isle at the last minute.
As a summertime bonus, we survived a major kitchen renovation that is finally concluding, we celebrated what would have been my mom's 60th birthday, Claire turned 4 years old, we celebrated Labor Day weekend with a crab feast and lots of Hokie buds and their littles, and we witnessed a total solar eclipse. I don't know how we'll top the mix of relaxation and travel from this past summer!
Enjoy a low country boil (with the in-laws over Memorial Day weekend)
Survive having two kids on summer swim team (it was touch-and-go at some points)
See some waterfalls (Tom's Creek & Roaring Fork Falls in western NC, Catawba Falls in Pisgah National Forest)
Swim at a lake (Jordan Lake & Falls Lake Recreation Areas)
Discover new & easy campfire recipes (garlic broccoli and potato pockets, french bread pizzas, rocky road dessert)
Go blueberry picking (the farm was closed so we discovered nearby Kelly Rd Park instead)
Discover new hiking trails on our travels (Hughlett Point Nature Preserve in Kilmarnock, Va, Emerald Isle Woods Park)
Catch fireflies (Jordan Lake campsite and backyard)
Try a new ice cream place (Sweet Spot in Emerald Isle, Fudge Factor in Beaufort)
Visit a new museum (Museum of NC Minerals on Blue Ridge Parkway, Swannanoa Valley Museum in Black Mtn, NC Maritime Museum in Beaufort)
Perfect my mojito making (muddle 8 sprigs of mint with slice of lime cut into quarters and spoonful of sugar, add 2 Tbsp simple syrup, add 1.5 oz of white rum, fill glass 3/4 full of ice, add enough club soda or La Croix to cover ice)
Start composting (Bill put the nix to this idea)
Have a water balloon fight (backyard sister fun)
Read a long book together as a family (Wind in the Willows by Kenneth Grahame)
Enjoy Winnebago camping as a family (5 trips under our belt this summer)
Visit a new brewery (Deep River Brewing Co in Clayton, Sierra Nevada & Wicked Weed in Asheville)