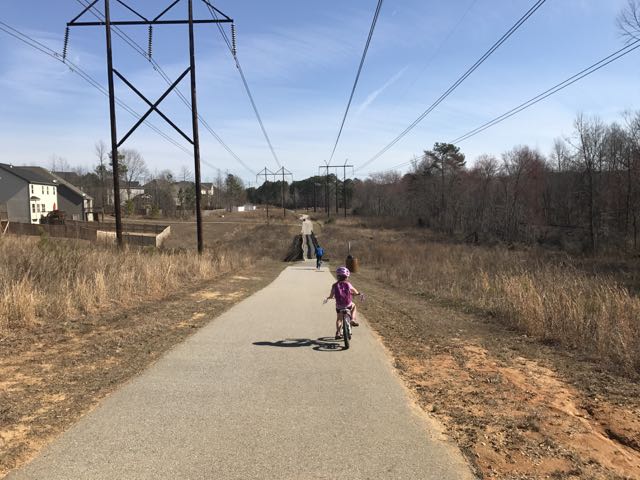 Looking for a fun family bike ride over the holiday weekend? Discover the Mingo Creek Trail of Knightdale where it features flat rides, long causeways and interesting creek life!
We love finding new (to us) greenway sections to explore, so we headed to Anderson Point Park to access the Mingo Creek Trail. Mingo Creek Trail is part of the Town of Knightdale's greenway system that connects from the Neuse River Trail. We parked in the large parking lot (just outside the main entrance to Anderson Point Park) and biked north on the Neuse River Trail.
We shortly passed MP 17 for the Neuse River Trail and then turned right, following signs for Mingo Creek Trail. Then, we winded up a paved path before biking across the Neuse River. The trail eventually led to a clearing with residential homes on one side and railroad tracks on the opposite side. Around MP 1, the trail's gradual hill leveled out to the Princeton Manor neighborhood at the Hodge Rd intersection.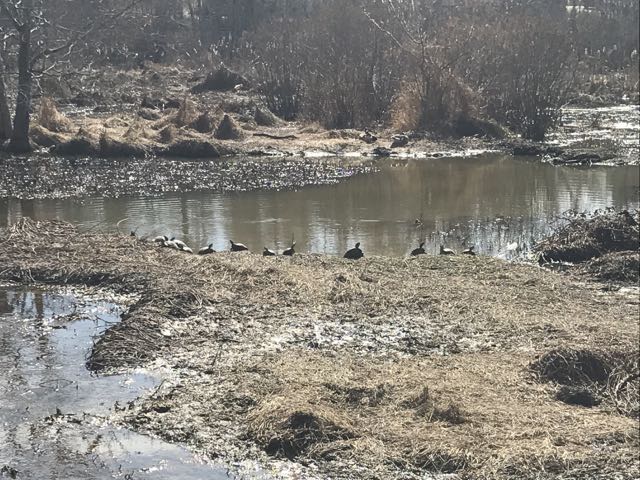 We maneuvered through the neighborhood sidewalks and carefully crossed Hodge Rd to continue on Mingo Creek Trail. Shortly after, we biked along the half-mile causeway, which was sandwiched between marshy areas and residential homes. We stopped on the causeway to watch the turtle and duck families sunning in the water. A great heron (or egret) also caught our eye.
Eventually we biked under the I-540 bridge and turned around at the Lynnwood Rd Connector at MP 2.25. Knowing we'd have a 2.25-mile return trip, we enjoyed a picnic on the side of the trail before calling it a successful ride. I hope to bring the girls back to finish biking this trail over the summer where it ends at Mingo Creek Park.
Thumbs up: easy to read Town of Knightdale greenway map with incremental markings and mileage table, connection to the larger Neuse River Trail for longer rides, interesting wildlife viewing in marsh, great family bike ride, sunny bridges and causeways make for great photo ops
Thumbs down: lack of signs made maneuvering through neighborhood near Hodge Rd confusing