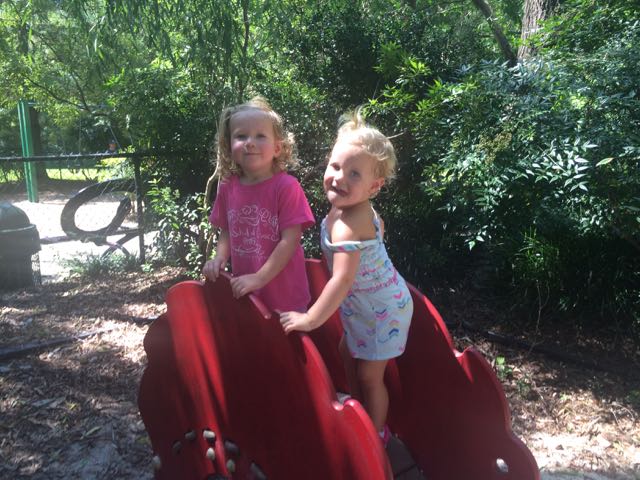 Over the past few years I've continually heard about the amazing "dragon" park in Cary with great play areas for all kids.  Well, we finally ventured to the super popular Marla Dorrel Park, which features the Kids Together Playground at the end of summer with friends.  With its unique play areas for graduated levels of difficulty, variety of wheelchair-accessible play equipment, nicely landscaped areas, and abundance of seating it makes a great park for everyone!
Marla Dorrel Park is located near Tryon Rd/Cary Pkwy at 111 Thurston Dr in Cary.  It features a basketball court, access to MacDonald Woods Park via Henshaw Greenway, covered pavilion, and the Kids Together Playground, a playground inspired by two girls whose sisters have special needs where kids of all levels of physical and mental ability can enjoy fully-integrated play. There's a longer walk to the playground from the parking lot than most parks so make sure you have everything you need when get out of the car.  As you walk towards the park your eyes are immediately drawn to the beautiful crape myrtles and flowering plants near the pavilion. The large pavilion provides a great meeting spot for birthday parties and picnics and an easy place to spot the restrooms, which even has shorter toddler-level sinks.  Just past the pavilion is the infamous climbing dragon sculpture, Katal, resting in full sun while the kids run up, down and all over it.  Heading in the other direction, follow the widely paved sidewalks where you'll pass interactive purple whisper benches on the way to one playground area full of tunnels, arched ladders, fire poles, shade sails, and more.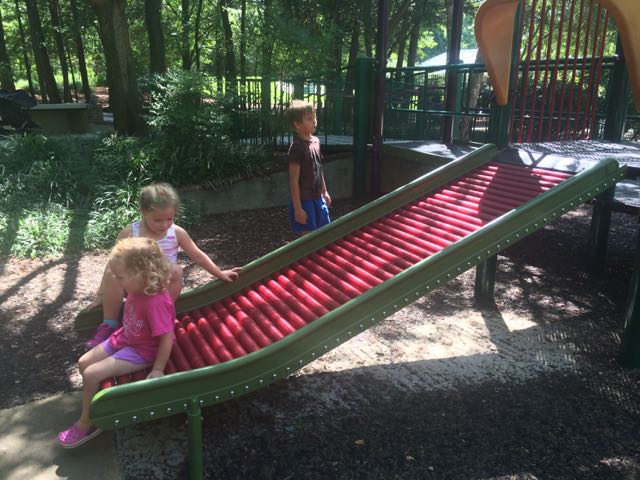 Beyond this playground is another play structure with graduated levels of difficulty that feature wheelchair ramp access, twisty slides, arched ladders, a fun rolling slide, interactive play items and so much more.  Tot swings, traditional swings and chair swings are also located nearby including a swinging platform with wheelchair accessible ramps.  The playground surface is mostly sand so bring your sand toys or enjoy the diggers; but wide paved sidewalks wind throughout making it easy to access all areas.  They even have wheelchair-accessible sand tables along the pathways!
After exhausting a lot of time on the bigger playgrounds, we visited the partially fenced-in toddler area, which features a playhouse, river of sand, water sources, sand table, and small climbing structures.  While our girls felt they have mostly outgrown this area, the shaded benches made for a nice place to stop for a snack.  And everyone enjoyed walking through the misting fountains.
This park is loaded with a variety of play structures and picnic spots – we played and snacked for over 2 hours.  And, while it may be a super popular park (parking lot was almost full on our way out) it is so big and has so many play areas it doesn't feel overflowing with people.
Thumbs up: variety of play equipment for all ages/abilities, lots of shade, abundance of swings, well-maintained landscaping, great picnic areas
Thumbs down: lush landscaping can be hard to see over when trying to keep watch on more than one child!