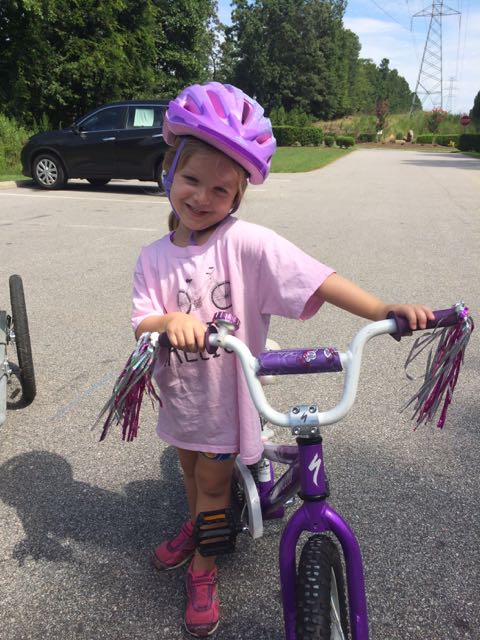 Last summer Bill and I biked by this "beachy" section of the Neuse River Trail and vowed we'd make it back with the kids on a bike ride someday.  That someday was this summer, with Ashley leading the pack on her big girl bike and Claire chomping on snacks in the bike trailer.    The Neuse River Trail is our favorite spot for family bike rides with young kids because the trail is relatively flat and wide with several parking spots along the way making it easy to break your ride into small chunks.
For this bike ride we parked at the trail parking lot in the Bedford neighborhood at 10888 Bedfordtown Dr, biked down the access path and turned right onto the Neuse River Trail heading south.  We followed the greenway for about 2 miles before coming to milepost 4.5 where there's an oxbow in the river that has created a wider sandy spot along the river bank.  Note: if you don't want to bike/run the 2 miles, you can park closer to the oxbow at 6100 Thornton Rd and bike/run 1/2 mile. We parked and locked our bikes in a grassy spot off the greenway and walked down to the beachy area with our picnic supplies and towels (everyone already had
bathing suits on).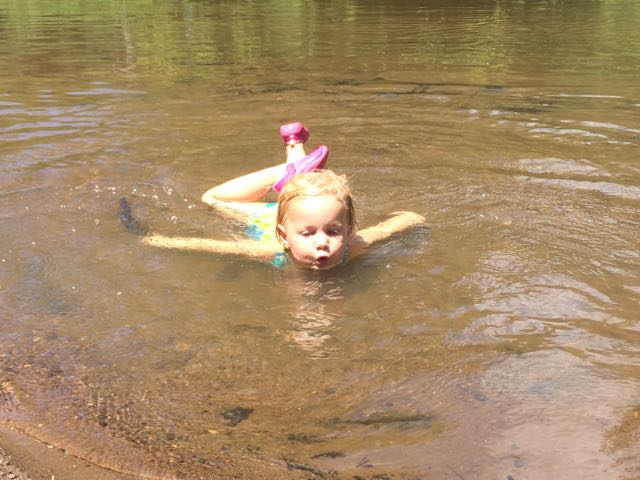 It hadn't rained recently so the beachy area was actually wider and longer than I've seen it at other times and the river flowed slowly.  The water was pretty warm except in the middle of the river, which was over our heads in several spots.  We didn't bring life jackets with us and the water wasn't very clear so the girls mostly played near the shore line looking for tadpoles, playing in the sand/mud, or splashing in the water with the other young family that was there.  While we were there a few paddle boarders passed by including a father and young daughter out for a ride (next summer's bucket list goal).
After playing in the water for awhile we enjoyed our picnic lunch on the beach before heading back to the car.  The bike ride north was a bit more uphill than the ride out, but the girls kept their cool and did great.  I look forward to returning to this secret spot again next summer!
Helpful Hints:
Wear shoes good for getting wet in the river
Bring life jackets for little ones
Be conscious of recent rains before coming out; river levels may be too high to safely play
Bring towels and small sand buckets
Parking options: 10888 Bedfordtown Dr (2 miles away) or 6100 Thornton Rd (1/2 mile away)
Thumbs up: fun bike ride/swimming activity, exploring the shore line for tadpoles and fish, lots of shady spots, very private area where you can't see the beach from the greenway
Thumbs down: water was murky so be careful when swimming