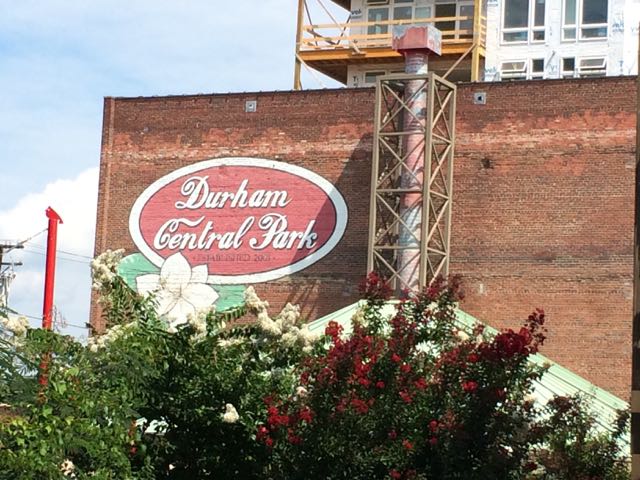 Part of my summer bucket list for the past few years included a trip to the Durham Farmers' Market.  Unfortunately, we never made time to visit Durham during the summer (unless it was for a Bulls game) until this summer.  A few weeks ago we had an atypically quiet weekend at home so we decided to head out to the Durham Farmers' Market on Saturday morning.  Little did we know the farmers' market is just one piece of a very fun and popular urban park, Durham Central Park.
Durham Farmers' Market is located at the pavilion in Durham Central Park at 501 Foster St in downtown Durham.  After hunting around for a parking spot (there's a lot of nearby construction), we parked in what seemed like a valid spot at a local business that is closed on Saturdays.  We then walked the few blocks to the farmers' market to find a mecca of food, art, and fun!  The main farmers' market area is located under the covered pavilion, but there are also dozens of pop-up tents and food trucks nearby.  We strolled by all the pop-up tents in the lawn area, which featured mostly artists selling handmade jewelry, doggie products, art, iron-made products and much more.  Then we walked through the main area, sampling fresh fruits, cheeses, and veggies and looking at the local art.  We bought some amazing corn, tomatoes, edamame, and fresh blackberries.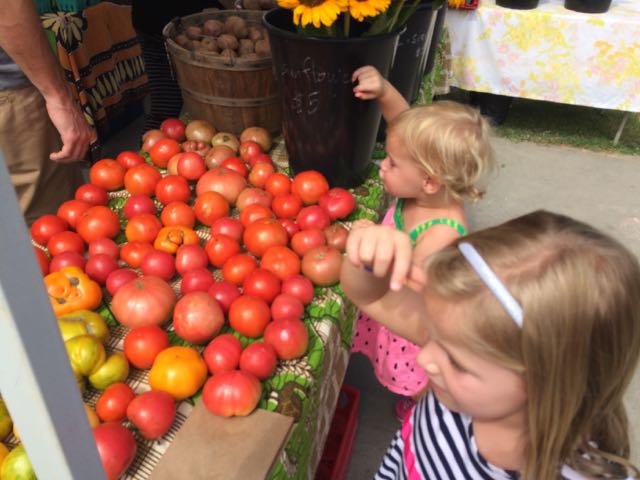 After exploring the main area, we walked across the street to the mini food truck rodeo area, where we bought some fresh tea and loco-pop popsicles.  There were tons of vendors at the market selling clothing, unique handmade items, cold drinks, household items and more.  After window shopping we walked across the bridge at the intersection of Foster and Hunt St where it dumped us out into the large lawn area, also part of Durham Central Park.  We walked up the hill to scope out the skateboard park, which is also located across from a police station.  After watching the skaters for awhile we headed back down the hill past the Leaf open-air performance area to the fabulous playground area, Mt. Merrill.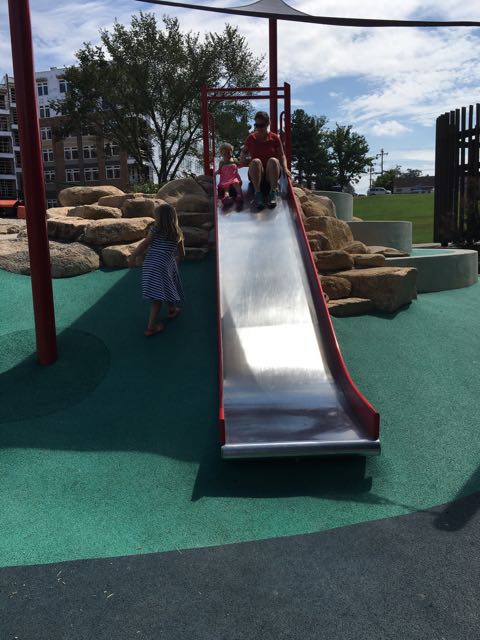 The playground features amphitheater-style rock climbing, two slides, climbing net, and some shade sails.  I especially loved the cute bird cut-outs perched on top of the poles.  There are also some benches sprinkled along the nearby sidewalk and some shady spots in front of the playground by the wooded area.  We grabbed a few of those shady spots and had a quick picnic with our edamame and blackberries. The girls loved jumping back and forth between having a snack and playing on the playground.  It was neat and unusual to see large boulders used as a climbing element in a playground.
Not wanting our fun morning in Durham to end, we headed back to our car and drove the short distance to Fullsteam Brewery for some yummy summer beers and lunch from the rotating food truck.  A heavy rainstorm popped up while we were there so we enjoyed our lunch to the tune of loud rain pinging off the metal warehouse roof.  In reading up about Durham Central Park since visiting, it seems like there's some momentum for making improvements and continual development.  I look forward to visiting again in the future and seeing how the park shapes up over the years!
More Resources:
Thumbs up: playground's close proximity to fun and food, climbing boulders on playground, diverse mix of artisans and farmers at market,
Thumbs down: I don't recall seeing informational plaques about Durham Central Park while there, needs more picnic tables/benches