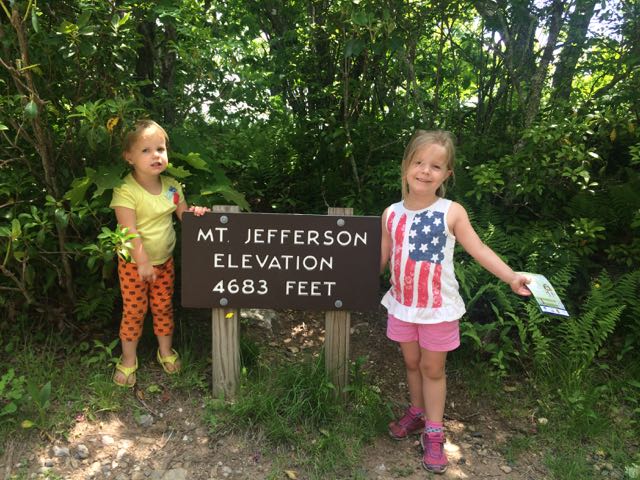 On the way home from our mountain trip in West Jefferson we decided to take advantage of the close proximity to Mount Jefferson and pay a visit.  Mount Jefferson State Natural Area is located just east of US 221 at 1481 Mt Jefferson State Park Rd in West Jefferson (elevation 3000ft).  It lies along the drainage divide between the north and south forks of the New River, which influenced the size and shape of the mountain. Mount Jefferson and its nearby peaks are remnants of a once lofty, mountainous region but weathering and erosion over millions of years wore away the softer, less resistant rocks. The more resistant rocks, amphibolite and metagraywacke of Mount Jefferson, were slower to erode.  The mountain received its name in 1952 in honor of Thomas Jefferson and his father, Peter, who owned land in the area and surveyed the nearby North Carolina-Virginia border in 1749.  In 1956 the mountain became an official state park.
The main access road up the mountain is easy to navigate and offers two beautiful overlooks.  The small parking lot at the top of the mountain provides quick, easy access to the mountain's trails, large pavilion, and picnic tables.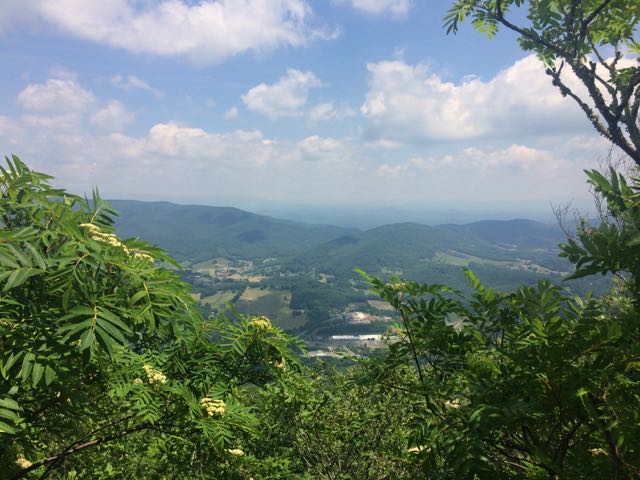 We walked through the picnic area and followed the short Summit Trail (0.3 miles) up the mountain.  Although the website lists this trail as strenuous, we felt it was more on the moderate side.  Due to our haste planning half of us wore flip flops, but could easily walk the gravel trail.  The gravel path is wide and shady giving a cool mountain feel to the hike. Along the way we saw butterflies, rhododendrons, mountain laurel and red-starred flowers; though stop by the park office for official plant and animal checklists. We visited the bathrooms along the way, which were super convenient and an easy walk from the main path.  We passed access to the Kids TRACK trail, which is part of the longer Rhododendron Trail (1.1 miles).  Near the top we turned left to the Mount Jefferson summit, which has an elevation of 4683 feet.  I climbed out a little further to catch the beautiful views of the Blue Ridge Mountains.
Even though this is a smaller state park in size, it offers 5 moderate to strenuous hikes that are great for quick hikes with beginners or young families.  It would also be a great spot for a quick picnic if you're out and about in West Jefferson or on the way home like we were.
Additional Resources:
Thumbs up: quick, easy access to hiking trails from the parking lot, easier hikes for beginners and families, beautiful views of mountains from Mt Jefferson summit, picnic spots are plentiful
Thumbs down: nothing to report