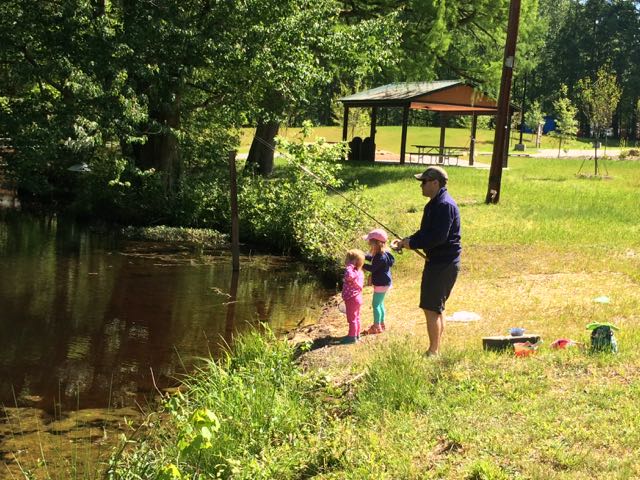 One Sunday at the end of April we headed out to Wake County's newest park, Robertson Millpond Preserve for some fishing.  Not knowing what to expect from this new park, we quickly discovered that Robertson Millpond Preserve is a local natural refuge for recreation and relaxation.   Its main attraction is the blackwater cypress-gum swamp, making you feel transported to the lowcountry!
Robertson Millpond Preserve is an 85-acre park located 25 minutes outside of Raleigh at 6333 Robertson Pond Road in Wendell, NC.  The millpond dam was created in the 1820s when the Avera family owned and operated a 600-acre farm and gristmill on the property.  They lived in a federal-style home, which they re-located to a new site on Robertson Pond Rd that still exists today.  The Robertson family, for which the pond and road are named for, bought the land in the late 1800s/early 1900s and probably operated the mill until the 1940s.  After the mill stopped operating in the 1950s, recreational fishing and boating became the focal point.  Decades later, the mill was removed, and in 2013 the land was purchased through the Wake County Open Space Program and the park opened in late October 2015.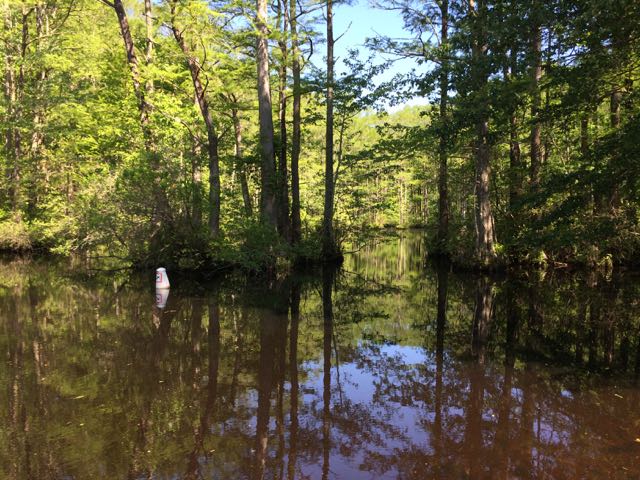 This particular Sunday we enjoyed the park all to ourselves for several hours.  We explored the boat ramp (only non-motorized boats are allowed) down to the pond where we heard and saw a variety of birds and insects.  Sitting on the boat dock, we gawked over the large cypress trees that envelope the pond.  The park staff have installed numbered buoys in the water to created a 1/2 mile paddling trail through the pond.  Since our visit, Paddle Creek has started offering hourly kayak rentals on Saturdays only at the pond.
Then we walked over to the small shore area to set up for fishing.  Before heading out that morning, the girls and I collected live worms from our backyard for bait, but our bait didn't stand a chance.  Bill and the girls had a few nibbles and saw some tadpoles, but this morning was more about just having fun, which everyone did!  After fishing we walked closer to the dam, which is about 20 yards wide and sits in front of Robertson Pond Road.  You can't get very close to the dam, but the sounds are amazing and future projects include adding a short boardwalk and an interpretive display near the mill's old foundation.
In addition to the pond's recreational activities, the park also features a picnic shelter, open space area and nonpotable water station for cleaning your boat.  After this past weekend's canoeing and kayaking adventures down the New River in West Jefferson, NC, I can't wait to return on a Saturday and take the girls kayaking!
Additional Resources
Park Hours: open weekends only and a few holidays
Thumbs up: gorgeous views, boating options, preservation of pond and history of area, on-site station for cleaning your boat
Thumbs down: lack of weekday hours