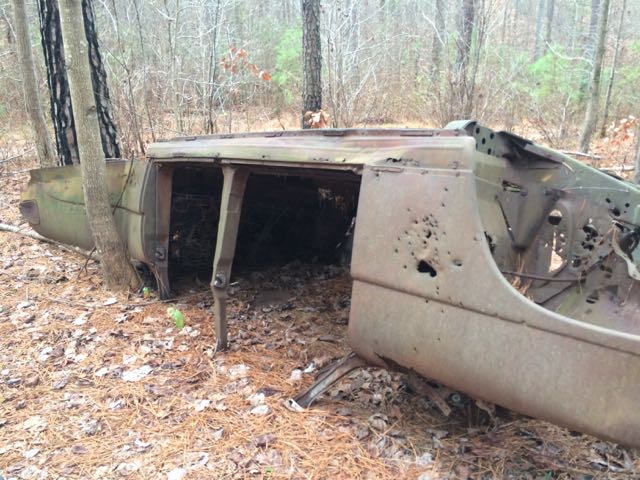 We took advantage of the gorgeous weather over Christmas break and spent a lot of time exploring new places outside.  The day after Christmas we drove north to Falls Lake for a 2.5 mile morning hike.  If you haven't checked out the day hike ideas by the folks at Friends of the Mountains to Sea Trail (MST), make it something you do this Spring.  The day-hike information includes detailed directions (including distance, difficulty ratings, for day-hikes in the mountains of the Blue Ridge Parkway, the Raleigh-Durham (Triangle) region and the Coastal Plain.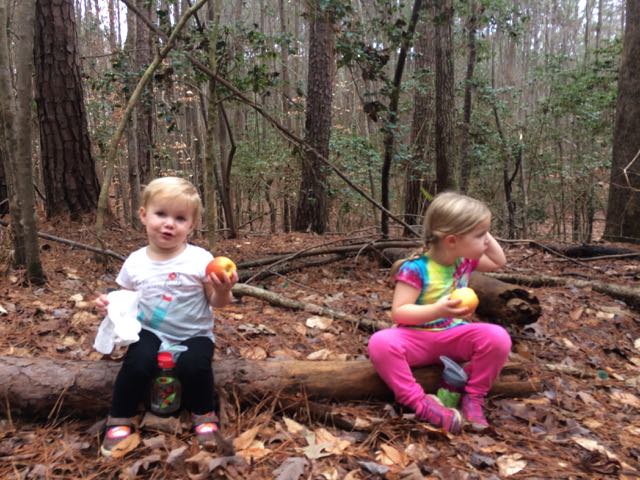 We hiked Day-Hike D that starts near 15009 Possum Track Rd with roadside parking.  After getting the backpack gear on, we headed for the nearby trailhead with "Mountains to Sea Trail" markings and hiked in a westerly direction. This complete hike is about 2.9 miles one way, but we hiked about 1.25 miles out and back for 2.5 total miles.  This stretch of the trail features mostly flat land, hardwood forests with pines, a few views of the lake, some creek views and a flipped vintage car (about a mile into the hike).  According to an MST hiker, this car might be a 1951 Hudson Pacemaker. Ever so often we came to a clearing that was pretty muddy due to all the recent rains.  Before we turned around we stopped in a clearing for a quick apple snack and also caught sight of a few residential homes.
Along our hike we also passed several hunters (and hikers, too) so be sure to wear bright colors if you go on this hike.  Some or all of this land is on game lands and hunting is allowed (I overlooked this detail when initially planning our hike).  The hunters we passed were friendly, they just caught us off guard.
The girls are starting to get to the ages where hikes are more fun than work (imagine less complaining and more smiling).  Ashley likes to point out things in nature (the girl loves identifying some moss) and Claire enjoys looking around in her backpack and pretending she's riding a horse.  After our last hiking fiasco in Nags Head, it felt rewarding that we didn't leave any tears on this trail!
Thumbs up: easy family hike with little ones, cool vintage car to gawk over
Thumbs down: be prepared to share the land with hunters as this is part of game lands